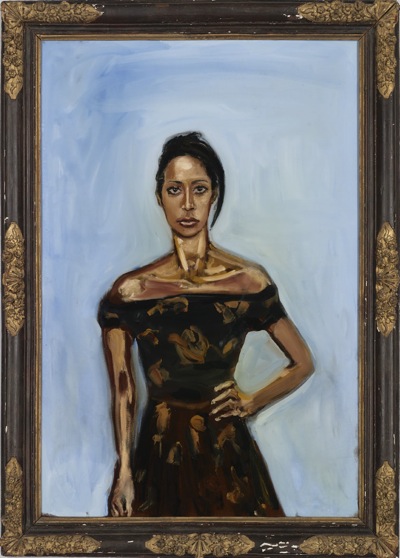 Portrait of A Woman From Jerusalem by Julian Schnabel
The artist Julian Schnabel called me two years ago to say he had just finished a portrait he wanted me to see right away. He said he thought it was one of his best. It was a profoundly beautiful, larger-than-life, three-quarter portrait of a woman named Rula Jebreal, titled Portrait of a Woman From Jerusalem. I immediately put it in a show I was organizing at Gallery Met, the Metropolitan Opera's contemporary art space. When I met the real Rula six months later, standing in front of her portrait, I knew right away that she would make a terrific story for Vogue. She and Schnabel had just finished editing the film he had based on her autobiographical novel, Miral. She was not only blindingly attractive but direct and articulate, an award-winning journalist with her own story to tell, and a story she agreed to talk about, for the first time, exclusively with Vogue.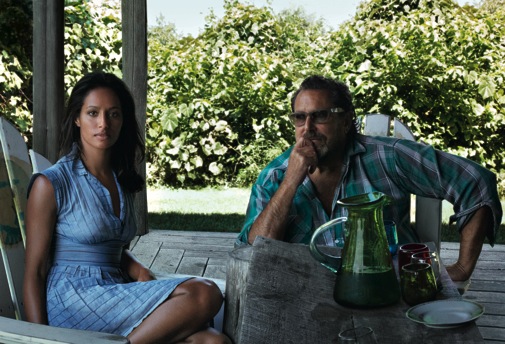 Rula Jabreal and Julian Schnabel photographed for Vogue by Annie Leibovitz
My first interview with Rula was last March at Il Gattopardo, the Italian restaurant across the street from the Museum of Modern Art. She arrived in very stylish jeans, a T-shirt, and clogs, and easily caught everyone's attention. A political journalist and TV anchorwoman in Rome, Rula had written, in Miral, about three generations of Palestinian women, including her aunt and her mother. She told me the heart-wrenching stories of her mother's upbringing, including how she was raped by her stepfather until she ran away at the age of thirteen, and about her suicide years later, when Rula was only five years old. One bright spot in her stories was her stepfather, Othman Jebreal, who helped Rula and her sister find a better life.
Sitting at the restaurant in New York that afternoon, Rula told me that one of the reasons she wrote Miral was for her daughter also named Miral, now fourteen, and for her daughter's generation. During our lunch, she spoke easily in Italian with the waiters, and I'd never before had such good service in any restaurant. The next time I went to Il Gattopardo, the maître d' asked if she was a model and gave me the best table in the house. It was a month before we met again, because she went to Paris and Spain to promote the release of her book. The film is scheduled to be released this March. "If this movie is authentic, it is because of her," says Schnabel. "She opened doors where nobody else could. If something was on the wall of a teenage Muslim girl's room that shouldn't be there, she'd know that. I could never had made this film without Rula."
I should also mention that, by that time, Julian had made another portrait of Rula and told me he was at work on a third.
To read Dodie Kazanjian's full story, RULA'S VIEW, from this month's Vogue, visit Vogue.com.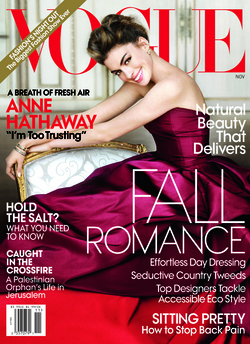 Vogue/Mario Testino
The November issue of Vogue hits newsstands nationwide October 26th.