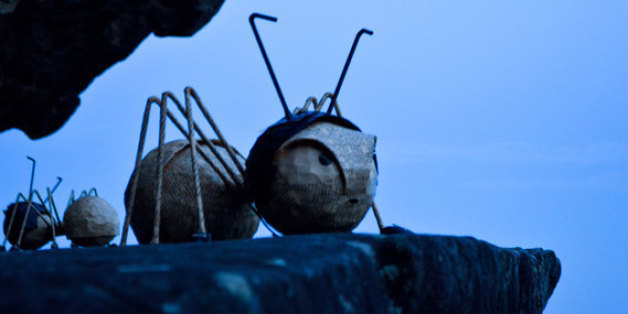 It's the time of year for unusual sightings in Bondi, Australia.
The coastal track between Bondi Beach and Tamarama Beach is my regular route for an after-work run. But it's difficult to concentrate on exercise at the moment, as the path is interrupted by angry-faced ants marching along the rocks, a spoon melting from the cliff face onto the beach, bottle-topped serpents stretching across the shore, rogue soldiers attempting an escape from the walkway and a structured cube requiring a closer look for interpretation.
My home has been taken over by 109 sculptures. They're making quite a spectacle of themselves and no one wants to miss it.
Bondi is the Sydney suburb that tends to attract the transient -- the backpackers, the day trippers just off the tour bus and the expats. It's not unusual for me to look around while explaining Australian-isms to people from elsewhere and realize that I'm the only Aussie in my local pub, exotic in my own country and learning about life in another part of the world.
The sculptures are no different from the tourists: they've moved in only temporarily, in connection with the annual exhibition "Sculpture by the Sea" -- one of the world's largest, free, outdoor art exhibitions.
The setting for viewing the artwork couldn't be more picturesque: the Bondi to Tamarama coastal walk's rocky landscape, soaring views of the ocean and Sydney's clear, summer sky. The sculptures almost seem animated by their surroundings, resulting in a surreal experience for the crowds they attract.
The event's founder, David Handley, has admitted that the popular coastal walk was an inspiration for the concept of "Sculpture by the Sea".

"All around me I saw natural plinth after natural plinth where sculptures of all descriptions could be installed," Mr Handley said.
Every year I delight in the presence of the sculptures, continually stunned by the sight of art melding with nature. But their arrival is bittersweet, as I must learn to share my home with thousands of tourists -- temporarily. (The sculptures attract more people to Bondi Beach than a heat wave in the height of summer!)
This year the crowds have well and truly descended on the sculptures, with local body Waverley Council estimating that 450,000 to 500,000 people will visit the exhibition before it finishes on November 9, 2014.
"Sculpture by the Sea" will also run in Perth, Australia, from March 6 to March 23, 2015 and Aarhus, Denmark, from June 5 to July 5, 2015.
"Sculpture by the Sea" turns art into nature, and nature into art. For appreciators of both, I've included some of my favorite photographs from the exhibition below.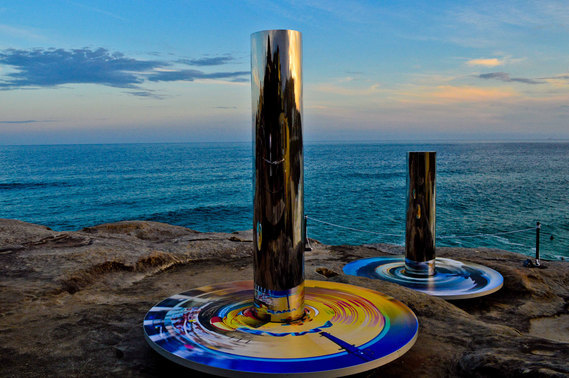 "Coast Totem", a collaboration between Linda Matthews and carterwilliamson architects.
Dominique Kane is a freelance journalist and photographer based in Sydney, Australia. Follow her blogging from Bondi at www.dominiquekane.com and on Instagram.