Decorator Thom Filicia knew exactly how to decorate a summer cottage fit for a perfect calming vacation.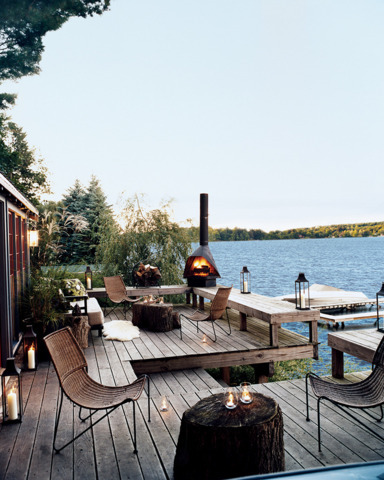 photography by JONNY VALIANT
Decorator Thom Filicia grew up with lakes as a birthright. He imagined a place where he could escape the demands of the city to swim with his dogs--and eight or nine friends--in the summer, and in winter shovel off the deck and drink hot toddies by an outdoor fire.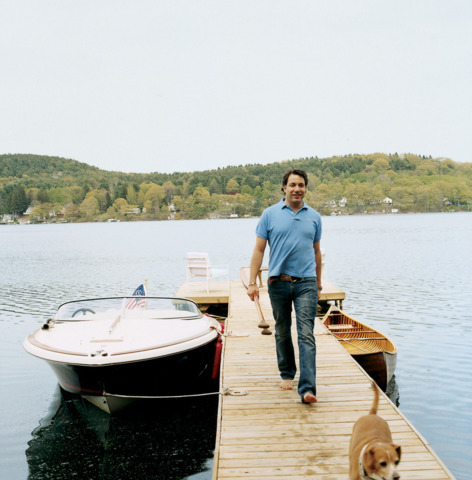 photography by JONNY VALIANT
Filicia deployed his shrewd decorator's eye to transform a sad "before" picture into a rustic reverie with a modern twist, layering washed-pine walls and objects aplenty--not to mention a glorious suspended dock of a deck--to yield an irreverent, relaxed atmosphere that would encourage "more than a little bit of shenanigans."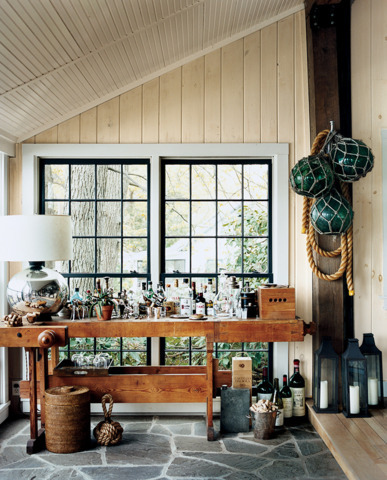 photography by JONNY VALIANT
The entryway's casual (and enormous) bar--a vintage workman's table--assures guests that good times are in store.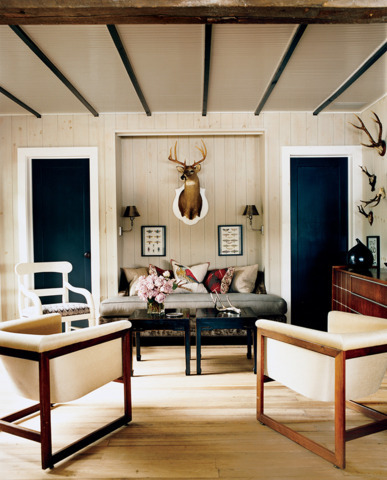 photography by JONNY VALIANT
To conjure a boat's snugness, Filicia built recesses into the walls of the living room and bedrooms (all the same size, all with identical walk-in closets, so no guest feels slighted). Here in the living room, he turned the niche into a seating area by custom-fitting it with a sofa (his own design) and piling on mismatched pillows; small ship's lamps and insect prints hung surprisingly low enhance the coziness. The kitchen also arose from this burrowing instinct: Tucked under raw, open stairs where a closet once lived, it's both out of the way and easily accessible. In lieu of cabinets, he installed open shelves, which he stacks with simple plates and glasses for an "honest and pure" look.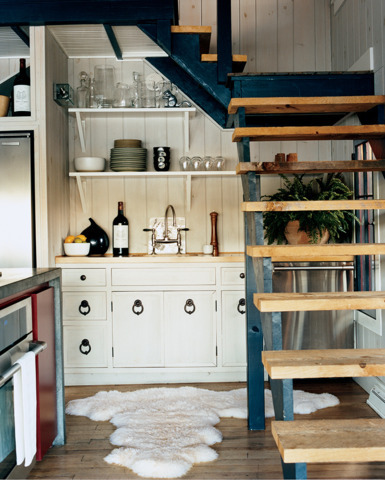 photography by JONNY VALIANT
To give the kitchen alcove an air of permanence, Filicia used heavy door knockers as hardware.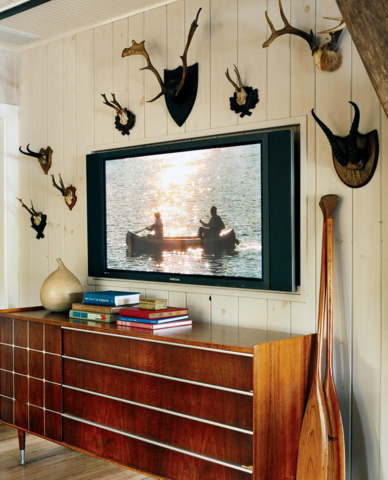 photography by JONNY VALIANT
"Oceans are wonderful for their grandeur, lakes for their approachability: The scale is very human," Filicia says. And so is his house.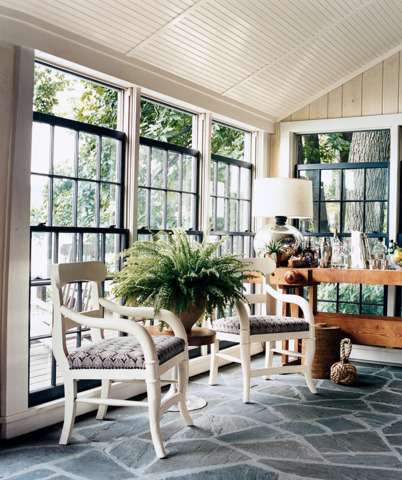 photography by JONNY VALIANT
Filicia set about developing a decor that's fresh but also faithful to his home's outdoorsy past--with a graphic palette. Throughout, ceilings were coated in glossy white to replicate the reflective sheen of a boat's hull, with dark, contrasting doors. To achieve woodsiness without seeming too cabin-y, he washed paneled walls in light gray to show off their knots.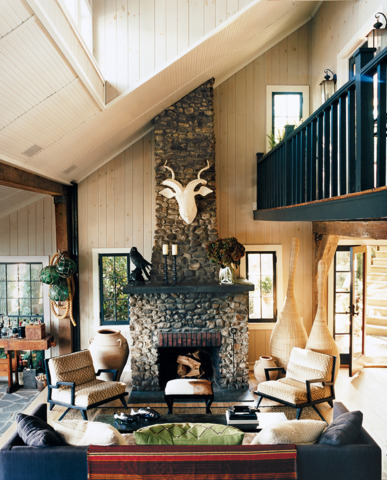 photography by JONNY VALIANT
Apply the same spirit to landscaping, which he thinks should be indigenous to the area: "I'd walk into the woods, make a list of what was there, and that's what I'd plant elsewhere," he says, the goal being to add texture along the dock and foster privacy.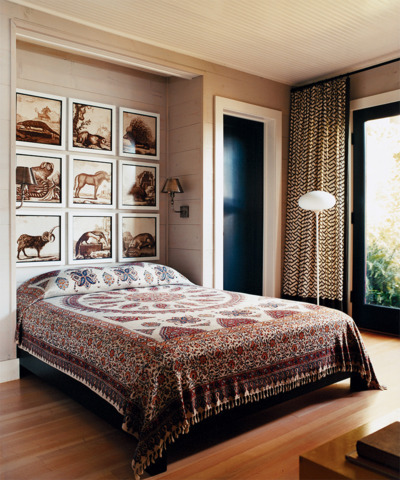 photography by JONNY VALIANT
To further a nature-communing mood, Filicia became a design locavore, asking his firewood delivery guy for tree stumps, which he uses as coffee tables on the deck.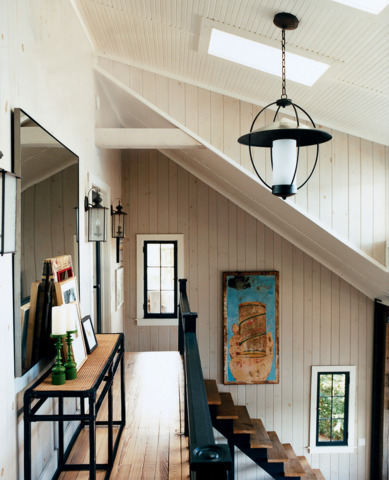 photography by JONNY VALIANT
Skylights and lanterns with bark. (used as sconces) usher the light in, day or night. A rusted beer sign has perfect imperfection.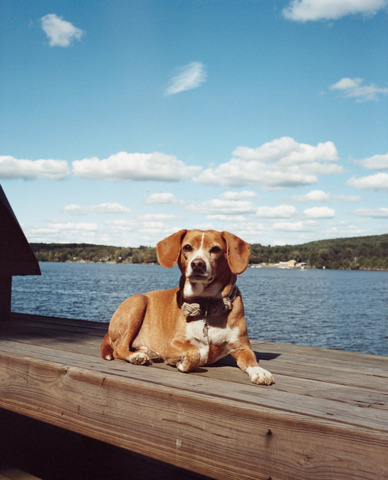 photography by JONNY VALIANT
And every home needs a dog! Pooch Paco stakes his claim on the dock.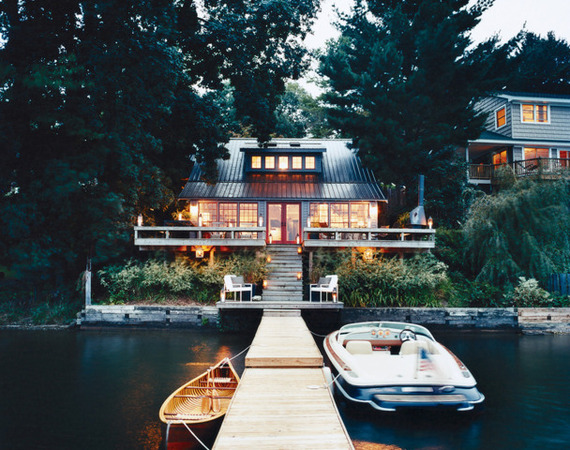 photography by JONNY VALIANT
Every night, Filicia lights candles in lanterns both indoors and out to create a beacon's glow.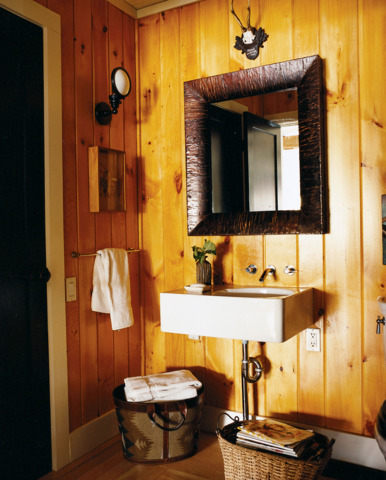 photography by JONNY VALIANT
A wall-mounted sink updates a rough-hewn bathroom.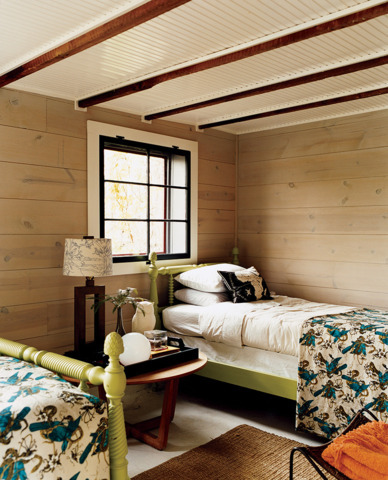 photography by JONNY VALIANT
When Filicia first saw this guest house, it was being used as a garage. But the windows and beams hinted at the small barn it had once been--and what it was to become. He started by moving the structure away from the driveway, then laid wide-plank pine on the floors and walls, emphasizing simplicity. For sleepaway nostalgia, Filicia opted for mahogany twin beds, updated in ultra-lime, hoping they would make his friends feel as if they were mischievous campers scampering off at lights-out (after draining their martinis). "That sense of play is what I wanted to capture--a place that would help people drop their guard."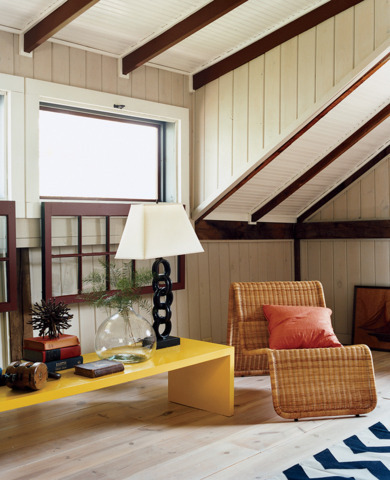 photography by JONNY VALIANT
For rugged authenticity, Filicia restored the original barn beams-- and put a lamp made from a ship's chain beside a Scandinavian modern chaise.
MORE ON DOMINO.COM:
A 6,000 Square Foot Makeover You Won't Believe
29 Design Lessons BuzzFeed Learned From Us
Great Gifts for Art Lovers
Great Gift Ideas for Men