I had the darndest experience at the movies recently. I saw Corn's-a-Poppin', a presentation of the Northwest Chicago Film Society, which, proclaims its website, "exists to promote the preservation of film." Films capture the past uniquely, and few are as unique as Corn's-a-Poppin'. It is a singular viewing experience, and how many movies today can make that claim?
Produced seemingly on a shoestring in 1956 with a no-star cast, Corn's-a-Poppin' is an hour-long country-swing musical about Thaddeus Pinwhistle, whose popcorn empire is in jeopardy. To boost sales, he produces a half-hour TV variety show, oddly enough called the Pinwhistle Popcorn Hour. Spoiler alert: The PR man behind the TV show is actually in cahoots with Pinwhistle's competition and, like Max Biyalistock in The Producers, schemes to sabotage the Popcorn Hour. It's up to the show's announcer Johnny Wilson and his pre-teen sister (Little Cora Rice, a dynamo) to save the day with some surprisingly catchy tunes, like "Running After Love," "Mama, Wanna Balloon" and "On the Way to Mars."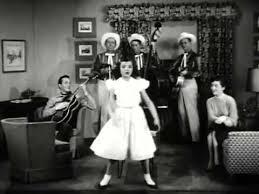 Like I said, it's the darndest thing. But here, as radio legend Paul Harvey used to say, is the rest of the story. Corn's-a-Poppin', a regional independent film, was produced in Kansas City by budding talent who got their starts with Calvin Company, the Midwest's biggest and most innovative producer of industrial films. One of those budding talents was Robert Altman, who co-wrote the screenplay. Yes, that Robert Altman; the M*A*S*H, McCabe & Mrs. Miller, Nashville Robert Altman.
Altman felt about Corn's-a-Poppin' the way George Lucas feels about the dread "Star Wars Holiday Special." Perhaps to his relief, the film was consigned to obscurity. It is rarely cited in articles or books about the filmmaker. The original camera negative is presumed lost. But Altman's participation put this this already unclassifiable artifact atop the Northwest Chicago Film Society's preservation to-do list. All told, the public screening was the culmination of a seven-year process, which got a boost last year with a grant from the National Film Preservation Foundation to produce a full photochemical preservation of the film. A duplicate negative was created from two of the few surviving 35mm release prints, one of which the Northwest Chicago Film Society fortuitously acquired in an estate sale and the other from the Wisconsin for Film and Theatre Research.
Does Corn's-a-Poppin' rate all the time, money and effort to ensure its posterity? I've made it this far in life not even knowing it existed, but now having seen it, I can't get "On the Way to Mars" out of my head. Those who are proponents of the auteur theory have drawn a throughline from Corn's-a-Poppin' to Nashville and Prairie Home Companion with their country and folk music soundtracks.
"The film marks an important transitional step in Altman's career and is a fascinating rarity that reveals a lot about regional independent filmmaking and the energetic, creative milieu from which its co-screenwriter, Robert Altman, sprang," observed Shannon Kelley, Head of Public Programs for the UCLA Film and Television Archive, in a statement.
But beyond that, when it comes to preserving America's cinematic heritage, I am reminded of the tagline for "That's Entertainment": "Boy, do we need it now."
A Library of Congress study last year revealed that 75 percent of the nearly 11,000 silent films released by the major studios have been lost forever. And it's not just vintage films. The most recent preservation cause celebre is the 70mm roadshow version of John Wayne's epic, The Alamo, which is reportedly in desperate straits but seems caught in a Catch-22. The studio, MGM (not alone in this mindset), does not seem willing to spend the money required to save the film, Wayne's sole directing credit. But it doesn't want outsiders to take on the job either, lest it makes the studio look bad.
But it begs the thought: Never mind long lost classics such as Orson Welles' original cut of The Magnificent Ambersons. How many other singular, surprising films like Corn's-a-Poppin' are out there? Will they be found in time before they disappear?
This story originally appeared on millionairecorner.com