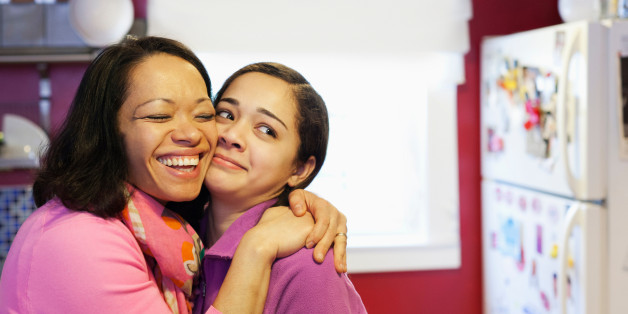 Disclaimer: I think my children are the greatest two contributions I will ever make to this crazy world.
But motherhood has not always been apple pie for me, because as a mother I felt responsible for making the pie, and I'm one of those women who would rather face a criminal on the streets than a stove ripe for action.
When my kids were babies, I stayed home and tried to take over the cooking responsibilities. This effort regularly resulted in burnt fingers as I reached in to remove a tray of oven fries without an oven mitt. Or the smell of burnt oven fries since I had mistakenly turned on broil instead of bake.
I tried to do it right; I just wasn't that kind of mother.
Reading stories at night to my children was enjoyable at first when their chubby little fingers reached for the pictures on the pages and I could vary the books with ease. Then the kids got old enough to make requests, and each found one book that they wanted read over and over and over until I succumbed to the repetitive torture and one night began to cry while reading aloud for the 108th time:
Good night nobody; Goodnight mush; And goodnight to the old lady whispering "hush."
I tried to read the same stories with delight in my voice, but I just wasn't that kind of mother.
My beautiful children soon reached those years when their adult teeth invaded their sweet faces in a way that made me wonder if Mr. Ed had played a part in their conception. The barnyard odor of their skin after playing outside only reinforced the fear.
This phase also opened the curtains on school plays, where moms were expected to sew things. I don't know why this is still an expectation -- we don't all have Singer sewing machines with the foot pedal the way our mothers did. My generation mostly buys things. Yet, the instructions always went home that mothers will be creating costumes.
The best I could offer was to thread a needle then hang it upside down and use it as a pendulum to answer questions, an art-form I perfected in 6th grade when I had read A Wrinkle in Time and became convinced I was a witch. But that talent did not concoct a little Dutch girl outfit for my daughter's play.
I just wasn't that kind of mother. Luckily, my mother was.
The years of class chaperoning also stressed my skills. Don't get me wrong, I did it four times with love and pleasure. That is, until the moment when we actually boarded the bus. Once the bus left the school I had a sudden need for excessive alcohol, and I'm a Baptist. By the end of the trip I am sure my children would have welcomed a little alcohol themselves, based purely on my behavior.
On one trip to the zoo I even got on the bus and resolved to laugh with the kids and lead a few songs. No good deed goes unpunished, however. Because of my good will, several badly behaved children decided they liked me. The resulting interaction, much to my daughter's chagrin, went like this:
"We want to be with Samantha's mom! Hey, Samantha's mom, can we be in your group?"
"Sorry, kids, you already have your assigned chaperone."
"But we want to go with you. You're funny."
"No, I'm not funny all the time. Believe me. You stay where you are."
"But we want to go with you!"
"No!"
At this point I picked up my daughter and ran. My legs were longer and I knew I could out run them.
I'm not proud of this behavior, understand. I'm certainly not condoning it, I'm just saying that there was not one part of me that felt like nurturing the urchins who were screaming all around me.
I just wasn't that kind of mother.
I didn't feel like a "real" mother who added value until my kids hit the middle school years. Yes, those are the years when I began to connect to my children in a special way. At that age we all had acne together along with a sense of inexplicable anger.
There's something about transition that resonates with me. We all felt a little lost together, and I started to realize that maybe I was meant for motherhood after all.
I became a mother who could buy her children's dinner from Schwan's® and not envy those other moms since they were now dealing with disorderly conduct and anger and perfect dinners didn't matter much anymore.
I watched television shows with the kids and discussed the implications of bad behavior. I told them why my cussing was wrong and unacceptable. I taught them to ask their dad how to cook. I accepted my shortcomings.
And for the other parents, my house became the place where the angry teenagers gathered. And we would talk about their frustrations, and their fears, and we would laugh. I helped them solve problems, and I think they appreciated the input. I worked with them on school writing projects and played ball with them.
And our house was filled with kids almost every single day.
Because I was THAT kind of mother.
Earlier on Huff/Post50:
PHOTO GALLERY
What Do You Miss About Your Children Now That They're Adults?