They are software developers from Silicon Valley and lifestyle gurus from Sydney. They are freelancers and crowdfunders, engineers and artists, MBAs and high school dropouts. The stories of individual "digital nomads" are as unique as their online business concepts.
For some, making a location-independent living means taking a laptop, a backpack, and a freelancer mindset to Chiang Mai or Cali (or anywhere else a bucket-list dream and low cost of living beckon). For others, wanderlust waits upon business success -- and aspiring "DNs" patiently scale down expenses and build online brands over a period of years.
As different as the nomads are, their stories share a common arc: Lifelong travel dreams simmer just beneath the surface, waiting on educational credentials and a real job. The job turns out to be a purgatory of beige cubicles and festering office politics. Then, the deskbound dreamer picks up a copy of Tim Ferriss's The 4-Hour Work Week. Or maybe stumbles across blogger Chris Guillebeau's tales of travel hacking.
And... the effect is like tossing a lighted match into a stack of parched kindling. Dry discontent blazes into creative fire -- forging a plan that is equal parts bucket list and business startup.
To make that leap into location independence is a dazzling achievement -- but for most who are undertaking it, one giant dilemma remains. How does a farflung, itinerant bunch of individualists find community? How do they handle the regular disorientation of starting fresh in new cities, manage the ache of leaving behind a serious relationship, or address the myriad business and tax questions unique to expats?
Nomads need each other. And as convenient as virtual communities are, a quick scan down Reddit's bustling "Digital Nomads" subreddit shows a double-edged theme: Loneliness is a constant challenge, and in-person connections are golden.
Five emerging communities for DNs are forging those critical personal connections. And they do it through a range of creative and ambitious approaches -- from spawning worldwide mastermind groups, to incubating new businesses and networks from a mansion in Mexico.
1. Dynamite Circle / Tropical MBA
For those looking to build both accountability and collegiality into their online business, an application to the selective Dynamite Circle (DC) might be a life-changing move. If you're accepted into the collective, a quarterly $147 payment gets you access to the DC forum -- which, in turn, opens doors to a central conference in Bangkok, locally based conferences and mastermind groups, and over 1,000 members throughout the world.
Dan Andrews and Ian Schoen, DC's founders, run a million-dollar e-commerce company -- and their insistence on goal-setting and accountability lays the groundwork for a community of high-achieving entrepreneurs.
As Alexander Joo, a graphic designer and member of the community put it:
To start a business with adequate success is in fact quite easy, and I like that the bar is set at least that high, and immediately I would be the stupidest, most inexperienced person in this community. That's exactly what I needed... [access to] like-minded people who are working and traveling, and successful at it.
2. The NoHatDigital Community - Valle de Bravo, Mexico
Hayden Miyamoto, a Canadian serial entrepreneur, leveraged early successes in e-commerce to relocate with his family to the idyllic setting of Valle de Bravo, Mexico. In the aftermath of that move, he says, he struggled with a growing sense of restlessness. Addressing his own need for community, Miyamoto leased a local mansion (with a jaw-dropping view of the lake and nearby mountains) and turned it into a business retreat center for location-independent entrepreneurs.
Issuing open invitations to NoHatDigital blog readers to "Come to Valle" for coaching and networking, Miyamoto launched what may be the world's only privately housed incubator for DN businesses. To date, NoHat has hosted nearly 50 retreat participants and longer-term residents seeking project collaboration, teaching, and an expanded network. And the community boasts 24 successful new online startups (i.e., "bosses fired") by retreat participants.
3. The Anywhereist Group / Making it Anywhere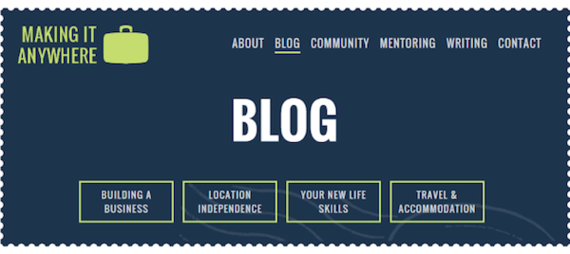 Anywhereist is a recently founded membership site with a lot of of appeal for DNs with a creative bent. Mish and Rob, brand consultants and copywriters who began their DN lifestyle in 2012, run a PR agency with the unforgettable name, "Mortified Cow." And they apply themselves to "making boring businesses awesome."
In the pursuit of worldwide community for likeminded professionals, they founded The Anywhereist Group. For $25/month, members get a personal introductory call with the winsome Rob and Mish, monthly Google+ hangouts, access to a growing library of training resources for online entrepreneurs, and the opportunity to share an accountability journal with the community.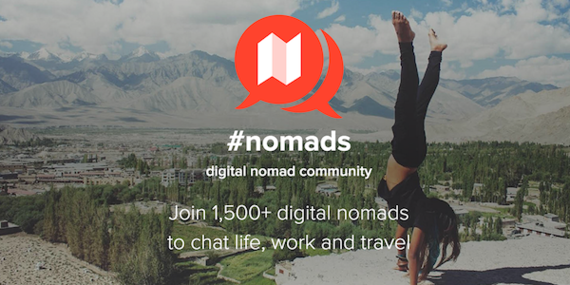 HashtagNomads, founded by well-known DN leader @levelsio (who earned notoriety for the mindboggling achievement of launching 12 startups in 12 months as he meandered around the world). HashtagNomads, which requires a one-time $25 fee on joining, provides the DNs not only with a host of regular meetup opportunities -- but also with a Slack-based community. The platform has earned praise for its team-building strengths and intuitive networking features -- including easy tagging, topic-favoriting and private messaging).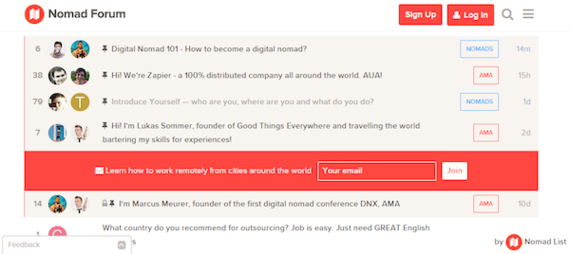 "Connecting the Nomadic Revolution." That's the bold tagline of this free forum that is a vast archive of tips, invitations, cautionary tales, and impromptu get-togethers. NomadForum describes itself as a Q&A site -- and in that sense, it's selling itself far short. It's a community -- and the conversations range from social opportunities and accommodations tips to financial advice.
Though its decided slant toward U.S.-based nomads may narrow its appeal, the site is unique in that it offers a comprehensive set of resources -- and an active membership -- without hiding the best nuggets behind a paywall.
Users can create basic profiles on the site and mark posts they want to refer back to later. There's also a Facebook-based listing of local meetups. One fun aspect is the Ask Me Anything (AMA) threads, which get a ton of participation -- and the site overall has a neighborly, friendly, sharing sort of vibe.
Are you a digital nomad (or aspiring nomad) who's found friendship, inspiration, and sound business advice through a community others can also join?
I invite you to share with others in the comments area what the community is, how you found them, and what type of DN would benefit the most.