I'm not at my best after a 5 a.m. start. I imagine the grey whales will be up now too though, swimming northward, and they don't have coffee.
We're approaching the Canadian border. This is a truly international migration. Having begun in Mexico and traveled through U.S. waters, the whales will head up the west coast of Canada and Alaska to the Arctic. Having long been a wanderer myself, the journey draws me like a magnet.
I'm not sure whales notice anything as they glide from the waters of one country to another, while for us, borders are very clear.
I still remember the cold sweat at being told we were traveling in Mexico illegally. That altercation with immigration officials is far behind us, and ended with a token fine, but more border crossings are coming up.
With a small child the queues and waits are exhausting. As a single parent I'm often eyed with suspicion and asked to show legal proof that I'm not abducting my son.
When officials examine our Jersey passports, I sometimes worry they'll think I've made it up. Our home is a little island, not quite British, and lots of people have never heard of it.
It's still early when our bus arrives at Albany station. There's a three-hour wait for the train to Seattle. So we watch the freight trains until there are signs of life.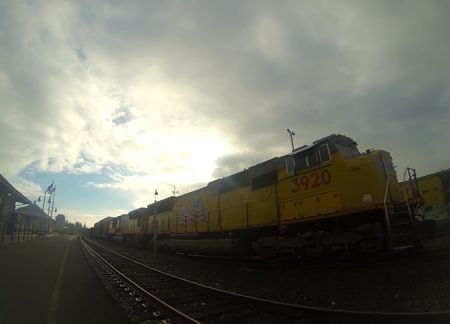 We strike gold in Sidekick, a little café nearby. They have croissants and a revolving cake stand which is truly a thing of beauty, housing every imaginable type of cake. After several happy hours we tear ourselves away to catch the train.
I'm aiming for Anacortes, on the coast near Seattle, tonight. It's our springboard into the ocean, the gateway to the San Juan islands. From there we'll ferry-hop to Canada, while scouring the sea for migrating grey whales.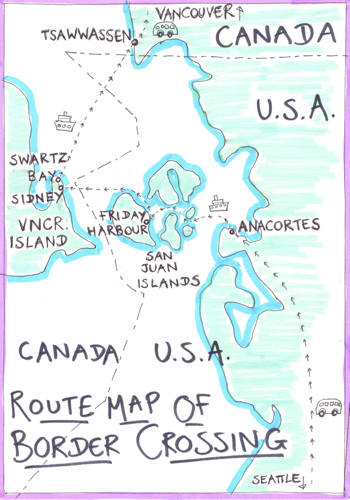 We make our bus, just. Once I've stopped gasping for breath, I notice a distinguished English accent, and turn to meet John. Originally from Kent, John is an engineer and settled in Anacortes 'because American are open-hearted', he says, and he loves his yachts.
John's about to celebrate his 80th birthday with a southbound sea trip from Alaska to Canada. He will actually be getting our boat, after it's dropped us off. That's if we arrive in Vancouver in time to catch the northbound leg.
John's wife, also the epitome of English, is waiting for him at the bus station in their gleaming classic car. They insist on giving us a ride to our motel, so we arrive in style.
The next morning we wave goodbye to the U.S. mainland. The ferry trip through the San Juan Islands is breathtakingly peaceful, the islands a maze of luscious forests floating past on flat-calm blue.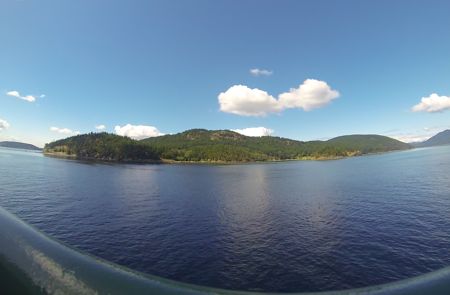 We're heading for Friday Harbour on San Juan Island, the biggest. There's no particular reason to stop there but it's Friday, so that'll do.
Northbound grey whales visit this region but none have been sighted for a week or so. I've just learned that there are some west of Vancouver Island but we don't have time to visit them. We pull into Friday harbor without glimpsing any barnacled noses.
We are staying at the eco-friendly Juniper Lane Guest House. Arriving, every cell in me lightens. Set in a mossy garden, it was built by craftsmen. The floorboards creak a welcome. In our room, orange silk curtains cloak spread-eagled green, lapped by a tide of purple lavender. There's dark, knotted forest in the distance. Going to sleep I feel purple and green peace.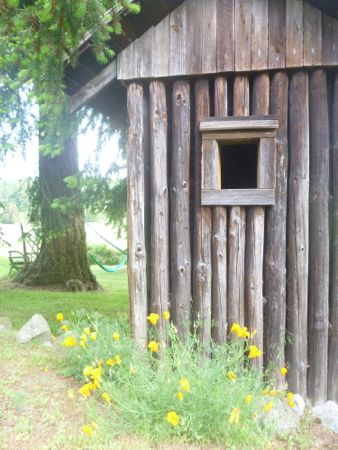 This history of this island illustrates the tensions that lie along any border, no matter how serene looking. One June morning in 1859 an American farmer, Lyman Cutlar, found a big black pig eating his potatoes. He shot it. The pig's owner was Charles Griffin, an Irishman who worked for Britain's fur trading giant, the Hudson's Bay Company.
Apparently when Cutlar exclaimed, "It was eating my potatoes", Griffin replied, "It is up to you to keep your potatoes out of my pig." British authorities threatened arrest and the American settlers called for military protection. The whole thing escalated because of the island's strategic importance.
The resulting standoff between the American Army and British Navy lasted 13 years and became known as the Pig War, or the San Juan Boundary Dispute. It was resolved peacefully, with no casualties, unless you count the pig.
The ferry across the zig-zag border line, agreed after the Pig War, leaves first thing in the morning. When we reach Sidney, on Vancouver Island, the immigration man takes a quick look at my residence order and greets my son by name, presumably to test his reaction.
The two-year-old skips the greeting, "We going to catch a boat to find the grey whales." I take up the baton, hitting my stride as I start to describe the whale migration blow by blow. As soon as he can get a word in, the official wishes us a nice stay and waves us through.
Now for the ferry to the Canadian mainland, which leaves in 45 minutes from Swartz Bay. Someone points us into the distance, apparently there is a bus stop there, but the two-year-old spots a playground and makes it known that he needs to visit it urgently. Fine. My head dissolves. One early start too many. Stuff the ferry.
By the swings, we find Charity and her children. Somehow, I think by telepathy because I can barely talk at this point, she sees that we would like a lift to the ferry and offers to drive. It's nothing short of a miracle.
Charity loves her home at the edge of Canada but explains the complications of visiting the U.S. with her children. Her husband works away, mostly at sea. When on land, he's often rushing to a lawyer for a notarized letter so Charity can cross the border. On the paperwork front, those whales really do have it easy.
Waving goodbye to Charity, it's another sprint for the ferry, and another beautiful ride over to Tsawwassen. About halfway across, a humpback whale surfaces close by. There's wild enthusiasm on board as several hundred people rush to the window.
It's not our preferred quarry but seeing the tail wave feels like a greeting from the underwater world, hopefully a promise of more as we travel north.
Next stop Vancouver, to catch the boat for a week at sea, traveling north. I can feel we are getting closer to them, our greys.