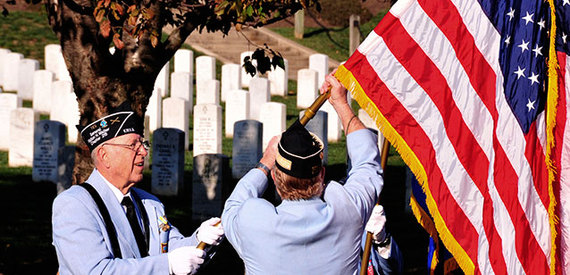 For most of us, Veterans Day is another day to celebrate and honor an occasion or event -- in this case a very special group of people.
For our veterans, Veterans Day is every day of the year and, for many, not always something to celebrate about.
Not for former U.S. Marine Capt. Timothy Kudo, a veteran of the Iraq and Afghanistan Wars, who feels responsible for -- although he did not personally kill anyone -- the 2010 accidental killing of two Afghan teenagers on a motorcycle "when the pair approached from a distance and appeared to be shooting as well," while his unit was fighting insurgents. "He carries the guilt every day."
And not so for so many others (the raw number is not known) who suffer from similar "'moral injuries' -- wounds from having done something, or failed to stop something, that violates [the veterans'] moral code," injuries which researchers "are only now beginning to understand - something that [post-traumatic stress disorder] PTSD doesn't quite capture."

Not for former Army Reserve command sergeant major Randall Liberty who -- seven years after he last set foot in Iraq's killing fields of Fallujah -- is still grappling with PTSD and whose instincts "still scream at him to take cover, to get out of harm's way, to save himself while he still can" when he nervously steps away from the window during a 3 am bathroom trip in his peaceful Maine home.
Not so for the more than 103,792 Iraq and Afghanistan War veterans who were diagnosed with PTSD and not so for the 253,330 troops diagnosed with a Traumatic Brain Injury (TBI) over the period 2002 to December 2012.
Not for former Marine Corps Sergeant Thomas James Brennan, a Purple Heart recipient who served in Iraq and Afghanistan and who, in December 2012, attempted to end his life after his calls for help for his PTSD and TBI resulted in scorn and humiliation by his leaders and effectively ended his Marine Corps career.*
And not so for the nearly 1,000 veterans who attempt to take their own lives every month -- more than three attempts every 90 minutes.
Tragically, 22 veterans succeed in doing just that, taking their own lives, every day -- that is one veteran committing suicide every 65 minutes, on average, according to a recent study from the Department of Veterans Affairs.
Not for Tennessee Vietnam War veteran Kenneth Moore who has been suffering from the effects of Agent Orange for over 40 years and who has been struggling for years to receive the benefits he is entitled to.
Also, not for U.S. Army Special Forces veteran Frank Koch who has been living with chronic pain due to Agent Orange related illnesses and health problems and not so for 1.2 million other Vietnam-era veterans** suffering from any one of the 15 diseases associated with Agent Orange, or suffering from its "lasting legacy" that now includes birth defects, cancer and other illnesses appearing in their descendants.
Not for former infantryman Ronald Brown, a veteran of the 1991 Persian Gulf War, who was at a base in southern Iraq when engineers destroyed the nearby Kamisiya ammunition depot containing nerve gas and whose health continued to deteriorate after leaving the Army in 1992 "to the point where he could not hold jobs," according to the New York Times which adds, "The Pentagon has said that as many as 100,000 American troops could have been exposed to the toxic gas in that demolition."
And not so for as many as 250,000 Gulf War veterans who have been struggling with a "mysterious amalgam of problems... including joint pain, physical malaise and gastrointestinal disorders," symptoms known collectively as Gulf War Illness, or Gulf War Syndrome, also known as chronic multisymptom illness.

Until a couple of months ago, not for U.S. Army veteran Jim Wolf from Grand Rapids, Mich., who has struggled with alcoholism, poverty and homelessness for many years.***
Definitely not so for the 62,619 veterans who were homeless on a January night in 2012, according to a Department of Veterans Affairs count, and especially not so for the inordinate high number of homeless veterans who are women.

And there is certainly no Veterans Day celebration for 750,000 unemployed veterans, including 246,000 from the Post-9/11 era whose jobless rate was 10 percent in October.
Finally, we have not even mentioned the notorious backlog -- logjam is a better word -- in processing veterans' benefits claims, something Sen. Charles E. Schumer recently called unacceptable,"**** nor the approximately 1,500 veterans who have lost a major limb as a result of battle injuries in the Iraq and Afghanistan Wars.
In his 2013 Veterans Day proclamation, president Obama pays tribute to our veterans, "mindful that no ceremony or parade can fully repay that debt," that "our obligations endure long after the battle ends..." He concludes, "On Veterans Day and every day, we celebrate their immeasurable contributions, draw inspiration from their example, and renew our commitment to showing them the fullest support of a grateful Nation."
Let us pray that the day may come when every veteran will be able to truly celebrate Veterans Day.
Notes:
* Fortunately, the attempted suicide failed, but even the post-suicide-attempt treatment was dismal: "I had wasted three days - three days that convinced me I would never ask for help from someone new ever again," says Brennan. He is now a military affairs reporter with The Daily News in Jacksonville, N.C.
** Hard data on the number of Vietnam-era veterans affected by Agent Orange illnesses is hard to get. "In 2010, the U.S. Department of Veterans Affairs provided $16.2 billion in compensation to 1,095,473 Vietnam-era veterans. The agency does not relate these service-connected benefit figures directly to Agent Orange/dioxin exposure or to any other possible cause of illness, nor does it provide data on total compensation for the years since the war ended." Read more here.
*** In September 2013, with the help of Degage Ministries in Grand Rapids, Mich. and Ross Bliss, a local filmmaker, Wolf went through a physical transformation for a video production and has been able to secure housing and has even begun attending Alcoholics Anonymous meetings. Watch and read about the "transformation" here.
**** Since peaking in March, The Department of Veterans Affairs has made significant progress in reducing the backlog of disability compensation claims. Recent computer systems improvements and related legislation will hopefully additionally clear some of the logjam.
Lead image: Courtesy U.S. Department of Veterans Affairs