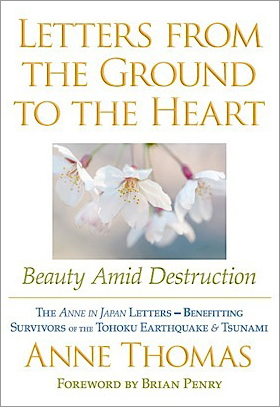 Sunday, March 11, marks the first anniversary of one the most devastating disasters in recent times, the Great Tohoku Earthquake and Tsunami of 2011.
The broadcast, internet and print media have already started reminding us of the incredible dimensions of the tragedy that left 19,000 dead and missing and tens of thousands homeless -- their lives shattered or changed forever -- and informing us of how the recovery is progressing and how the survivors are coping.
During the immediate aftermath of the tragedy, there were innumerable stories of death, desperation, unspeakable grief and human misery coming from the earthquake and tsunami stricken region. For too many of these unfortunate people, the passage of time -- whether one year or fifty years -- will not diminish their grief and pain.
For example, Australian Broadcasting Corporation correspondent Mark Willacy visited the tsunami zone and the Fukushima's nuclear no-go area "to catch up with people he met right after the calamity."
He tells us about Keitara Fukuda whom he met right after the tsunami as he searched frantically for a trace of his children outside their obliterated primary school:
His nine-year-old son Masa'aki and 12-year-old daughter Risa had evacuated from the school after the earthquake and were standing outside with fellow students when a mass of black churning water rushed down the river valley from the ocean six kilometres away.

They were swallowed by the tsunami, along with 10 teachers and 72 other students.
Willaci continues: "Every day Keitaro Fukuda kneels before the altar in his living room. It's decorated with stuffed toys, kids' artwork, and photos of his two dead children," and shares with us Fukuda's translated words: "Whenever I have a meal, I realize they are not here. I miss them so much ... Because it's just my wife and me now, it's so very quiet. We used to have such a cheerful and noisy home with our children here."
There are tens of thousands such stories -- the memories will never fade, the pain will never diminish.
But there are also stories of heroism, charity, humanity and kindness by individuals, organizations and nations -- including the Unite States.
The latter, through its military, immediately stepped up to the plate to provide invaluable humanitarian relief and assistance to the victims.
The U.S. military "Operation Tomodachi" to help Japanese communities hardest hit by the quake and tsunami is a salient example.
One of the primary and immediate missions of the U.S. task forces was to reopen the Sendai airport to enhance the relief efforts.
Amazingly, even before the U.S. relief forces arrived in the city of Sendai, an American woman living in that Japanese city had already started telling the world -- through a series of heart-warming e-mails to her family and friends -- some about the tragedy which she herself had survived, but mostly about the countless inspiring and unsung acts of kindness, compassion and humanity that she observed among the survivors: the human spirit displayed by her own neighbors and total strangers in times of tragedy and chaos.
The woman is Anne Thomas, an English teacher who has lived in Sendai for 22 years and continues to live and teach there.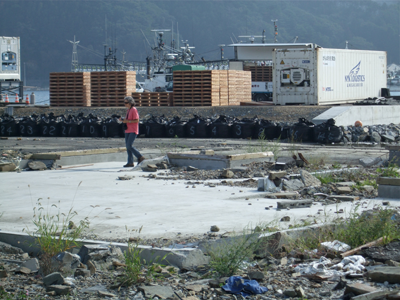 Anne Thomas walking among ruins
Just a few days after the earthquake, I happened to read one of her first "from the ground to the heart" letters -- as they came to be known later -- in Ode Magazine.
Touched by the letter, I commented that, faced with the almost unfathomable human tragedy in Japan, how difficult it would be to come up with "positive news," or with "new inspirations and new visions" on the disaster, but that with her letter Thomas had done exactly that.
In that letter, Thomas tells us about the stoic nature of the Japanese people, their concern and caring for each other and for others -- perfect strangers -- their humanity, their continuing respect for the law and for orderliness even during such desperate circumstances and about the writer finding beauty and hope amid chaos and misery.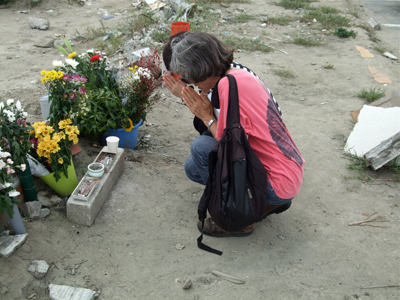 Anne Thomas praying in Ishinomaki
Thomas continued to write her "letters to the heart," never expecting them to go viral or to be reprinted on-line and in newspapers the world over.
Nor did she ever imagine that her letters would be published in a book until a designer and writer named Brian Penry suggested to Thomas that her letters were extraordinary and that she should collect them in a book.
The result is Letters from the Ground to the Heart -- Beauty Amid Destruction, a book in which "Anne makes the stories of ordinary people in extraordinary circumstances profound -- capturing our collective, global empathy." It's now available at Lulu.com and Amazon.com
On this first anniversary of that horrific event we will be copiously reminded of the statistics of death, suffering and destruction -- as perhaps we should. However, it may also be good to be reminded of the acts of kindness witnessed by Anne Thomas during a time of utter devastation and compiled in a book that is described by a reader as:
[A] collection of heart-warming letters, but be warned, they may bring a tear to your eye. Each letter paints a picture of hope in the life's simple pleasures - finding a shop selling rice, being able to wash after so long without running water, a farmer friend delivering eggs. It's these little moments that news coverage, although excellent, fails to cover. Anne brings it all to life and makes you thankful for what you have. And then you feel the need to help. The book is also an insight into the Japanese and how their culture shapes the way they cope with disaster...
Best of all, proceeds from sales of this book benefit survivors of the Japan earthquake and tsunami.
To learn more about this book and to donate, please click here
Photos courtesy Anne Thomas