On the occasion of the anniversary of our nation's Independence, I generally try to post something patriotic, something real Americana.
This year, I would like to tell you about what some American individuals and organizations do -- not just on the Fourth of July, but all year long, year after year. Something that is perhaps more indicative of the American character, of our values, than all the red-white-and-blue outward hoopla of the celebration. I am referring to generosity, compassion and that unique, timeless American devotion to and concern for the most innocent and vulnerable among us: the children, worldwide, who would not survive without critical and specialized medical care.
This is one such story
_._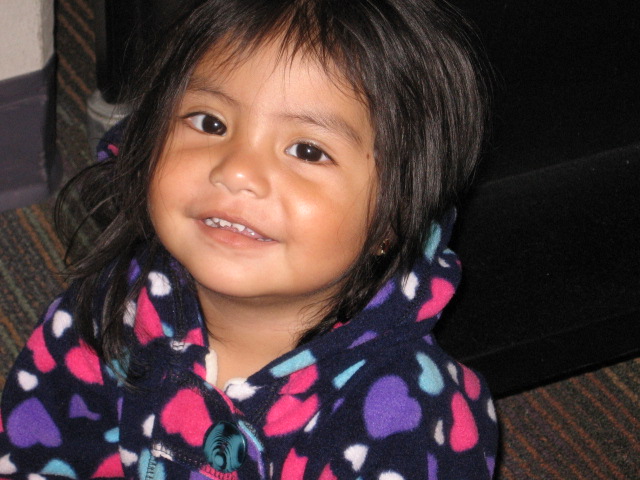 Emily (Photo by author)
The doctors in Ecuador's capital, Quito, told baby Emily's young parents that their daughter's heart condition was inoperable in Ecuador. Fortunately, the despairing parents, Rudy and Diego, happened to hear about "el doctor gringo" in nearby Loja, a town near their home, who might be able to help them.
Thus began a long and arduous series of consultations, tests, fights with the bureaucracy and encounters with numerous other obstacles. These efforts were spearheaded by Dr. Murray Greenwood, a former Austin pediatrician who is now doing wonderful medical missionary work in Loja and who made it his personal crusade to get the appropriate medical treatment for Emily -- to save her young life.
This would involve numerous grueling trips from Rudy's home high up in the Andes by foot, baby in arms, followed by one-hour bus rides into Loja and sometimes by 12-hour bus rides to Quito -- and back.
Although Rudy and her young husband, Diego, own a horse -- "es una yegua," (it is a mare) Rudy laughingly corrected me every time I called it a "caballo" -- the yegua could not be trusted to carry Rudy and her baby down the treacherous mountain road.
Finally, through Dr. Greenwood's tireless efforts, cardiologists in Quito performed an echocardiogram and confirmed that Emily suffered from a life-threatening ventricular septal defect (VSD), also known as a "hole in the heart" -- a condition that would require delicate and risky open-heart surgery and something that for Emily just was not an option in Ecuador.
Emily's young parents, devastated, without resources and powerless to seek specialized medical treatment, found themselves in the same agonizing and desperate situation that thousands of other parents -- perhaps millions -- in so many other developing countries find themselves in.
According to the International Children's Heart Foundation (ICHF) and the Children's Heart Foundation, each year more than 1 million babies are born with a congenital heart defect -- one of every 100 children born in the world -- making this the leading cause of death from birth defects. In developing countries the toll can be even worse, as many of these children are never diagnosed and oftentimes, even after such diagnoses, those with the condition cannot undergo life-saving surgery, the ICHF says.
Paraphrasing the ICHF, imagine the anguish of parents in these underdeveloped or remote regions who have no one to work this miracle on their suffering child. Imagine having no alternative to watching your child waste away and die while a relatively simple procedure performed by skilled surgeons might prevent it.
To Emily's parents, who earn about $50 a week growing and selling vegetables and beautiful flowers at Loja's Saturday market, such a "simple procedure" abroad would cost more than they would earn or see in two or three lifetimes.
But miracles do happen.
And so, about three months ago, thanks to just such a miracle, 16-month-old Emily was being prepped for lifesaving surgery at the excellent pediatric cardiology facility at Dell Children's Medical Center in Austin, Texas.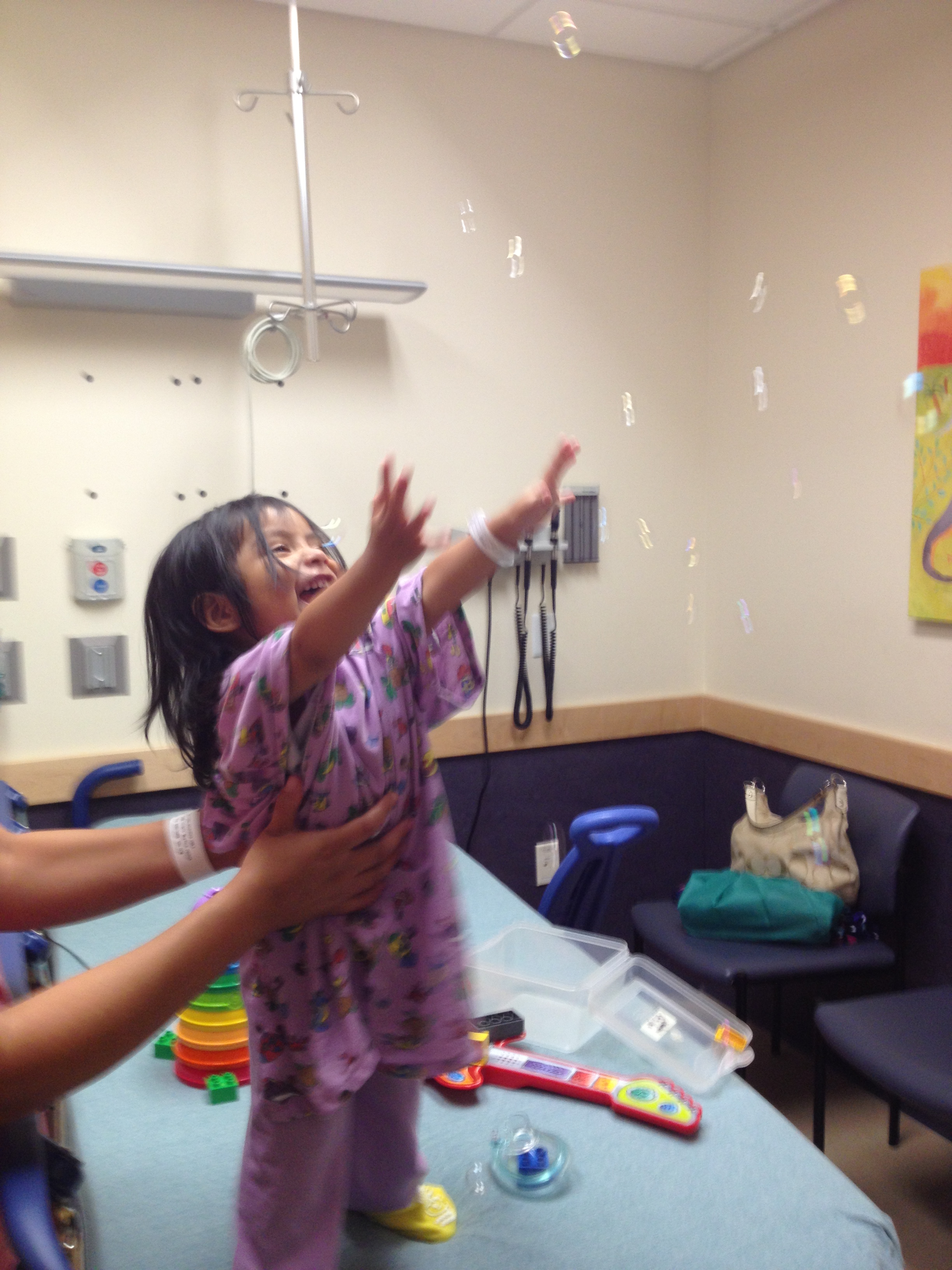 Emily awaiting surgery (Photo by HeartGift Austin)
On March 27, Austin pediatric cardiothoracic surgeon Dr. Kenneth Fox and his world-class surgical team performed life saving open-heart surgery on Emily, successfully repairing her VSD and giving Emily literally a new lease on life. Just a few hours later, an overjoyed and grateful mother was listening to the healthy beat of her daughter's heart -- for the first time.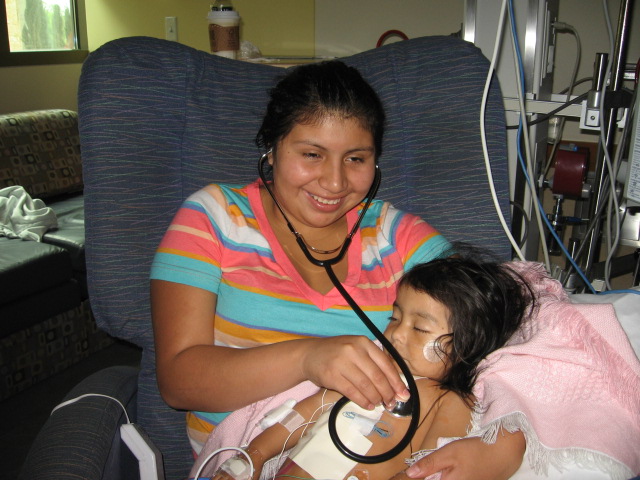 Emily's mother listens to her baby's heart beat after it was surgically repaired (Photo by author)
A short three weeks later, Emily was back on the idyllic mountain slopes surrounding her modest home in Ecuador playing among the beautiful chrysanthemums her parents grow...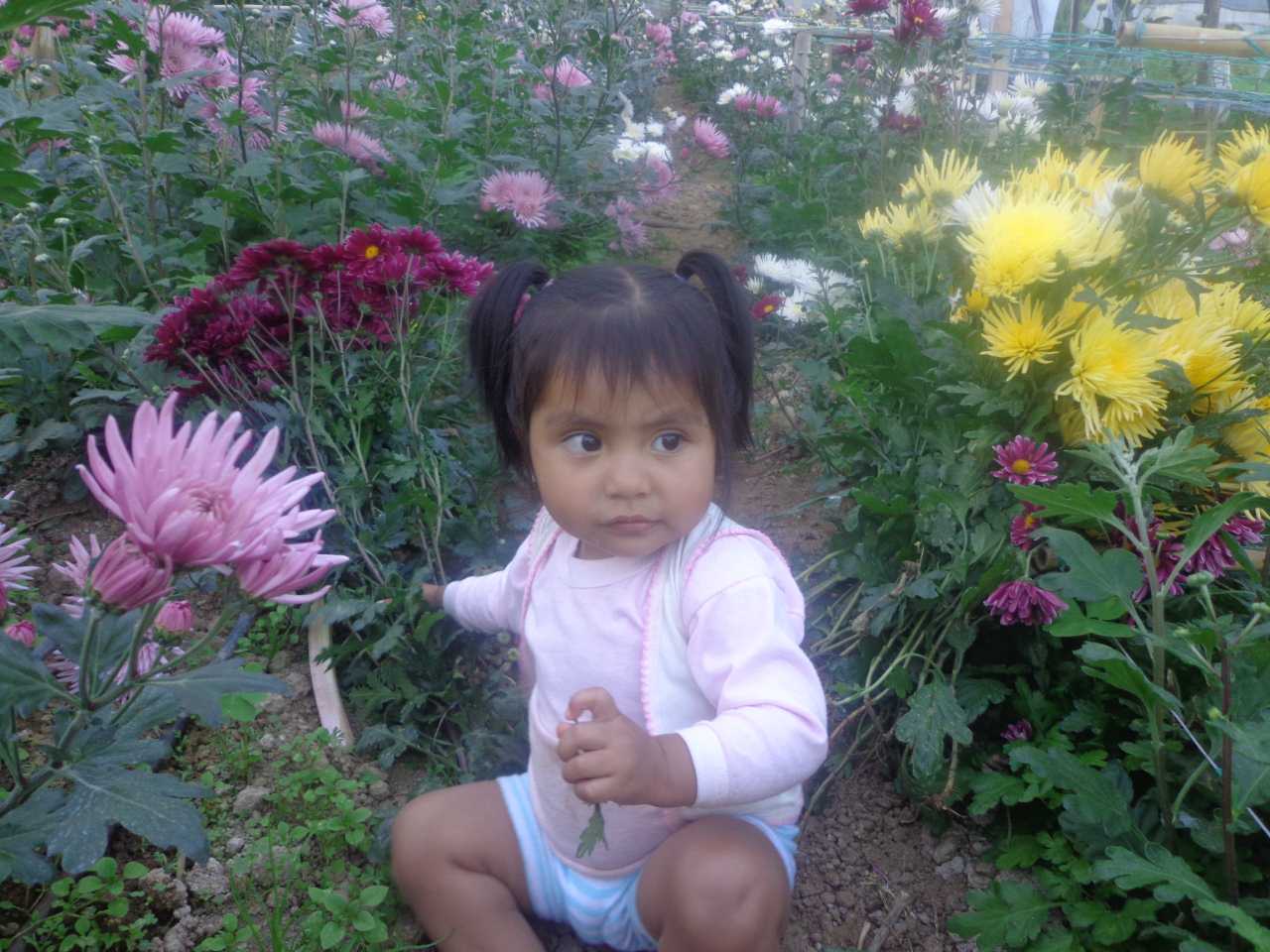 Emily back in Ecuador. (Photo courtesy Emily's family)
and even taking a tentative ride on her yegua -- a "new" toddler full of energy, full of life and full of promise.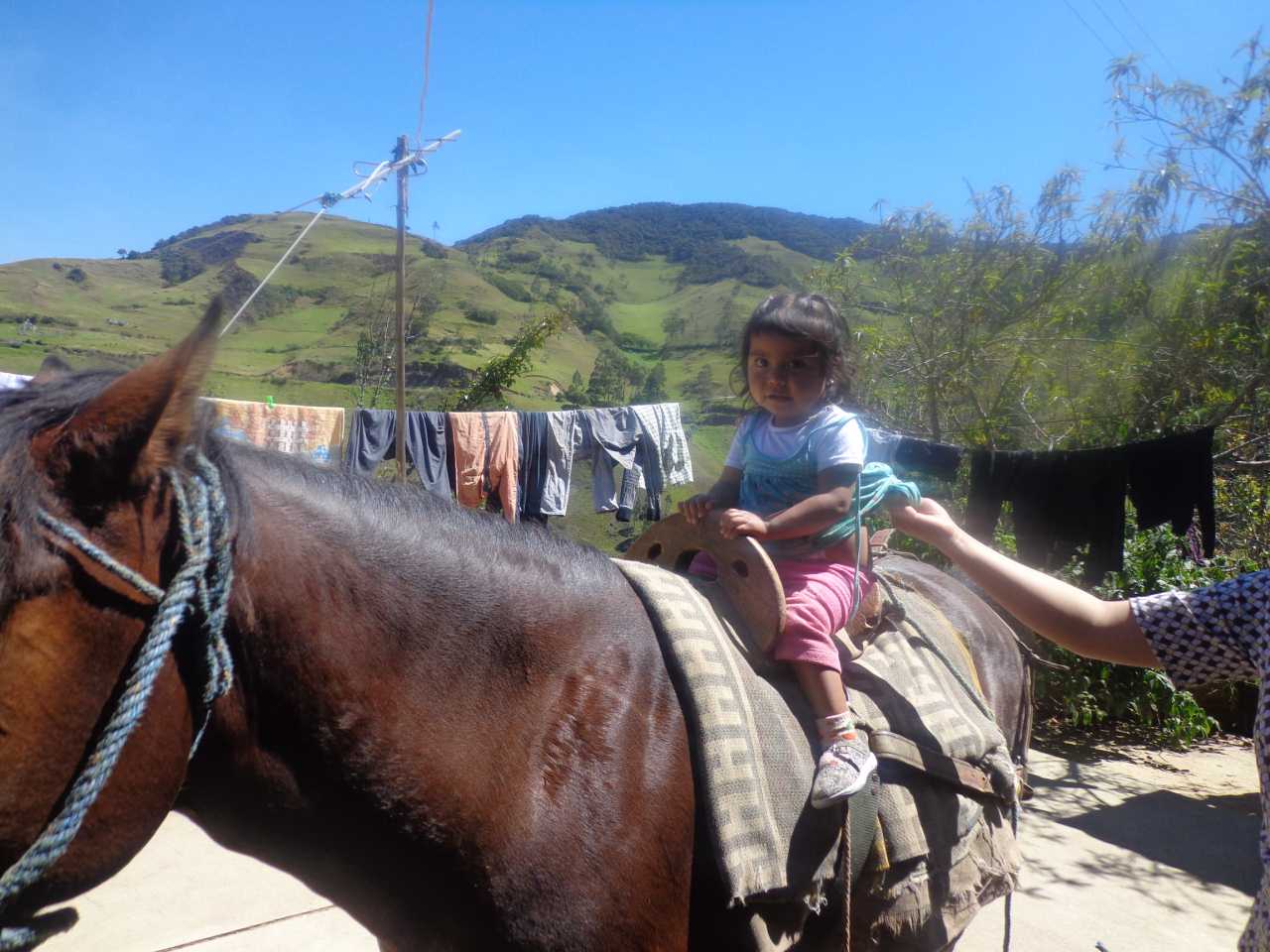 Emily on her "yegua" back home in Ecuador high in the Andes (Photo courtesy Emily's family)
How did this miracle come about?
First and foremost, thanks to the incredible skills of Dr. Fox and his team, and to the initial concern and keen medical eye of Greenwood, the "gringo" doctor.
But also thanks to the compassion and generosity of so many others. Up front is the Austin-based HeartGift Foundation, the organization that took Dr. Greenwood's referral of Emily and that each year brings dozens of children like Emily from around the world for free surgery in the United States to correct their life-threatening heart defects. By the end of 2013, HeartGift hopes to have sponsored more than 200 little patients from more than 25 countries -- some from the most remote and impoverished regions in the world.
Some of the children brought by the HeartGift Foundation's flagship chapter in Austin, Texas, hail from nomad families on the steppes of Mongolia, others from the Andes Mountains in Bolivia, still others from tropical Nigeria.
The parents of 3-year-old Frances from Nigeria had to mortgage their small farm just to pay for the "echo" tests, before HeartGift became involved.
Several children have come from remote villages in China, such as 3-year-old Jiating whose father earned about $140 a month, almost half of it going to pay for Jiating's frequent medical treatments.
Kelly, from Nicaragua, was diagnosed with heart disease when she was only a few days old. Because of her condition and lack of energy which rendered simple walking nearly impossible, she never attended school. At age 13, HeartGift made it possible for Kelly to receive healing surgery.
Five-year-old Wessale came from the Atlas Mountains in Morocco where she lives in a house with 22 other family members.
One young boy, Wahab, came from war-ravaged Iraq in 2008 and 12-year-old Norbu came from the Shechen Monastery in Nepal, which he joined at the age of 5.
HeartGift arranges for airline-donated transportation to and from the United States and, once the child arrives in the U.S., takes care of expenses including a part of the medical costs.
Skilled, generous surgeons such as Dr. Fox, pediatric cardiologists such as Dr. Stuart A. Rowe, Dr. Karen L. Wright and their staffs, Dell Children's Medical Center and dozens of other professionals and volunteers donate their time, talent, effort and resources to save these children.
Among such dedicated professionals are Jennifer Edwards, executive director and Sonya Keeling, patient coordinator, both of HeartGift Austin. What they do for HeartGift and, most important, for their little patients is just phenomenal.
Since Emily returned to Ecuador in April, Edwards and Keeling have been instrumental in helping mend five more hearts: 4-year-old Jhonny from Bolivia, 2-year-old Ismack from Haiti, 18-month-old Emibal from Bolivia and 1-year-old Avtashgui -- "Avi," for short -- from Mongolia. Little Briana from Bolivia received her "heart gift" on June 11.
HeartGift, along with other like-minded -- "like-hearted" -- organizations and through the dedication, selflessness and generosity of many medical personnel and volunteers, are rescuing children around the world from the tragedy of congenital heart defects, one "heart gift" at a time.
To learn more about HeartGift Austin and about all the precious, little lives that have been saved, please click here, or e-mail jedwards@heartgift.org.
A version of this story appeared in the Austin American-Statesman on June 30, 2013
HeartGift Austin logo adaptation -- with permission -- by the author's grandson, Preston S. Werner