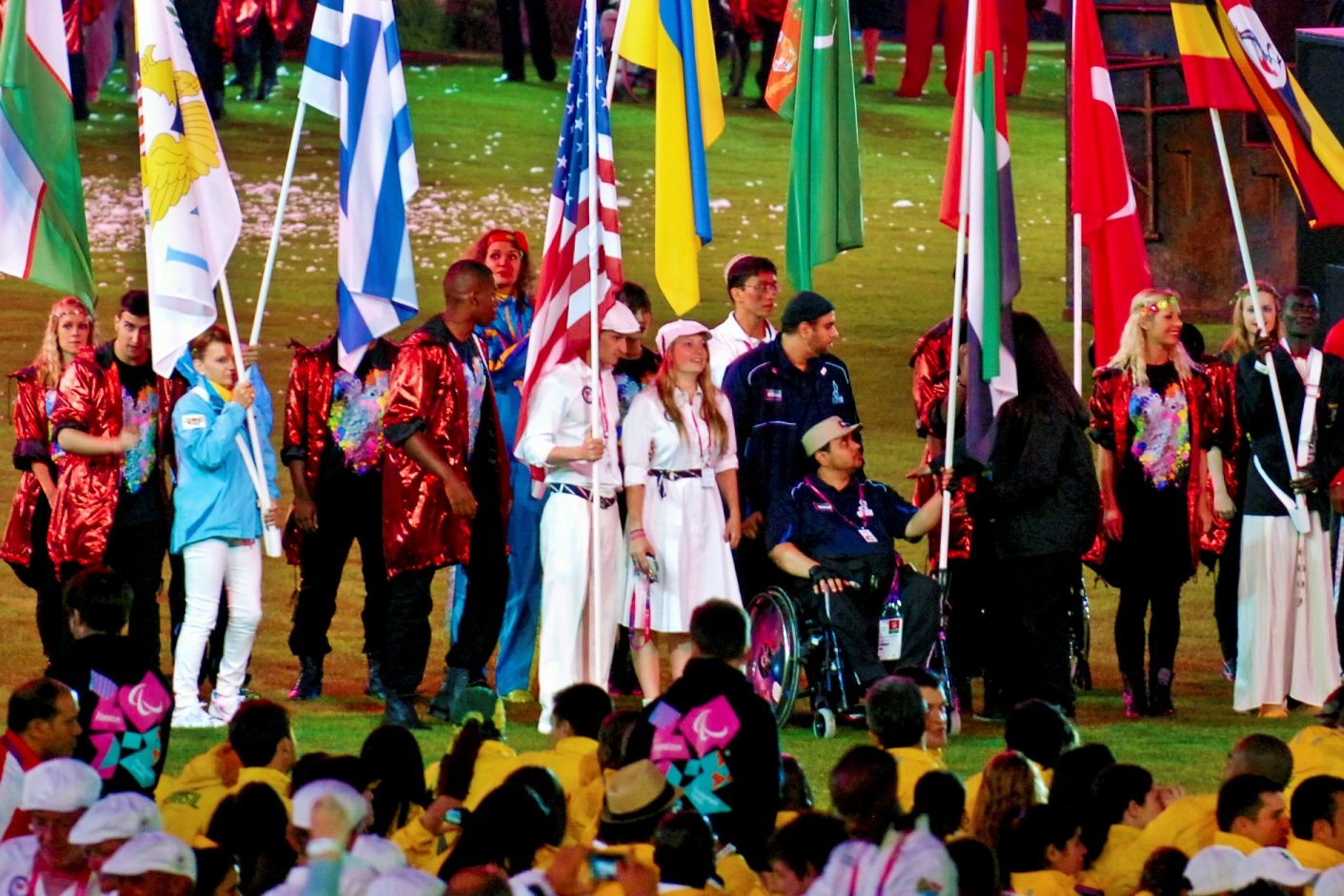 U.S. Navy Lt. Bradley Snyder, center, a Paralympic record holder and gold medal-winning member of the 2012 U.S. Paralympic Swim Team, carries the flag for the U.S. during the closing ceremony of the 2012 Paralympic Games in London, Sept. 9, 2012
There have been many stirring and memorable words said and written about what are now called "the greatest Paralympic Games ever."
For example, declaring the 2012 Paralympics closed last night, International Paralympic Committee president Sir Philip Craven said, "These Games have changed us all forever."
Speaking to the 80,000-strong crowd at the Paralympics closing ceremonies, organizing committee chairman Lord Coe said the UK would "never think of sport the same way and we will never think of disability the same way. The Paralympians have lifted the cloud of limitation."
Before the start of the closing ceremony, Prime Minister David Cameron, whose disabled son Ivan died in 2009, said, "I think back to Ivan. As every parent, you think about all the things they can't do, but at the Paralympics they are superhuman, you see all the things they can do."
Finally Chairman of the Joint Chiefs of Staff and head of U.S. Olympic Committee's Paralympics delegation Army Gen. Martin E. Dempsey, referring to our military Paralympians, said at the beginning of the Games, "We celebrate, not just the accomplishments, but as importantly, the commitment these athletes who don't define their lives in terms of their disabilities, but rather, in terms of their abilities. It's just phenomenal."
But the words that I believe describe this event and these Paralympians best came from former Formula One driver Alex Zanardi, who lost his legs in a 200 MPH race car crash in 2001 and who went on to win two gold medals and one silver in the London Paralympics hand cycling events. On Monday morning's Today show, Zanardi simply said that he "changed adversity into opportunity."
Following are some of the adversities our 20 military Paralympians have faced and how they have turned them into opportunities.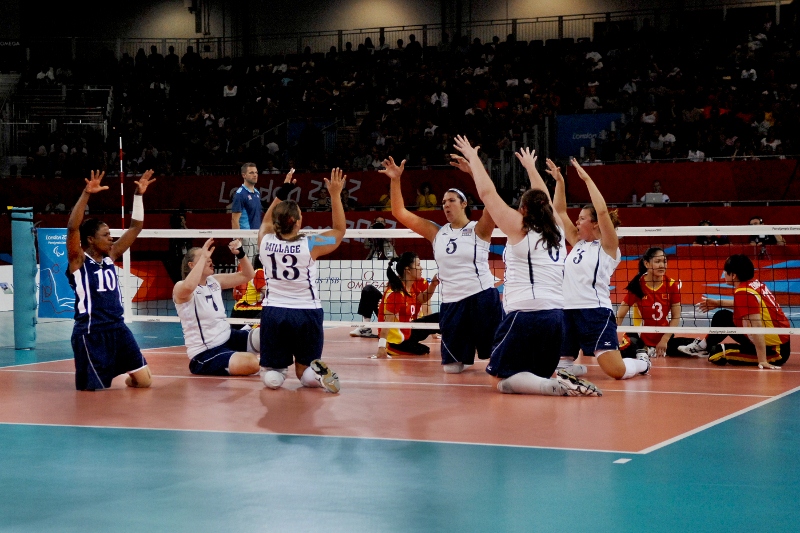 Kari Miller, center, blue uniform, sets the volleyball so a teammate can prepare for a spike during a non-medal match against China at the ExCel Centre in London, Aug. 31, 2012. DOD photo by U.S. Army Sgt. 1st Class Tyrone C. Marshall Jr.
Kari Miller was serving in the Army when, nearly 13 years ago, the car she was riding in was hit by a drunken driver. Miller, then 22, lost both her legs. As part of her rehabilitation, she explored various sports and finally chose volleyball. Today, as part of the U.S. Paralympic sitting volleyball team, she is the proud winner of a silver medal.

Navy Lt. Brad Snyder was blinded while attempting to disable an improvised explosive device in Afghanistan on Sept. 7, 2011. A graduate of the U.S. Naval Academy, Snyder dedicated himself to swimming following his injury. Today at the London Paralympics he has won two gold medals and one silver medal in the swimming events.

Oz Sanchez enlisted in the U.S. Marines, became part of the Special Forces unit and was deployed twice to the Middle East. He transferred to the Navy with hopes of becoming a Navy SEAL, but, in 2001, a motorcycle accident that injured his spinal cord and left him paralyzed from the waist down dashed those hopes. Through his rehabilitation efforts, Sanchez became a Paralympian and today he proudly displays a gold medal and a silver medal won in the 2012 Paralympics cycling events.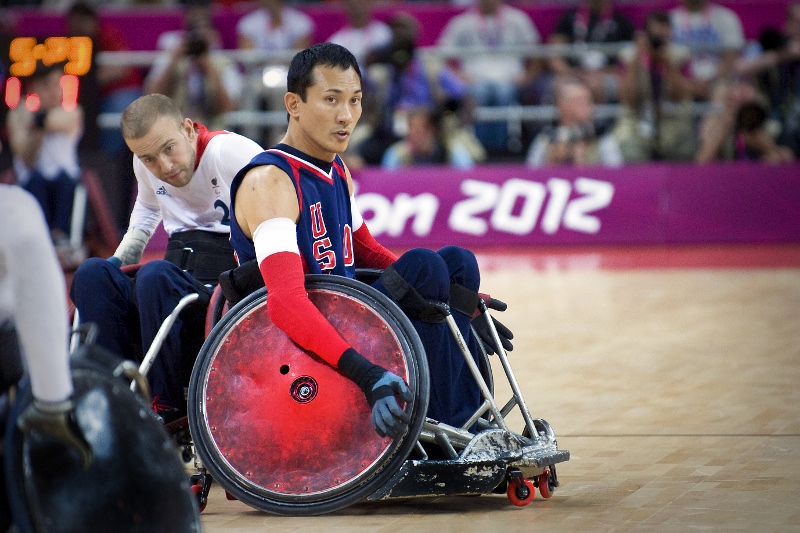 William Groulx, U.S. wheelchair rugby captain, rolls into position to defend against the British team during the 2012 Paralympic Games in London. DOD photo by U.S. Air Force Master Sgt. Sean M. Worrell
Retired Navy petty officer 2nd classWill Groulx served in the U.S. Navy from 1995 to 2001 and was introduced to wheelchair rugby while he was in rehabilitation at a Veterans Affairs facility. As a team captain of the U.S. team, Groulx led his team to win the bronze medal in Paralympics wheelchair rugby.
Former West Point cadet Jennifer Schuble suffered a traumatic brain injury during hand-to-hand combat training at the Academy. She later was involved in a car accident in which her right arm was crushed and her TBI was exacerbated. In a final challenging blow, she was diagnosed with multiple sclerosis in 2004. None of this would keep her down and today, at the 2012 Paralympics, Schuble has won a silver and a bronze medal in para cycling events.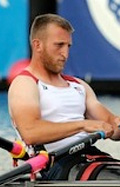 Retired Marine Sgt. Rob Jones
Retired Marine Sergeant Rob Jones had both legs amputated above the knee after stepping on an IED in Afghanistan in 2010. Jones chose rowing as a sport because it has the combination of ferocious effort harmonized with delicate technique. Today, along with Oksana Masters, he is the winner of the bronze medal in the trunk and arms mixed double sculls rowing event at the 2012 Paralympic Games.

Angela Madsen, named by the Amateur Athletic Foundation as a recipient of the "Women Who Inspire Us" award, won the bronze medal in women's shot put at the Paralympics Games.
Scot Severn, right, a U.S. Army Reserve veteran and Paralympic athlete, competes in a discus throw competition during the 2012 Paralympic Games in London, Sept. 6, 2012. U.S. Air Force photo by Master Sgt. Sean M. Worrell -
Scot Severn was on duty with the Army Reserves at Camp Grayling, Mich., when he was struck by lightning. The bolt caused severe external and internal burns. The injuries left him an incomplete quadriplegic who uses a wheelchair for daily activities. He began participating in wheelchair sports in 2003. Today he serves as the sports director for the Michigan Paralyzed Veterans of America and on the Michigan Department of National Resources Accessibility Advisory Council and has just won the bronze medal in the Paralympics men's shot put event.
Other military Paralympians who have overcome injuries and adversity and have turned such adversities into opportunities by qualifying for and competing in the London 2012 Paralympics are:
• Former U.S. Air Force staff sergeant Mario Rodriguez who had part of his pelvis and leg surgically removed when doctors discovered he had a tumor in 1985 and who, in 1992, had his leg removed -- a decision that ultimately brought him to the sport of wheelchair fencing and a sport in which he competed in the London Paralympics.
Mario Rodriguez
• Active duty Marine Corps Cpl. Rene Renteria, one of three active-duty service members competing in the Paralympic Games and a member of the Wounded Warrior Battalion after serving in Afghanistan, became part of the U.S. Paralympic soccer team. He credits his four years of military service for helping him reach the Paralympics, and his family for keeping him focused, especially during tough times
• Army veteran Dugie Denton who deals with effects from a traumatic brain injury, has reduced balance from a past ruptured eardrum, and had a plate put in his ankle after being shot during his military service has not let that keep him from becoming a Paralympic archer in the 2012 London Paralympics.
• Eric Hollen, a former U.S. Army Ranger with the 10th Special Forces Group received a life-altering injury in combat. Hollen then "shifted gears from disability to ability," focused on attending school and developing his shooting abilities. In 2010, he was named USA Shooting's Paralympic Athlete of the Year. Today he is a London Paralympian.
• Former Navy Lt. Cmdr. Steven Peace, a U.S. Naval Academy graduate, suffered a debilitating stroke that left him without the use of the right side of his body five years ago. After he left the Navy, Peace persevered, picked up cycling after learning about the sport during rehabilitation and today he is a Paralympian as a road cyclist.
Steven Peace rides past fans while negotiating a hill as he completes the first of three laps for the 24-kilometer road race during the 2012 Paralympic Games in London.
• Centra "Cece" Mazyck served with the 82nd Airborne Division, based at Fort Bragg, N.C. On a high-altitude jump in November 2003, Mazyck got entangled with another jumper and "landed wrong," suffering a spinal cord injury and becoming an incomplete paraplegic. She credits her military career for helping her "adapt and overcome" to become London 2012 javelin competitor.
• Army Sgt. 1st Class Joshua Olson was injured in 2003 when his right leg was struck by a rocket-propelled grenade while on patrol in Iraq. After spending 18 months at Walter Reed, Olson was assigned to the Army Marksmanship Unit in Fort Benning, Ga. In 2004, Olson became the first athlete with a physical disability to be nominated to the Army's World Class Athlete program. Today, Olson has just finished competing in shooting at the London Paralympics.
• Jerry Shields competed in his first para archery event at the London Paralympics. Previously, Shields participated in the 2012 Stoke Mandeville Open, the 2011 World Championships and received the gold medal in compound bow in 2004, 2006, 2007, 2009 and 2010 at the National Veterans' Wheelchair Games.
• Gavin Sibayan, a U.S. Army retiree, was a member of the U.S. London Paralympics soccer team. Previously, he participated in the 2012 Ukraine International Tournament and 2012 Paralympic World Cup.
• Christopher Clemens, a nine-year Navy veteran, was injured while serving in Afghanistan. He competed in the 2012 Paralympics long jump event. Among his career accomplishments, he received the gold medal at the 2012 U.S. Paralympic Track and Field Trials in 100m and long jump.
• While deployed to Tikrit, Iraq in 2003, Army veteran Scott Winkler fell from an ammo truck suffering injuries that resulted in paralysis. Today, Winkler is co-founder of Champions Made from Adversity, a nonprofit organization that provides sports and leisure activities for people with a physical disability and their families and he is a 2012 Paralympian competing in the men's shot put event.
• Russell Wolfe spends time mentoring other veterans through the U.S. Olympic Committee's Paralympic Ambassador Program. In this year's London Paralympics, Wolfe competed in the para archery event. He also participated in the 2008 Paralympic Games in Beijing.
See you in Rio...
All Images courtesy DOD. Background material, courtesy American Forces Press Service, with special thanks and kudos to military reporter Army Sgt. 1st Class Tyrone C. Marshall Jr.