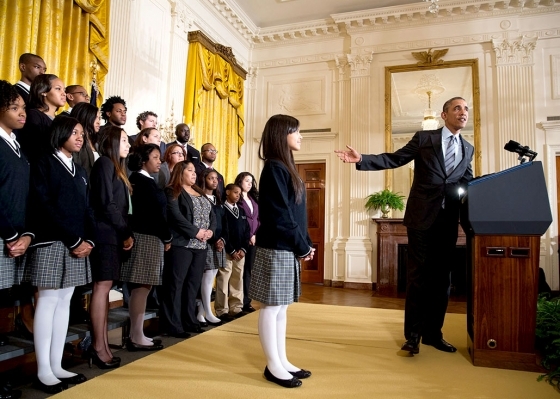 There was a period of time in my life where I was goofing off. I was raised by a single mom. I didn't know my dad. The only difference between me and Roger was my environment was more forgiving than his. That's the only difference. If I screwed up, the consequences weren't quite as great.
Roger -- his full name is Roger Brown -- is a young teenager from Harlem who, while growing up, spent some time in the foster care system before going to live with his mom, who was working two jobs to make ends meet.

The person comparing himself to Roger is the President of the United States.
The occasion: The President's announcement Thursday in the East Room of the first five "Promise Zone" locations, an initiative to partner with local communities and businesses to create jobs, expand access to educational opportunities and spur economic mobility.
He was joined by students from Harlem Children's Zone, an educational undertaking that inspired the Promise Zones. One of those students is Roger Brown whose mother, when he was in 6th grade, entered his name in the Promise Academy Charter School lottery and prayed and, the President says, "won a spot."
The President continues:
Now, the way I hear it, Roger, you were still having some problems sometimes. He was the class clown and acting out, and almost got himself expelled. But the teachers and the staff did not give up on him. They saw something in him. They kept pushing him. And then one summer when Roger was home visiting his foster family, he looked around the room and he realized nobody in that room had gone to college, and nobody in that room had a job. And at that moment, something clicked. And Roger decided he wanted something better for himself -- and for his mom and for his two sisters that looked up to him.

So Roger buckled down. He went from failing his classes to passing his classes. He became a member of the first graduating class at the Promise Academy. (Applause.) And today Roger is a sophomore at Hunter College in New York, one of the best colleges in the country -- the first person in his family to get that far. And now he wants to go to medical school and become a neurologist.
Using the success of the Harlem Children's Zone program, the President outlines his "Promise Zone" plan designed to, in his words, "help you remake your community on behalf of your kids, family by family, block by block" by cutting red tape and streamlining federal funding to specific zones that need it most.
"We'll take resources from some of the programs that we're already doing and concentrate them. We'll make sure that our agencies are working together more effectively. We'll put in talent to help you plan. But we're also going to hold you accountable and measure your progress," the President says.
He also says, "A child's course in life should be determined not by the zip code she's born in, but by the strength of her work ethic and the scope of her dreams,"
Discussing the program, Doug Schoen at Forbes writes:
To this end, President Obama unveiled his first five "promise zones" this afternoon in a White House press conference. These zones are pockets of the country that will receive comprehensive federal assistance after being especially hard hit by the recession. There will ultimately be 20 zones across the country.
The first five Promise Zones are located in San Antonio, Philadelphia, Los Angeles, Southeastern Kentucky and the Choctaw Nation of Oklahoma.
Republican Senator Rand Paul has introduced a bill in Congress to create "Economic Freedom Zones" that would reduce taxes and ease government regulation in distressed areas, according to Schoen.
In his speech, the president acknowledged Paul and his plan:
And I've been very happy to see that there are Republicans like Rand Paul, who's here today, who are ready to engage in this debate. That's a good thing. We've got Democratic and Republican elected officials across the country who are ready to roll up their sleeves and get to work. And this should be a challenge that unites us all.
Schoen notes:
And although President Obama didn't include Detroit as Paul did, there is surely some commonality in their proposals, at least in the overarching goals, even though the means by which they arrive at engendering economic mobility are fundamentally different.
Schoen concludes:
Once again, Washington is faced with yet another opportunity to put partisanship aside and to get something done on a sweeping, national level.

It is my hope that legislators will rise to the challenge of working together to ensure that this tremendous crisis is resolved.
And the President concludes his remarks in the East Room as follows:
I want more kids to have the chance that Roger got. I want more kids to have the chance this country gave me. We should all want every one of our kids and their families to have a shot at success. If you are willing to dream big and work hard, you should grow up with the same opportunities in life as any other child living in any other place.

That's what we're fighting for. That's what America is about. So let's act. Let's make it happen this year, all right?
Read the full remarks by the President on Promise Zones here.
Lead photo: President Barack Obama delivers remarks announcing the first five "Promise Zones," in the East Room of the White House, Jan. 9, 2014. (Official White House Photo by Chuck Kennedy)