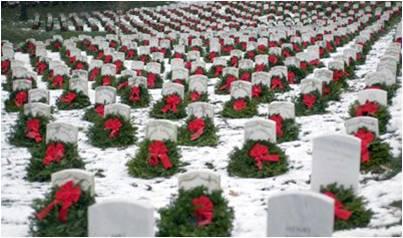 You enjoyed a fabulous turkey dinner with every trimming one can think of and your tummy is feeling pretty good -- or not so good.
You were blessed with the company of your loved ones and you are still basking in the afterglow.
You invited that lonely airman, soldier or sailor to share Thanksgiving with you and your family or, if you couldn't, you took a big plate chock-full of steaming Thanksgiving goodies to that disabled veteran down the road who otherwise would have had Thanksgiving dinner at some fast food restaurant -- or none at all. And you are feeling pretty good about that -- as you should.
For some of us, this "feel-good" sensation will last at least until Christmas when we can once again do the right thing.
If you are one of those who cannot wait until Christmas, whose noble instincts just keep tugging at your heart strings and whose good-deed-o-meter is in the red, here is a another opportunity to get it back in the green zone again.
Wreaths Across America is a wonderful organization that every year, in December, organizes and supports the laying of thousands of wreaths at hundreds of cemeteries in all of our 50 states, wherever our veterans rest.
The mission of Wreaths Across America is simple yet noble: "To Remember, Honor, & Teach about the service and sacrifices of our veterans, active military, and their families. We will Never Forget."
Wreaths Across America does many other things to spread the message about the importance of "remembering our fallen heroes, honoring those who serve, and teaching our children about the sacrifices made by veterans and their families to preserve our freedoms," but their most "beautifully evident" labor of patriotism is, in my opinion, the wreath laying.
We have all seen, and have been awestruck by, the somber sight of hundreds or thousands of precisely aligned rows of stark headstones at one or another of our Veterans cemeteries.
But recently I have seen the awe-inspiring images of hundreds -- thousands -- of beautiful, red-ribbon-adorned, fresh, green wreaths gracing the graves of our fallen heroes.
I became more familiar with Wreaths Across America and its mission when I made contact with the son of a U.S. Air Force officer who was my commander more than 50 years ago.
Retired U.S. Air Force Senior Master Sergeant Richard J. Leonard, the son of my former commander, and an officer and former commander of the Fredericksburg, Va. Composite Squadron of the Civil Air Patrol (CAP), has been heavily involved with Wreaths Across America at the Quantico National Cemetery in Triangle, Va.
Last year, Leonard led the wreath laying ceremony at Quantico and considered it "an honor and a privilege," especially since both his parents are buried at Quantico.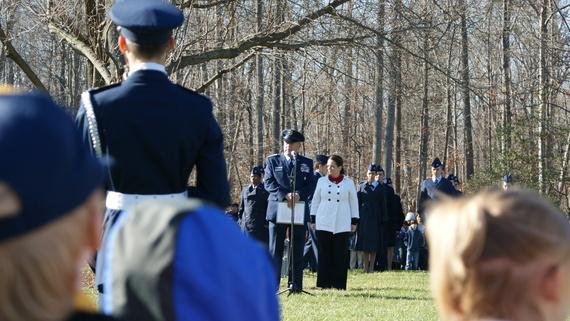 Capt. Richard J. Leonard conducting the 2012 Wreaths Across America ceremony at Quantico National Cemetery as commander of the Fredericksburg, Va. Composite Squadron of the Civil Air Patrol. Photo by 1st Lt. Lisa Sylvia, Public Affairs Officer for the squadron, with permission.

Thinking of his father, Col. Edwin P. Leonard, who served his country for 34 years, and was awarded the Distinguished Flying Cross and the Bronze Star during the Vietnam War, Leonard says, "I know each time I visit my parents at Quantico I feel honored to be among those who served our nation so well," and he adds:
There is no better way in my opinion, to honor their service by remembering each of them than by sponsoring a wreath to be placed upon their grave. It matters not if you have a loved one buried there, it matters not that you lay a wreath upon the grave of someone you never knew, what does matter is that by placing a wreath upon a grave, any grave, you are honoring all veterans who have served, are serving, or will serve in the future. Our veterans who served this nation and its citizens with honor deserve to be recognized for their service. This is a wonderful way to recognize that service.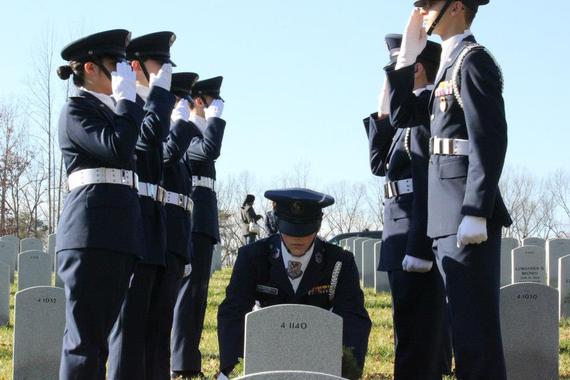 Cadets of the Fredericksburg Composite Squadron laying a wreath at a Quantico National Cemetery grace during the 2012 Wreaths Across America ceremony. Photo by 1st Lt. Lisa Sylvia, with permission.
I can not find more persuasive words than those of Leonard to encourage those who would like to do one more noble thing between now and Christmas to sponsor a wreath for a loved one, a friend or for any one of the thousands of our nation's heroes resting in our National Cemeteries. The nation-wide ceremonies will take place this year on December 14.
The cost of a wreath is minimal; the good that results immeasurable.
Belgian-born Pierre Claeyssens (1908-2003), American immigrant and philanthropist who "never stopped expressing his gratitude to the American GIs who helped free his native country in two world wars" perhaps said it best: "To be killed in a war is not the worst that can happen. To be lost is not the worst. To be forgotten is the worst."
To sponsor a wreath or for more information on Wreaths Across America, please go here.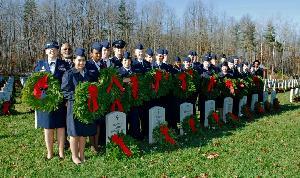 Members of the Fredericksburg Composite Squadron participating in the 2011 Wreaths Across America ceremony at Quantico National Cemetery. Photo by 1st Lt. Lisa Sylvia, with permission.
To sponsor a wreath specifically for the Quantico National Cemetery or to learn more about the Fredericksburg Composite Squadron please visit their website here.
Lead image: Courtesy Wreaths Across America