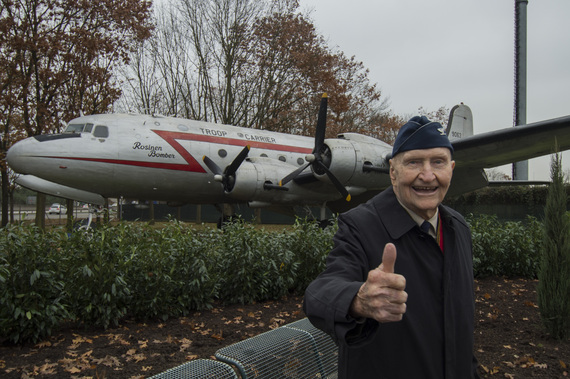 Two years ago , when ISIS was inflicting so many horrific crimes on the peoples of Iraq and Syria, there were some glimmers of good news for the allied forces fighting the terrorists. Those glimmers came when allied forces rescued an estimated 50,000 to 80,000 Yazidis who had fled to Mount Sinjar, Iraq, where they languished for days in the heat without food, water or medicine.
They also came in Irbil and around Amerli.
There were also small but gallant acts of thoughtfulness and kindness.
One of those acts came from the skies over Iraq.
The U.S. Air Force and some of it allies had been air dropping food, water, medicines, etc. to Yazidis and others who had been driven out of their homes and deprived of those essentials by the ISIS terrorists.
A couple of enterprising and warmhearted Air Force Master Sergeants (below) began attaching candy collected by their squadron to pallets airdropped over the area of Amerli, Iraq.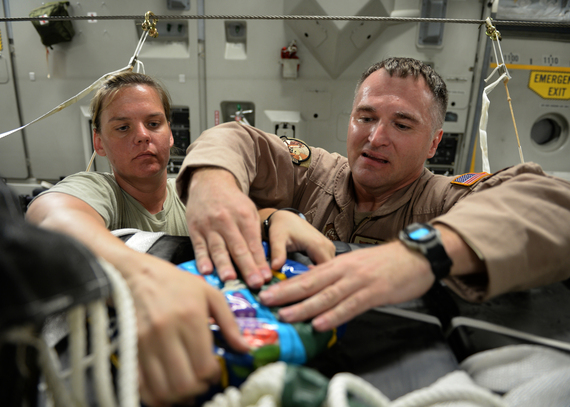 U.S. Air Force Master Sergeants, Stephen Brown and Emily Edmunds, attaching candy to pallets in preparation for a humanitarian airdrop over the area of Amerli, Iraq. (DoD photo)
A DoD article told us at the time, "The acts of kindness were a slippery slope for the 816th Expeditionary Airlift Squadron aircrews, which have graduated from single packs of candy to garbage bags full of donated sweet treats for the most recent airdrops Aug. 31, in the area of Amerli, Iraq."
At the time, these "Candy Bombers of Iraq," immediately reminded me of another "candy bomber," a young U.S. Air Force pilot, 1st Lt. Gail S. Halvorsen, who as part of the gigantic 1948-1949 "Berlin Airlift" had flown several airlift missions into Berlin and one day noticed how desperate the little kids in Berlin were for a piece of candy, a piece of gum.
As told by the Stars and Stripes in 1984 and recounted here a couple of years ago:
[Halvorsen] found two sticks of gum in his pockets, broke them in half and passed them through the barbed wire to the children.

"I couldn't believe the looks on the faces of the kids who got a piece. They unwrapped it very carefully so they wouldn't lose a piece of the broken off end and then they took the wrappers and tore them into little pieces and passed them around. The other kids were happy just smelling a piece of the gum wrapper.

"For 30 cents, I figured, I can put these kids on easy street."

And this is how the story -- the legend -- of the "Candy Bomber," the "Chocolate Flyer," "Operation Little Vittles" or " Uncle Wiggly Wings," started. "A quick dip of the wings of his C-54 Skymaster transport plane, and fruit, chocolate and other sweets would parachute down from the sky," says the Stripes.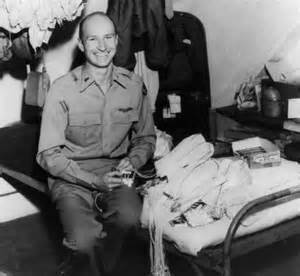 Halvorsen rigging candy bar parachutes. Photo U.S. Army.mil
Candy first fell from the skies over Berlin, a few ounces at a time, by way of little handkerchief parachutes attached to bags of candy, fruit, chocolates and other sweets.

Then, after receiving a wink and a nod from his commanding officer, "it was gangbusters" Halvorsen tells the Stripes. "Members of the unit chipped in their candy rations -- a real sacrifice, Halvorsen notes. because you could get a German to do a week's washing for one chocolate bar -- and the men donated handkerchiefs to keep the candy bombing operation underway," according to the Stripes.
A week ago, on November 22, a renovated Berlin Airlift Memorial at Frankfurt International Airport, honoring the Allied air forces who delivered more than 2 million tons of food, supplies and candy to the Soviet-blockaded citizens of Berlin, was reopened.
Calling the airlift "one of the greatest feats in aviation history," Col. Timothy Stretch, the U.S. Air Forces in Europe and Air Forces Africa Air Force Reserve advisor to the commander, honored the now retired Col. Gail Halvorsen, who has come to be known variously as the Berlin Candy Bomber, Chocolate Flyer, Chocolate Pilot, Uncle Wiggly Wings or the Raisin Bomber and whose "operation" is called "Operation Little Vittles" after 'Operation Vittles,' the name of the Berlin Airlift.
Retired U.S. Air Force Col. Gail Halvorsen also known as the "Berlin Candy Bomber," smiles before the reopening ceremony of the Berlin Airlift Memorial outside Frankfurt International Airport, Germany, Nov. 22, 2016. (U.S. Air Force photo/Staff Sgt. Joe W. McFadden)
From a report by Staff Sgt. Joe W. McFadden, 52nd Fighter Wing Public Affairs:
And nearly 70 years later, Halvorsen still hands out chocolate at ceremonies like the one in Frankfurt to children of all ages, including Gisela Rainare, who worked at Frankfurt Airport throughout the entire airlift.

"I never got a bar of chocolate when I worked here for the airlift," said Rainare, as Halvorsen handed her one before the ceremony during their reunion. "And some 60 years later, I meet him again!"

In speaking to the crowd, Halvorsen led with the example set by his fellow Airmen, particularly a close friend who was killed during the mission. He said he was surprised by his friend's decision to leave his family and return to the European theater saving people whose armed forces previously shot up his aircraft during the war.

"He looked a long ways off and said 'It's a whole lot better feeding 'em than it is to kill 'em, and I'm glad to be back,'" Halvorsen said. "That was the spirit of those at the time; former enemies became friends. Individuals were seen as a person with feelings and not from their leadership in existence with Hitler. So, it was a wonderful feeling of helping a former enemy."
Please watch the video below:
Lead photo: Retired Col. Gail Halvorsen gives a thumbs-up gesture after the reopening ceremony of the Berlin Airlift Memorial outside Frankfurt International Airport, Germany, Nov. 22, 2016. (U.S. Air Force photo/Staff Sgt. Joe W. McFadden)