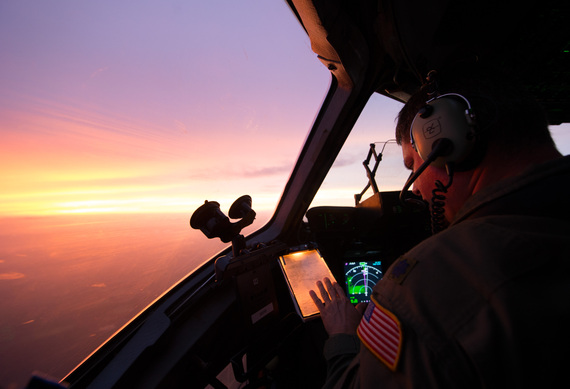 In an August 22 column on the Ebola crisis, I noted that the current outbreak of Ebola in West Africa -- "the worst in recorded history" -- had claimed 1,350 lives.
Less than a month later the World Health Organization reports that the number of people in West Africa who have contracted and died from Ebola has doubled to 2,622.
On Thursday, in an emergency session convened by the United States, 131 members of the United Nations Security Council unanimously adopted a resolution declaring the Ebola outbreak spreading now in Africa a threat to international peace and security.
But even before this resolution, the United States has been mobilizing to fight and control this horrific epidemic.
During a visit to the Centers for Disease Control and Prevention in Atlanta on September 16, President Obama recognized what he called "the hard truth":
"In West Africa, Ebola is an epidemic of the likes that we have not seen before...It's spiraling out of control. It is getting worse. It's spreading faster and exponentially. Today, thousands of people in West Africa are infected. That number could rapidly grow to tens of thousands."

[The President] said that, if the outbreak is not stopped, the world could see hundreds of thousands of people infected in the region, with profound political and economic and security implications for everyone, adding that the epidemic is not just a threat to regional security -- it's a potential threat to global security if the affected countries break down -- if their economies break down and if their people panic. That situation would have profound effects on people everywhere, even those who don't contract the disease.
The President detailed the U.S. response to the Ebola crisis saying that the U.S. is prepared to take leadership on this effort, "to provide the kinds of capabilities that only America has, and to mobilize the world in ways that only America can do. That's what we're doing as we speak."
And -- as has been the case when the U.S. has provided humanitarian response during so many disasters worldwide -- the U.S. military once again will play a prominent and vital role.
The U.S. would establish a military command center with an estimated 3,000 U.S. troops in Monrovia, Liberia, to help to coordinate expanded U.S. and international anti-Ebola efforts across the region.
It would include the construction of 17 Ebola treatment centers across Liberia each with 100 beds. Also, the training of thousands of health-care workers and providing "air logistics, protective gear, health kits and medical experts."
Just a few days after the President's remarks, Army Maj. Gen. Darryl A. Williams, the U.S. Army Africa commander who will lead the U.S. military's response called "Operation United Assistance," arrived in Monrovia with a 12-person assessment team.
The assessment team will evaluate what other deployed U.S. military personnel will need in terms of support infrastructure to sustain operations for up to six months, "or however long U.S. military assistance is required" in West Africa, according to Pentagon spokesman Admiral Kirby.
C-17 aircraft carrying military handling equipment arrived in Monrovia this week and two more C-17s will arrive this weekend with approximately 45 additional U.S. military personnel, "and they will begin work establishing the command headquarters of General Williams..." according to Kirby.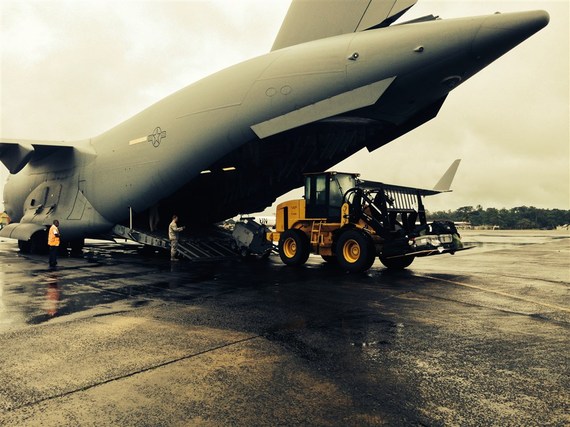 A U.S. C-17 Globemaster III transport jet arrives in Liberia with the first shipment of increased U.S. military equipment and personnel for the anti-Ebola fight, Sept. 18, 2014. State Department photo
"Currently, program funds approved for the DoD Ebola response are around $30 million," the admiral explained, adding that this includes previously announced efforts such as a 25-bed mobile hospital for ill African health care workers, supplies and lab training, diagnostic equipment, and personal protective equipment.

So far, DoD has requested to reprogram two rounds of $500 million each in fiscal year 2014 overseas contingency funds to provide urgent humanitarian assistance to fight Ebola, Kirby said, noting that DoD is prepared to devote up to $1 billion to its Ebola response efforts.
There are of course unique risks involved in this equally unique operation and Americans have many questions.
One question this author has is whether the 3,000 troops deployed to Africa will be volunteers for this specific operation, albeit I am perfectly aware that our military are already volunteers and -- from my own military background -- I know that, if asked to volunteer, the vast majority of qualified troops would do exactly that. That is just the nature of military service.
In response to other questions at a press briefing yesterday about the risks involved, Admiral Kirby replied, "[There] is no intention right now that [deployed troops] will interact with patients or be in areas where they would necessarily come into contact with patients."
He added, "They're not doctors. They're not nurses. They're not trained for that and not equipped for that. That's not part of the mission. They will be kept in locations where they can do their jobs without coming into contact with patients."
To a similar follow-up question that, in spite of protective gear and other measures, there is still the risk of our troops coming in close contact with Ebola patients, Kirby replied:
We're clear-eyed about the risk that we're incurring in standing up this mission down in Liberia and in Africa with this -- with this deadly disease. And as I answered to Courtney, the disease itself is a threat. We understand that. We get paid to deal in risk and to manage that and to mitigate it the best we can.

It's difficult in any military operation to eliminate it, and the men and women who sign up and serve in the military understand that when they do...
On the question of whether there is a plan to quarantine our troops before bringing them home, Kirby replied:
Well, we're going to be, obviously, monitoring their health throughout their mission. I think we'll have a good sense before they come back, you know, how they're doing.

We'll -- we'll -- as we always do, we take good care of our troops and we'll be monitoring their health throughout the process.
Finally, one reporter asked, "What does victory look like in this operation?"
Kirby answered,

This is -- this -- the success will be measured by the degree to which we are able to support USAID and the State Department, and Liberian officials in particular, in combating this disease. As I said, our job is -- we are very much -- in this case, you know, in the military we have a parlance of supported organization and a supporting organization. We are very much a supporting organization in this.

So, success for us is the degree to which we have adequately supported those who are going to be on the front lines of treating patients, and we will do that for as long as required...
This in contrast to some right-wingers who measure victory only by how many tons of bombs are dropped and by how many people are killed; who call Ebola "a really bad flu bug" and who would "rather send 3,000 tough hard combat troops to fight ISIS and ensure the epidemic of Christian and religious minority genocide ceased."
I have some news for you, Mr. West: Our troops can both fight the enemy and help out human beings in need, and they can do them both very well.
Lead image: Lt. Col. Matthew Yaun conducts aerial operations training on board a C-17 Globemaster III Sept. 8, 2014. These are the aircraft being used in "Operation United Assistance." Yaun is a pilot assigned to the 300th Airlift Squadron. (U.S. Air Force photo/Tech. Sgt. Barry Loo)