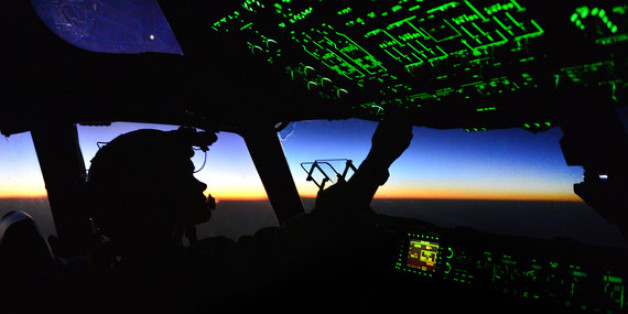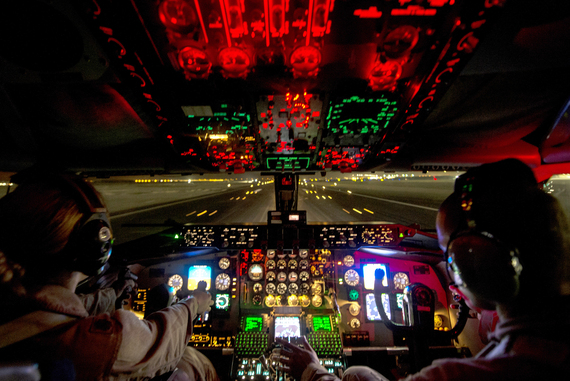 The history of women serving in armed conflicts probably goes back hundreds of years -- if not longer.
In the United States, during the American Revolution, women served on the battlefield as nurses, water bearers, laundresses and saboteurs.
Ever since then, their roles in the military have continued to expand in numbers, skills and responsibilities.
But, it would still be more than 150 years -- World War II -- before women were allowed to fly our military aircraft as "Women AirForce Service Pilots," or WASP.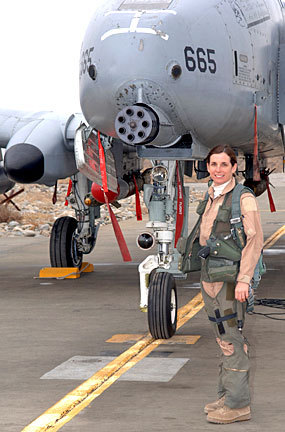 Lt. Col. Martha McSally stands with her A-10 Thunderbolt II aircraft. The colonel is the first female pilot in the Air Force to fly in combat and to serve as a squadron commander of a combat aviation squadron. U.S. Air Force photo.
In 1986, six Air Force women served as pilots, copilots and boom operators on KC-135 and KC-10 tankers that were used to refuel FB-111s during the raid on Libya.
After Congress, in 1991, repealed laws barring women from flying in combat, the sky would no longer be the limit to our women in the military.
And so, it should come as no surprise to see our service women flying armed fighter jets, refueling tankers and other kinds of aircraft both as pilots and as crew members, both in combat roles and on humanitarian missions, during the present action against ISIL.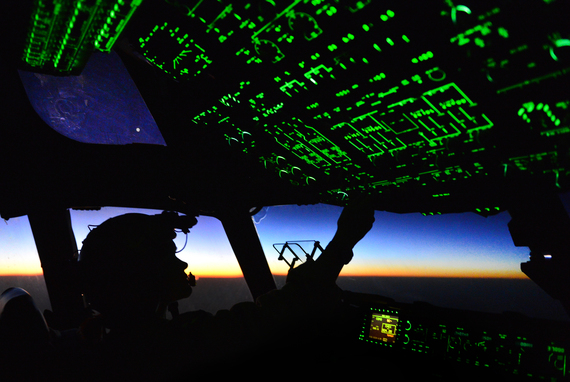 U.S. Air Force Capt. Erica Stooksbury, a C-17 Globemaster III aircraft pilot with the 816th Expeditionary Airlift Squadron, adjusts the cockpit lighting controls in a C-17 over Iraq Aug. 30, 2014, after a humanitarian airdrop mission over Amirli, Iraq. (DoD photo by Staff Sgt. Vernon Young Jr.)
However, it is surprising to read about a woman fighter pilot from the United Arab Emirates (UAE) Air Force, flying an F-16 "Desert Falcon" fighter jet, participating in the bombing raids against ISIL in Syria this week.
American tanker-jet pilots apparently were also surprised. The New York Times:
When American tanker-jet pilots contacted the flight to arrange for midair refueling, [Yousef Al Otaiba, the UAE's Ambassador to the U.S.] said, they paused for about 20 seconds after hearing a woman's voice in reply.
The pilot and squadron commander is 35-year-old Maj. Mariam al-Mansouri, the first female fighter pilot in the history of the UAE.
Major al-Mansouri "was likely part of sorties that dropped bombs on Islamic State positions in Syria's Idlib, Aleppo and Raqqa provinces. Some reports suggest that she even spearheaded her country's mission, which complemented the parallel efforts of four other Arab states backing the U.S.: Saudi Arabia, Jordan, Bahrain and Qatar," according to the Stars and Stripes.
Major al-Mansouri's participation in the raids is not only rich in setting precedents but also in symbolism:
"The symbolism of a female fighter pilot bringing the heat to the women-enslaving Islamic State ought be lost on no one," says the Stripes. It also notes that in Saudi Arabia, "women are not permitted to drive cars, don't have voting rights (more enlightened rules come into effect in 2015), and cope with a whole regime of draconian, religious laws that circumscribe all aspects of their lives."
The air raids against ISIL, however, have given Saudi Arabia some bragging rights, too.
The Stripes:
[Saudi Arabia] released pictures of its pilots who took part in airstrikes, including Prince Khaled bin Salman, the son of the kingdom's crown prince. Long blamed for their listlessness and inaction, the kingdoms of the Gulf may try to change their image in the ongoing campaign.
The symbolism of a woman fighter pilot raining death on the Islamic terrorists is powerful and far-reaching.
"It's an Islamic State fighter's worst fear: to be killed by a woman," says the Stars and Stripes in a recent report and notes that there are many female Kurdish soldiers fighting ISIL in Iraq.
Although smaller than their male counterparts, "they talk just as tough as they prowl the battlefield clutching automatic rifles and vowing vengeance for those victimized by the Islamic State," says the Stripes.
Zekia Karhan, one of the female guerillas from Turkey who is with the Kurdistan Workers' Party, known as the PKK, said -- "as she stood next to a window pierced by several bullet holes in Makhmur, a town that the PKK helped recapture from the Islamic State this month" -- that she wasn't scared during the battle, but, she added, "Islamic State fighters are very scared of death because they are only here to kill people... don't mind doing it over and over again. I've already fought in Turkey, Iran and Syria."
The female PKK troops get fired up when they talk about the mass rapes and sex slavery that has been a hallmark of the Islamic State, says the Stripes:
"Everywhere they go they kill and do bad things in the name of Islam," Karhan said. "They captured a lot of women and they are selling them in Syria for $100. They rape women and behead them in the name of Islam."

Karhan said she'd heard stories about the extremists' fear of being killed by the opposite sex. In northern Iraq, it is said that the Islamic State fighters, who are exclusively male, believe that they won't be admitted to heaven if they are killed by a woman.
Pretty strong symbolism and motivation for these women.
Read more here.
Lead photo: U.S. Air Force Maj. Gena Fedoruk and U.S. Air Force 1st Lt. Marcel Trott take off in a KC-135 Stratotanker from a base in the U.S. Central Command area of responsibility to support airstrikes on ISIL targets in Syria, Sept. 23, 2014. U.S. Air Force photo by Senior Airman Matthew Bruch .