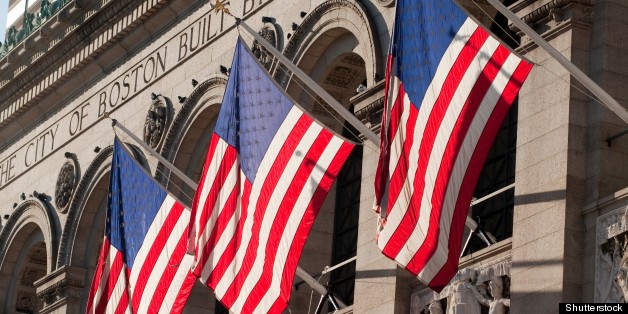 On Friday I woke up to a phone call from my big brother warning me not to go outside and to stay away from the windows. He'd heard that my tranquil town just outside Boston was under lockdown, that one of the bombers was still at large, maybe just a few blocks away.
If you're expecting this to be about the hardships of being under curfew in your own apartment on a warm spring day, forget it. We stayed in our jammies til noon. My daughter and I played board games. We cobbled together a few pieces of a jigsaw puzzle I am certain we will never finish. My wife baked cookies for us and did the Times crossword on her iPad. We had to eat leftovers for lunch, and we canceled our reservation for dinner at il Casale in Belmont Center, where Mitt Romney is said to enjoy a mean bowl of bolognese. I settled grudgingly for frozen ravioli and sauce from a jar and the last of an indifferent zinfandel. In other words, I acted like a typical self-absorbed American jackass while some other people in uniform kept me safe and although any thanks I can offer will ring hollow considering how I frittered away my day, I will say it anyhow: Thank you.
As I'm writing this, the surviving bomber is being carted off to the hospital under police escort. The helicopters that have been buzzing overhead all day are still in place, as the vast security apparatus of the modern state slowly unwinds itself and passes away into the night, leaving people free to walk their dogs and go for an ice cream or a beer.
And that is precisely why we are hated and feared by the suspected bomber and his kind. We're free. We're proof that being free is not the end of the world. It's the end of his world.