I consider myself a pretty "bad Jew". I know very little about my own religion and I attend temple only a handful of times per year. Luckily I am a reform Jew, so expectations of my devotion are relatively low. I enjoy the traditions and holidays but when it comes to answering my son's questions about anything Torah-related, I am often at a loss for explanation. Our goal is for our son to feel connected to his roots and culture while also learning about other religions; and having respect for all diverse beliefs. So far, so good, though trying to explain the resurrection of Christ the other day lead into a very confusing discussion about zombies and well, I had to stop it there.
My boys are off skiing this week in Colorado and while I have an entire week to myself, purely devoted to lazy indulgences, I decided I would "skip" Passover this week. I know, I know, if I report back that I had a flat tire or went into labor early, you will know I have been punished from up above. My friends have lovingly invited me to their homes and I have had to respond honestly, "thank you but I have a date with myself and a masseuse this Friday." I am holding on tight to this time with myself as I know it may be my last after baby number two arrives.
I have been sleeping in until 7:30, eating whatever I want (I had ice cream for dinner last night), leaving dishes in the sink, reading celebrity magazines and watching reality TV. Can you hear the angels singing? I certainly can. This is ultimate freedom. No school pickups or drop-offs, no packing and unpacking lunches, no multiple loads of laundry, no chauffeuring around town and no negotiations with my 7-year-old. Luxurious I tell you, absolutely luxurious.
Feeling only slightly guilty, I thought I would make matzos for Passover to try to win at least a few points with the big guy in the sky. After all, I was focusing on the holiday while baking, so that should count for something -- right?
Depending on how religious you are, there are some rules to making matzos properly. One of these rules is you have to make and bake your matzos within 18 minutes. Since avoiding leavened bread, grains or anything fermented is a featured goal of Passover, this 18-minute window is allotted as it is believed to be fermentation free. I like a challenge and decided to make it fun with sweat bands, Nike running shoes and a stop watch ensemble. I am living alone this week, I have to entertain myself somehow.
The dough is quite simple, requiring only three ingredients. It is a sturdy dough that is easy to roll out and bakes quickly. Though matzos are often described as tasting like cardboard, these homemade versions are absolutely delicious. They are more reminiscent of a mix between water crackers and Naan bread. Crisp, salty and airy, they make a great compliment to any spread, charoset (a Passover mixture of apples, raisins and nuts) or even your morning breakfast. If you want to make a lot of matzos, simply wrap them individually in plastic wrap after they have cooled completely and place them in a freezer safe Ziplock bag in your freezer. When you are ready to eat, simply remove the amount you want and allow to thaw on your counter for three minutes.
"Chag Sameach" (happy holidays) and happy baking!
Author: Adapted from the NY Times
Notes: This is a pretty solid recipe that did not require me to make too many adjustments. One word of caution is, watch your matzos in the oven carefully as they can burn in one minute. Also, feel free to spray the matzos with your oil spray (I make my own using organic canola oil and a pump bottle) during the baking process as this will add a nice golden color. Olive oil is in the original recipe but it starts to smoke beyond 465 degrees and I wanted to be cautious since this dough is rolled to an almost translucent thinness. Instead, you can see I substituted canola oil.
Ingredients
2 cups of flour (plus more for dusting)
1/2 tsp salt (plus more for topping)
Instructions
Heat your oven to 500 degrees. Lightly spray two cookie sheets with non-stick spray. Place flour and salt into your stand mixer fitted with a dough hook. Whisk flour mixture with a fork. Start your motor on low and pour in your water and oil. Turn your speed to medium. Continue mixing until a shiny ball forms.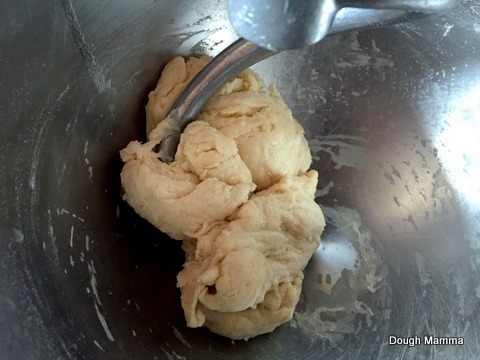 Cut dough into eight small pieces of relative equal size. Take one ball at a time, covering the rest with a towel. Take your ball of dough and place in between two pieces of parchment paper with flour. Using your rolling pin, roll until very thin. Pick up your parchment paper with the dough attached and carefully flip, or peel to remove and place on cookie sheet. Spray each side with oil and salt.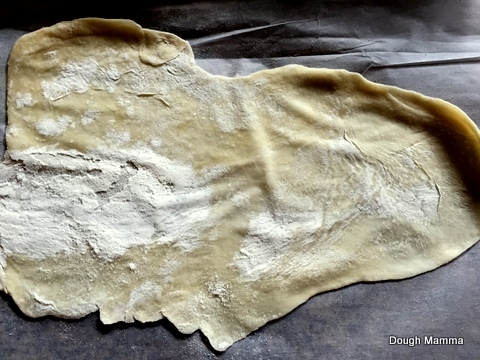 Continue this process until your cookie sheet is filled. Bake one cookie sheet at a time. Aim for about two minutes per side, flipping at the halfway point. Remember to keep a careful eye on them.
Remove from oven and allow to cool on wire racks.