Pope Francis in the first months of his papacy came to Lampedusa, a provincial island of Sicily not far from the Republic of Malta, to address the needs of thousands of African and increasingly middle eastern migrants who lose their lives in the Mediterranean sea pursuing freedom from starvation and violence. Before the Holy Father intervened, there was very little global notice given to the large number of migratory deaths in the Mediterranean region. One attempt to supply context can be found in a chapter of my semi-autobiographical work, Lift up Your Hearts (Amazon; Kindle world wide).
Now there is another powerful source of information on the problem of irregular migration. The movie Simshar -- made during 2009-2011 depicts one of the thousands of real life tragedies that occur in the choppy winter Mediterranean Sea.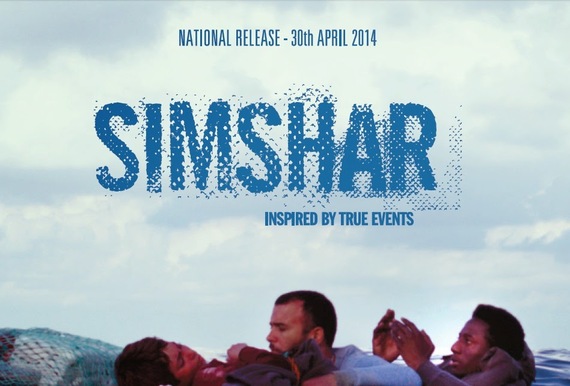 Few people and institutions had been reaching out to these impoverished, neglected souls. My diplomatic predecessor, Molly Bordonaro, opened the US humanitarian door and six months later, the empathy of Hillary Clinton authorized me to push that door open further working with the UN and the Jesuits to resettle hundreds of migrants in the US. Not surprisingly, Malta's faith practice and reputation of uncommon kindness reached out to these people in the shadows too, though like all nations with an obligation to see to their own well-being, the underlying politics remains complex.
A political profile in courage was President George Abela who joined me in co-authoring an essay for the Sunday Times that spoke out unequivocally against race and cultural discrimination. Those were bold words; indeed, I never told President Abela that when I sent our jointly authored essay to our State Department for clearance, officials there took out a goodly portion of the President's powerful statement against discrimination. When I told my Washington censors that they were deleting the prose of a head of State, they reconsidered, but the red-penciling revealed the principled nature of President Abela's words, but also how unusual it was for such a high profile public figure to make a heroic effort to deal fairly and humanely with these pioneers for freedom.
The State Department questioned whether I should help Rebecca Cremona
find investors for the movie, Simshar, as the incident of the same name raised allegation and cross-allegation over the obligations of rescue on the high sea and territorial waters. Embassies regularly help their citizens invest in countries where we have embassies -- indeed, that is a significant part of a diplomatic mission -- at least if you were talking about politically neutral gizmos or joint educational curricula, but a hard-hitting movie on a controversial topic written and directed by an articulate and intelligent young woman like Rebecca Cremona that was perceived by my highly cautious diplomatic brethren as potentially undiplomatic. That was a point well taken, and while the end result is a film of integrity, there are scenes that to me seem unduly harsh on parish priests and a bit over the top in the depiction of general animus toward migrants. Overall, the film treats a complex subject by respecting that complexity for there are no easy answers or glib solutions to be found. Of course, the chance of ever resolving the cross-cutting allegiances to native labor and human right are greatly improved when a woman of obvious talent devotes part of her life to using modern film to help us clarify the topic.
Rebecca Cremona received a letter of endorsing reference from me, based on her enthusiasm for the study of discrimination as it exists and with my private thought and hope that her enthusiasm was matched by excellence in filmmaking. I was not disappointed.
Nominated for the best foreign language film, the movie has stiff competition to win the Oscar. As a film with a modest budget derived mostly from individuals and a grant from the Malta film fund, the technical or craft qualities of the film are quite high notwithstanding the difficulty of shooting on location in Malta, on the unpredictable Mediterranean Sea, and on a modest fishing vessel.
But the significance of this movie is well beyond the technical. It's writing and directing opens minds and softens -- potentially at least -- the hardened hearts of many on a topic that others would not touch. Rebecca loves her native land, and she appreciates the scarcity and difficulty that a nation its size has in reaching out to the stranger. Malta by its general sea and rescue efforts deserves praise in comparison to some other E U nations that steadfastly refuses to address the causes of migration. The irregular migrant is sadly often a target of invective or suspicion and for that reason; it is tempting to think it can be ignored. It cannot. The unhappy consequence of turning away ultimately saps the core of our own humanity.

Let me conclude this review of Rebecca Cremona's work by again referencing the visit of the Pope to Lampedusa. Lampedusa receives the migrants which the sea does not blow ashore to neighboring Malta. Yet, the overbooked migrant-laden vessels do not always make it to either land. Francis aptly noted that when the immigrants die in transit, a boat that had represented hope "becomes a vehicle of death." The frequency of death is huge and it is conceivable that someone's dreams hit ocean's bottom even before you can finish reading this.
Has then nothing changed? No, what Rebecca Cremona accomplishes with great impact is the naming of victims: including a young, mischievous child, named Theo, who perishes -- a fact that until now would have required a "spoiler alert" since the death of a Maltese boy could not have been imagined to occur in the manner it did. Is there any limit for tolerating unnecessary deaths at sea?
Herein lays the papal prescription. It is one anchored not in the impossible, but in the tangible efforts of "various associations, volunteers and security personnel who continue to attend to the needs of people journeying towards a better future." Those efforts will always have the limit of futility, but if we are being honest, that limitation is far off. The Pope was grateful for those who have stepped up to rescue in the past, but as he lamented: "You are so few, and yet you offer an example of solidarity!" Public monies have many supplicants and it will be tempting to cut monies for sea rescues. Admirably, the former head of the AFM, Martin Xuereb, has joined the privately financed rescue assistance efforts of an initiative known as MOAS that impressively redirected enormous personal wealth of Christopher and Regina Catrambone (and daughter, Maria Louisa) toward the acquisition of a ship and crew that helps pinpoint the location of those lost in the open sea. Yet one family cannot stand in the breech for us all very long.
Ultimately, Simshar asks us to realize the origin of obligation to the needs of others. Rebecca has a merchant seaman rationalizing his refusal to stop to rescue the survivors of the Simshar saying "I am only a fisherman not the coast guard." The equivocal timbre that Rebecca Cremona coaxes out of this large man's voice makes the audience uncomfortable for he is a hulk of a man seemingly shrinking before our very eyes. In refusing to give aid, his claim of humility is shown to be false, for he is pretending to be far more, not less, than the coast guard, he is claiming to be God, Himself.
Neither Rebecca Cremona nor the Pope portray our duty to "the other" as easy. Without the movie's thought-provoking global examination of conscience, however, it would have been impossible. The potential for its fulfillment likely sank in the Maltese heart with the sinking of the Simshar. In this, Simshar, the movie is something of a resurrection, since it reveals to the audience those we cannot ignore.
What are Rebecca Cremona's chances of bringing home the Oscar? Given her age and inexperience and her lack of an established network of friends in "the industry," the betting odds in Las Vegas are likely not in her favor. If that be so, let me remind Hollywood that there is a reason we admire the dissenter, the trail-blazer, the person of principle over expediency. Hollywood has been at its best when it forces the viewer to step out of his or her comfort zone and to be sensitive to the cries of the excluded. "In this globalized world," said Francis, "we have fallen into globalized indifference. We have become used to the suffering of others: it doesn't affect me; it doesn't concern me; it's none of my business!" That sentiment has never appeared for very long on Hollywood's highlight reel. Rebecca Cremona in her first major film effort has reminded us of why with a deftness and maturity well beyond her years. She is a reflection of Malta's extraordinary commitment to faith and family, and in this moment in time, she deserves to be honored as much for that as for the truly well presented insight on display in Simshar.