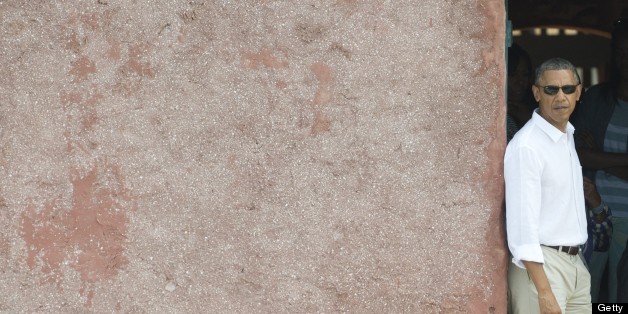 President Obama's southern Africa trip could not come at a better time... for Americans. This week, Human Rights Watch called on the president to take a strong stance against the Zimbabwe police force's politically motivated abuses against activists and civil society organizations. I agree. I also want to stress how that a stable Zimbabwe is very much America's strategic interest.
Russian President Vladimir Putin, Chinese Premier Li Keqiang, and outgoing Iranian President Mahmoud Ahmadinejad understand how pivotal Zimbabwe is and I'm confident President Obama does as well; other Americans may not.
You see the current regime under President Robert Mugabe has already made convenient bedfellows with a number of unscrupulous characters who now play strategically important, and often heavily shrouded, roles in Zimbabwe's future.
You may have heard of the small Zimbabwean town of Chiadzwa. Thousands of Zimbabweans have called the town home for centuries, yet it contains one of the world's richest diamond deposits. The Marange Diamond Fields hold up to a third of the world's diamond reserves yet are one of the saddest consequences of Mugabe's 'Look East' policy. Industry experts estimate that in practice, the diamond industry is 50 percent owned by the Chinese Anjin Company and 50 percent by the Zimbabwe Defense Industry--so much for indigenization promised by President Mugabe for years. What was once a paradise for wildlife and the people who inhabited the land for generations has been completely destroyed and nearly 4,000 families have been--or are in the process of being--forcibly displaced without compensation.
Like China, Russia was one of the major powers that stood up against attempts by Western countries to slap Zimbabwe with sanctions five years ago. Though China remains Zimbabwe's largest military supplier, Russia has also entered the game, sending a clear message of support for Mugabe. Describing political relations between Russia and Zimbabwe as "absolutely friendly," Russian Ambassador to Zimbabwe Sergey Baharev said this week, "My major task will be to boost and scale up our economic ties as they are just lagging behind our political ties. I will try to do my best to speed up our trade and economic cooperation." Last year, Russian media confirmed a deal between Russian Technologies, a state corporation and the Zimbabwe military in which Russia would supply military helicopters to Harare in exchange for access to Zimbabwe's platinum deposits.
While poverty and destitution have forced millions of Zimbabwean's to leave their homes in search of employment, our country's rich uranium deposits also have Iran knocking at our door. The Christian Science Monitor called the relationship between Zimbabwe and Iran a "heaven-made match." We have diamonds and Iran has guns: a natural exchange.
As Zimbabwe looks for global partnerships, the U.S. would benefit by responding positively and aggressively. Zimbabwe and other African nations should not have to rely on the convenient bedfellows of pariah states and countries offering short-term solutions with utter disregard for the long-term freedom and prosperity of African countries. As one expert recently noted, President Obama "should make this choice clear by emphasizing that the U.S. model is a path to prosperity for all individuals, not just political elites--in contrast to the corruption and human rights abuse" that are often linked with the countries currently jockeying for position in Zimbabwe and southern Africa as a whole.
Southern Africa has a lot to offer the U.S. and other democratic nations; a presidential visit void of outspoken commitment to long-term democracy and prosperity in Zimbabwe would be a missed opportunity for Americans and Zimbabweans alike.