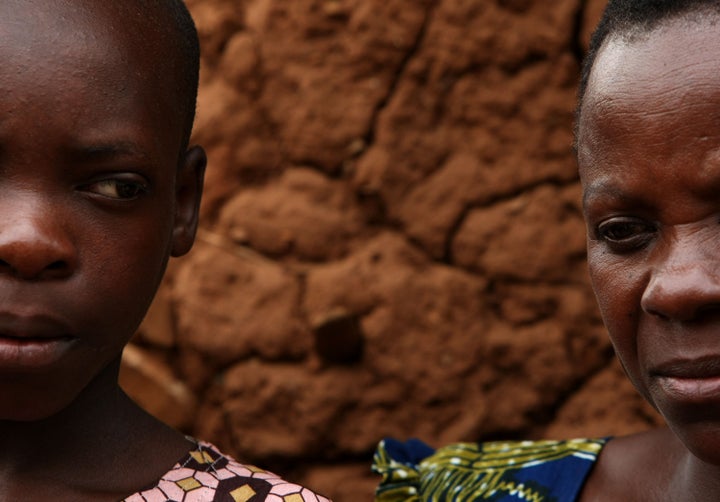 Before dawn on Feb. 4, some 1000 women lined up at a small clinic in Zambia to be screened for cervical and breast cancer. It was International Cancer Day and these women received a simple medical test for cervical cancer that required just a drop of vinegar and costs pennies -- but could save their lives. By the end of the day, 40 women were referred for additional screening and diagnosis.
Without that drop of vinegar and the health workers to determine the reaction to it, what would have happened to these women and their families?
As a medical student in Africa in the 1970s, I would have encountered many of these women as they were rushed, pale and perhaps in shock, into the emergency room with profuse vaginal bleeding. On examination, I would have found a big, frail and bleeding tumor of the cervix -- Stage 4 Cervical Cancer. Hope lost. Families devastated. Children without a future because mom is on her way out of this beautiful world.
Today the story can be different for these women. Women and girls can be diagnosed with ease with a drop of vinegar which turns precancerous cervical spots white and they can be treated on the spot by a trained non-MD health worker. Utilizing simple screening methods (such as visual inspection with acetic acid -- VIA) and treatment techniques such as cryotherapy - freezing of precancerous skin cells -- is the answer to prevent women with precancerous cervical disease from advancing to advanced stage cancer.
For established cancer, advanced diagnostics and treatment are possible but need to become available and more accessible in developing countries.
Protecting young girls of today, who will become women of the future, from cervical cancer is now possible with HPV vaccination.
Such vital resources for preventing, diagnosing and treating women's cancers are slowly improving in places like Zambia -- if you are fortunate to have access. One woman in particular is one of the luckier ones. A wife and mother of four, this woman was diagnosed in 2006 with metastatic breast cancer which had already spread to her liver. She made it to a major cancer hospital in Zambia where two rounds of chemotherapy saved her life. Many women are diagnosed too late or never diagnosed at all.
Leaders in Zambia recognize this threat to women's health and have taken an important step in the struggle against cervical and breast cancers -- expanding their comprehensive cancer control and prevention plan to integrate vaccination against cervical cancer, screening and treatment of both breast and cervical cancers, that is built upon a platform of education, awareness raising and training.
In sub-Saharan Africa and Latin America, there are other countries stepping up to join a first-of-its-kind partnership to save women's lives. It's called Pink Ribbon Red Ribbon (PRRR) -- a pioneering attempt to leverage public and private investments in global health to combat cervical and breast cancers -- two of the leading causes of cancer death in women in developing nations.
Led by the George W. Bush Institute, the U.S. President's Emergency Plan for AIDS Relief (PEPFAR), Susan G. Komen for the Cure, and the Joint United Nations Programme on HIV/AIDS (UNAIDS), PRRR will expand the availability of cervical cancer vaccination, screening and treatment -- especially for high-risk HIV-positive women -- and also promote breast cancer education. Efforts are also being made to de-stigmatize cancers, so women can come out from the shadows of shame that are often associated with the disease and report early for care. PRRR corporate partners include Merck, Becton Dickinson, QIAGEN, Caris Foundation, Bristol-Myers Squibb, GlaxoSmithKline and IBM.
With an initial commitment of $75 million over five years, PRRR will use the existing platforms that PEPFAR, with U.S. taxpayer funding, established to fight AIDS. The program has big goals, like reducing deaths from cervical cancer by 25 percent among women who participate in the program in African partner countries. PRRR will do this, in part, by expanding point-of-service screening and treatment through existing platforms that PEPFAR, with U.S. taxpayer funding established, and collaborating with successful and growing public education efforts. Our goal is to build the capacity of local organizations and equip them with the necessary tools to educate girls and women about cervical and breast cancer and the ways to prevent diseases such as cervical cancer through vaccination and/or early screening. Working with partners from the public and private sectors, PRRR will develop new approaches and new advanced tools that can be expanded and used globally to save women's lives.
Because of Pink Ribbon Red Ribbon more women will return to their families, with hope and a future. International Women's Day is a perfect occasion to reflect on the evolution of global health for women -- and remember that even a tiny drop of vinegar or HPV vaccination administered to a young girl can be the catalyst to save a woman's life.

Doyin Oluwole, MD, FRCP, is the founding Executive Director of Pink Ribbon Red Ribbon. For more information, please visit: www.pinkribbonredribbon.com.