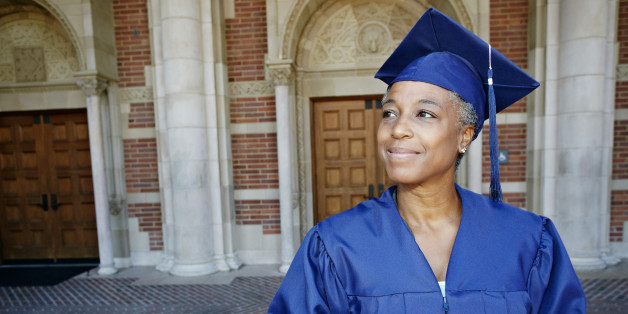 Adults everywhere start out the New Year by setting resolutions to improve their lives. Whether it is to exercise more, eat less, or to curtail a bad habit, marking the calendar with a personal pledge is a time-honored approach to self-improvement. But for many of us, breaking our New Year's resolutions has become as big of a tradition as setting them. Procrastination and a lack of willpower seem to always get in the way of our best intentions.
If the typical resolution routine is not working for you, perhaps it is time to think about a true investment in yourself and your future. Consider the viability of going back to school in 2014 and continuing your education as an adult learner. At the mere thought of it, you can probably come up with dozens of excuses not to pursue your education at this time, but allow me to offer a few thoughts that might persuade you otherwise.
Want a better job, to move up in your current career, or just ready to make a change?
There is no time like the present to earn a degree. Throughout the nation, there are many accessible and affordable higher education options. Community colleges and state universities can be found in urban centers as well as most rural settings, and almost every college now offers convenient online degree programs as near as your computer. This year, U.S. colleges and universities are expected to award about 943,000 associate degrees and close to 1.8 million bachelor's degrees, the Institute of Education Sciences (IES) reports. One of those degrees could soon be yours and could be your ticket to a better job and higher pay.
Afraid of being the oldest student on campus?
Fear not. People of all ages attend college. Students over the age of 25 (sometimes called adult learners or nontraditional students) are a growing group on most college campuses. Many college instructors prefer these more mature students because they are serious-minded and perform exceptionally well in the classroom. For the last 20 years, nontraditional students have made up close to 40 percent of the college-going population, according to the American Council on Education (ACE). Adult learners include veterans, those who earned their GED, professionals who need additional training to advance in their field, or parents who want to reenter the workforce.
Juggling family and work responsibilities with other obligations?
Well, technical colleges and two-year institutions are a great answer for those busy people who need to balance their full-time lives with a college class schedule. They frequently offer weekend and evening courses as well as short-term training options. An estimated 21.8 million people attended American colleges and universities this past fall according to the IES. And nearly 8 million of those students expedited their education by attending a two-year institution. Enrolling in technical learning programs means students learn the specialized skills and techniques they need for a career in a specific field, many of which are in high demand.
Don't want to start completely over again or be forced to take courses that you could probably teach yourself?
With a streamlined path to a certificate, associate or bachelor's degree, students at two-year institutions or technical colleges can best utilize their time and money in order to seek a career in a growing field. To help adult students either start their college career or finish their degree, many colleges and universities are offering college credit for knowledge and skills they learned outside the classroom. This type of prior-learning credit is especially beneficial for people who have already spent time in the workforce or are moving from the military back into civilian life.
Worried that a college degree just won't be worth your time or effort?
Consider that 86 percent of those who complete a college degree in a career or technical field are employed, according to IES, and 76 percent are actually employed in jobs related to their field of study. And not surprisingly, the higher the degree earned, the higher the pay. The IES also reported that in 2011, the median pay for someone with a bachelor's degree was $45,000 (about $15,000 more than those who have a high school diploma). An associate degree also means an increase in pay compared to those with only a high school diploma, and in some technical fields where demand is high, starting salaries rival or even exceed the median pay for those with a bachelor's degree.
The calendar has moved forward, and so should you. Obtaining a degree in a high demand field is one of the best personal investments that you can make, so it may be time for you to join the growing ranks of nontraditional students. Think about it: Two years from now, you are either going to be two years older with a new degree or two years older still without that degree -- the choice is yours. With the busy and hectic lives we all lead, there likely will never be the perfect time to go back to college, so why not resolve to make 2014 the year you move your life forward by going back.