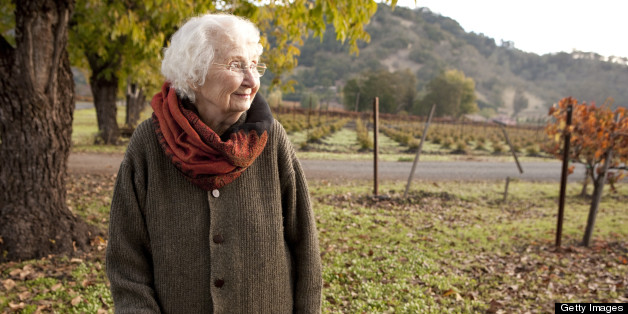 Is Grandma coming to visit for Mother's Day or upcoming graduations? Will you see your elderly dad this Father's Day? Taking a few steps to implement precautionary measures now could make a big difference in your older relatives' year.
I remember a time when I was a teenager and my grandmother was visiting our house. She got up and rushed to answer the phone. My grandmother tripped over a single step and fell to the floor, breaking her shoulder. With this accident, I saw the lasting effect a split-second misstep can cause, especially in a frail, older person.
Thirty years later, falls are now known as a serious and costly public health problem, thanks to advocacy campaigns aimed at older adults, health care providers, physical activity specialists, caregivers and long-term care workers. Although Fall Prevention Awareness Week is in September, advocates hope to put the problem of falls into the public's ongoing consciousness. In addition, current media and public discussion of health care costs and Medicare billing mandate we consider falls as part of the policy landscape.
Here are some things to watch out for when visiting grandma for Mother's Day or when grandpa comes to visit next time.
Lighting: Is there adequate lighting in all rooms, and does your older parent know where the switches are? Can the lights be turned on when one enters the room, or do they necessitate walking through the dark?
Clutter: Are there adequate spaces to walk through, free of hazards, children's toys,and pet bowls?


Area rugs: Are the floors covered with area rugs that bulge, slip or present tripping hazards? Can you remove them?
Bathroom safety: Does your mom need to grab the toilet paper holder to stand up and sit down? Does she use a soap dish or towel bar to steady herself when she gets into the bathtub or shower? If so, consider installing grab bars and supportive toilet seats in the bathroom.
Eyewear: Does your parent wear bifocals? These glasses make people prone to falls, as they may be focusing on the wrong thing as they walk.


Foot wear: Shoes with thinner soles can actually be best in preventing falls, as running shoes are often cumbersome.
Medications: How many medications does your mother take? Taking more than four medicines is a risk factor for falls. Have your parent take all medications to the doctor and have them reviewed to be sure they are not counteracting each other or causing excessive dizziness.
Physical Fitness: One of the best fall prevention measures is physical strength and agility. Check into your parent's local senior center, health club or recreation department for an age appropriate class that increases strength and balance, flexibility, and endurance.
Special occasions, family celebrations and holidays offer opportunities for checking in on your parents and making sure their home environment is safe and free of fall hazards. However, maintaining physical strength and health, using adequate eyewear and managing multiple medications are year-round tasks that you need to talk about with your aging parents. Check out these sites for more information: Centers for Disease Control and Prevention; Center for Healthy Aging Falls Free Initiative; and Fall Prevention Center of Excellence.