Dateline: Niassa Reserve, Mozambique, Sept. 9, 2014

I had read the reports and seen the PowerPoints.

And now I have seen the faces. The faces of the on-the-ground experts as they rush into the vast woodlands of the Niassa National Reserve with intelligence on criminals who have slaughtered an elephant with an AK-47. The faces are fearless.

I am writing from Mbatamila camp, sitting on a bench in the shade of a Tamarind tree. These are our headquarters in Niassa in the extreme north of Mozambique. Even the people of Mozambique call this area one of this nation's last wild places. I am taking a break after accompanying our staff in a helicopter to check on tips on where poachers have been killing elephants.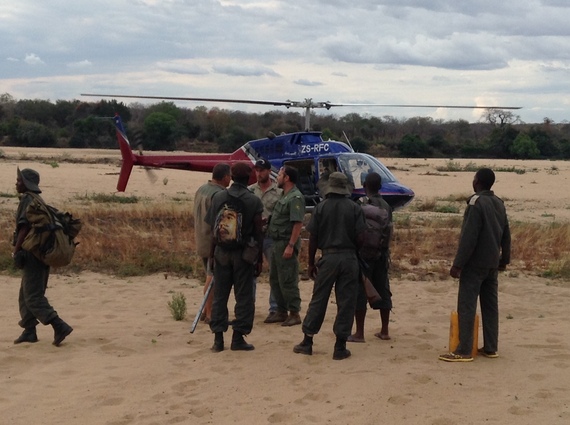 Helicopter used for patrols to catch poachers and investigate carcasses. Photo by Cristián Samper © WCS

I am here to understand the challenges and opportunities of managing a huge reserve that is more than 8 million acres, or five times the size of Yellowstone National Park. Niassa is on the frontline of the ivory poaching crisis.

Every day, organized criminals are lurking across the woodlands killing elephants. There was not a time during my five days here when staff were not either planning a raid, conducting a raid, or deploying to check on information about possible poachers. Constant battle is an understatement.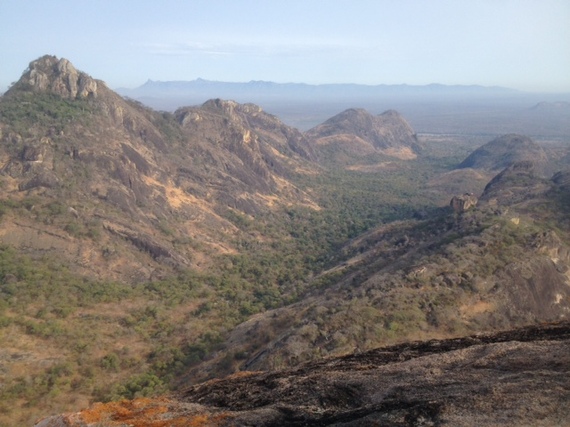 Inselbergs dotting the landscape in Niassa National Reserve. They are beautiful, but also hiding places for the criminals killing the elephants. Photo by Cristián Samper © WCS


Niassa is one of the most spectacular landscapes I have visited in my life. The vast miombo woodlands are dissected by a maze of rivers. Large inselbergs, which are volcanic rocks made of dark granite, dominate the landscape, like islands. While majestic, they offer great hiding places for the poachers.

The area is home to one of the largest populations of elephants and large carnivores in east Africa. More than 40,000 people live here in small villages, without access to good health or education services. They exist on subsistence agriculture, living in extreme poverty.

It is a place blessed with beauty and haunted by the blood of its elephants.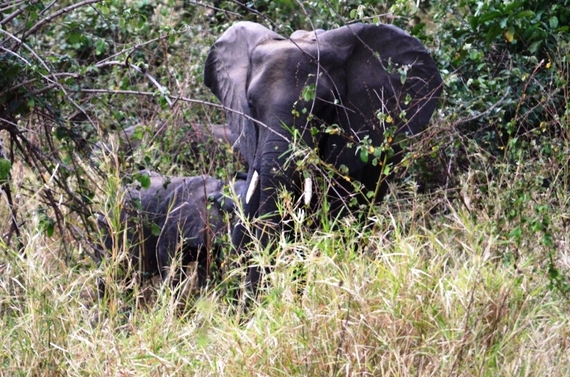 One or two elephants are killed by poachers in Mozambique's Niassa National Reserve each day. Photo by Cristián Samper © WCS

WCS started working in Niassa two years ago and we have a co-management agreement with the government of Mozambique. It is a very large area in a remote corner of the country, with limited infrastructure. Governance is a challenge because the reserve overlaps with two provinces and eight districts. It includes 15 concessions for hunting and tourism. This requires us to work with multiple partners.

A frontier for poaching, the Niassa reserve was estimated to have just over 12,000 elephants in a late 2011 survey. Those numbers, however, are quickly diminishing. Since 2010, we estimate that 4,000 elephants have been slaughtered for their ivory, with more than 500 killed already in 2014. We will count them -- and the carcasses -- for an updated census later this year.

Two days ago, I had the opportunity to see the killing first hand. A young male elephant had been shot by poachers the day before. They were scared off by our scouts and abandoned the carcass before taking the ivory.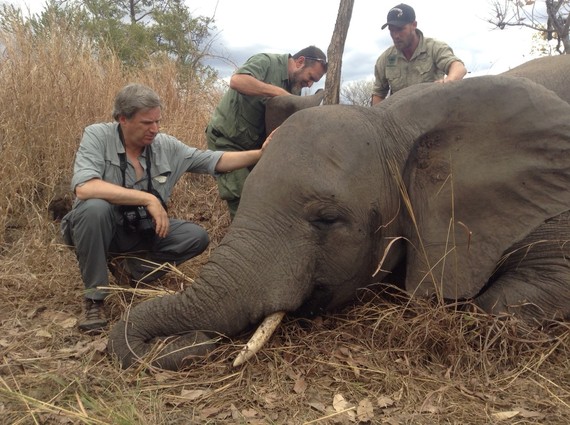 Cristián Samper with WCS/Niassa Reserve field op team investigating carcass left by poachers. The elephant is believed to have been killed with an AK-47. Photo by Alastair Nelson © WCS
I joined the combined government and WCS scout team and we reached the site in a helicopter that we occasionally have for anti-poaching operations. We walked through the dry grass toward a group of small trees at the base of one of the inselbergs.

A young bull, probably less than 15 years old, had fallen to his knees, shot dead. We could only see a single bullet entrance on his right side. The rest of the body was intact and flies covered the carcass. One group of scouts removed the tusks as another set off on the trail of the poachers. The scouts are sleeping in the bush as I write, tracking the poachers in an attempt to apprehend them and avoid any more killings in this area.
Two nights ago, another group of scouts and police conducted an operation in the town of Marrupa, just outside the reserve. Using intelligence gathered over the past ten months, we were able to identify and locate some of the poachers. There was a raid and six people were detained, including four Tanzanians who will be prosecuted under a new wildlife law and face up to eight years in prison.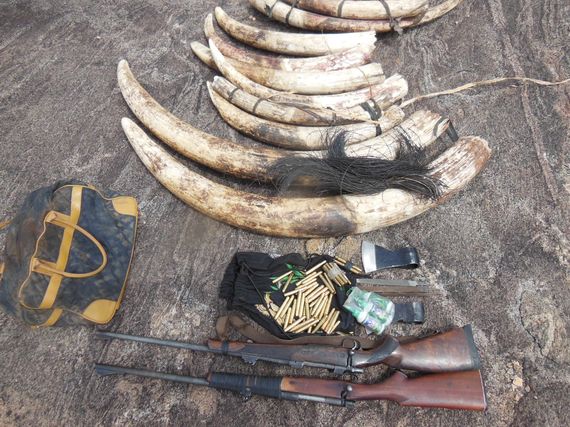 Confiscated guns, ammunition, and elephant tusks recovered in a raid in the Niassa National Reserve in Mozambique that resulted in the arrest of 6 suspects responsible for killing 39 elephants just in 2014. The raid was conducted Sept. 7. Photo © Luwire.
The combined team -- police, concession scouts, and our own scouts -- confiscated two rifles, ammunition, and twelve tusks ranging from 3 to 23 kg. Some of the poachers are recruited from local communities as trackers, but they are but the tip of a larger network of middlemen and traffickers that leads to the markets in China, the United States, and elsewhere.

On Sunday, I visited the village of Mbamba on the Lugenda River. It is a town of about 2,000, mostly children. The houses are made with clay bricks and thatched roofs, with a few mango trees among them. We were greeted by the community leaders and followed by an entourage of a hundred small children who were excited by our visit. They live on maize and cassava grown in the wet season, fishing in the river and hunting bushmeat.

We met with Colleen and Keith Begg, two South African biologists who have lived here for 14 years and have one of the concessions. They are building an environmental center, supporting alternative livelihoods, and managing patrol teams to reduce the pressure on local wildlife.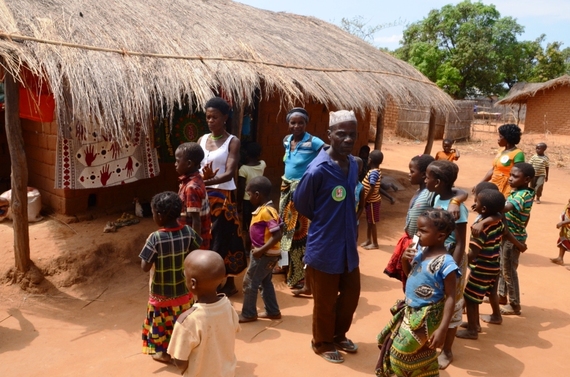 Mbamba village in Niassa reserve, home to 40,000 people. Photo by Cristián Samper © WCS
As we were flying back to the camp this afternoon, we saw three more dead elephants. We also saw large areas of the landscape burning, mostly by fires started by the poachers. We suspect the fires are meant to hide evidence and tracks and clear the woodland to make it easier to find the elephants.

At times, this can feel like a lost battle, but there are likewise moments of hope. As we gathered for dinner this evening around a fire in a dry river bed, four elephants strode toward us from out of the darkness, approaching the large fig trees by our camp. We sat quietly under a full moon and a gentle breeze, sharing this magnificent place.