U.S. Secretary of the Interior Ken Salazar has announced a management plan for the National Petroleum Reserve-Alaska (NPR-A) that balances wildlife conservation and energy development in the biggest public landscape in the nation.

Western Arctic Alaska is one of the most important regions for wildlife in all the Arctic -- and for migrating birds from around the globe. Among the species that depend upon critical habitat within the NPR-A are our 'real' reindeer, or caribou as they are more commonly known in North America.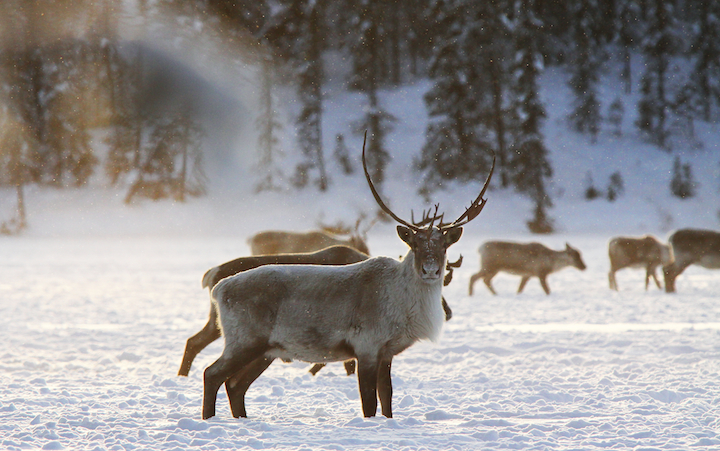 Photo © Susan Morse
The last century has seen a precipitous drop in caribou numbers. They have been forced out of some 40 percent of their southern range, which once included Minnesota, Vermont and New Hampshire. WCS estimates that reindeer populations have declined by as much as 85 percent over the past decade.

Encompassing 23.5 million acres, the Alaska's National Petroleum Reserve is home to two of Alaska's largest and most important caribou herds. Conservation science by WCS has shown that wildlife in the NPR-A will benefit from a development approach that balances conservation interests and responsible oil and gas leasing.

By protecting extensive coastal plain habitat around Teshekpuk Lake, and the foothills around the Utukok uplands, the plan ensures that the most important Arctic wetlands, representing caribou nursing grounds and nesting areas for migratory birds from across the globe, will be protected from development.

Data generated by WCS has helped to inform Bureau of Land Management decision-making throughout its assessment process. WCS submitted comments on Draft Environmental Impact Statements, held a Congressional briefing on NPR-A in the U.S. Capitol, and led a public advocacy campaign resulting in 36,168 public messages to the Bureau of Land Management.

It is critical that we save the world's last great wild places, and the areas secured this week certainly qualify. Protection of places like Teshekpuk Lake is essential to safeguarding magnificent wildlife populations. It may also be one of our last opportunities to ensure the continued survival of a treasured Yuletide symbol -- the reindeer.

Learn more about the Wildlife Conservation Society.