A few weeks ago Dave was at the United Nations providing leadership for a workshop on sustainable tourism, as part of the UN DPI / NGO Conference.
In addition Dave, representing the USF Patel College of Global Sustainability and the WHALE Center worked with colleagues Randy Durband, CEO of the Global Sustainable Tourism Council, Kelly Bricker, President of The International Ecotourism Society, and Richard Jordan, from the Royal Academy of Sciences International Trust, to propose language on sustainable tourism that was subsequently adopted as part of the Conference Declaration.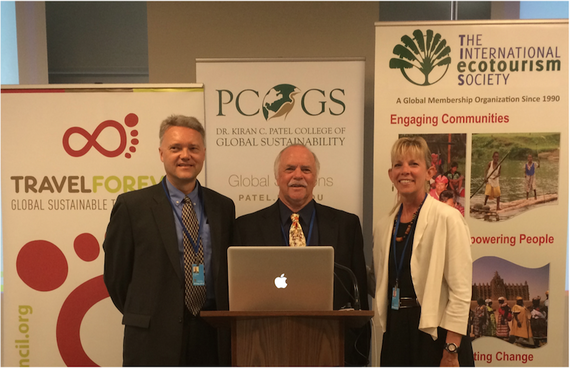 One part of the new sustainable tourism language states:
" Goal 15 -- Protect, restore and promote sustainable use of terrestrial ecosystems, sustainably manage forests, combat desertification, and halt and reverse land degradation and halt biodiversity loss.
"Ensure that all aspects of tourism meets criteria of the Global Sustainable Tourism Council and include options for the private sector to self-impose carbon taxes throughout the enterprise and to implement zero waste to landfill programs"
For the tourism industry to effectively step up to the challenge of meeting this new goal, it will need to implement stronger environmental management systems (EMS) in their operations.
Environmental management systems (EMS) have been around for some time in business and industry but are often overlooked as a strategy for sustainable tourism. An EMS in essence is a set of processes and practices that enable an organization to reduce its environmental impact and increase its operating efficiency.
The U.S. EPA states that the basic elements of an EMS are:
Reviewing the company's environmental goals
Analyzing its environmental impacts and legal requirements
Setting environmental objectives and targets to reduce environmental impacts and comply with legal requirements
Establishing programs to meet these objectives and targets
Monitoring and measuring progress in achieving the objectives
Ensuring employees' environmental awareness and competence
Reviewing progress of the EMS and making improvements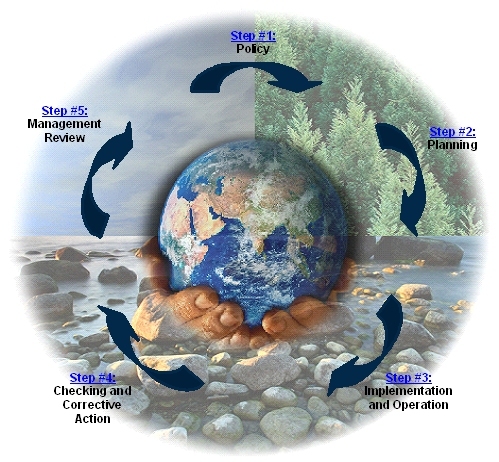 The following seven steps are typical in implementing an EMS program.
Step 1. Develop clear and measurable goals and objectives.
In working with tourism businesses we have often found that many companies jump into what they think are green activities without ever setting measurable goals and objectives for their programs.
In contrast, in the best practice EMS programs three types of goals are established, performance, programmatic, and cultural.
The performance goals measure the hard data such as how much water, or energy is conserved, reduction in waste to landfill, reduction in plastic, increase in locally sourced food or sustainable seafood, financial savings of the program, etc.
The programmatic goals measure how many people, employees, guests, or supply chain vendors are participating in the programs and their satisfaction levels of that participation.
The cultural goals measure how much more supportive the organizational culture has become from the baseline data in supporting sustainability practices.
All three types of goals are important in best practice EMS programs.
Step 2. Review compliance with legal requirements to make sure that the company is meeting all the legal obligations related to environmental laws, and health and safety regulations. Often laws and regulations change leaving business not complying. In other cases change in personnel or inattention to requirements may lead to a lapse in compliance.
Step 3. Set objectives and targets to both reduce environmental impacts and to ensure compliance with relevant laws and regulations.
This step includes objectives and targets for meeting long term goals as well as timelines to get into compliance with all legal requirements.
For example long term goals might be to become a net zero carbon emission company and to send zero waste to land fills. Initial targets might be to reduce net carbon emissions per year by 10% or to reduce waste to land fill a 10% a year.
Step 4. Develop programs to meet the objectives and targets.
Once objectives and targets are set the company needs to develop programs to achieve the targets. There are several areas that a company might choose to develop new programs. We have developed 12 strategies in the blue community program that might be a starting point for consideration. They include:
building design, efficiency, and indoor air quality
transportation
energy use
water conservation
waste management
reduction of plastic
organic and hydroponic food
sustainable seafood
protection of habitat, cultural diversity, and biodiversity
clean marinas
education
planning, policy, and management including supply chain management
The more successful EMS programs involve their employees in the process. For many tourism operations the employees are the best ambassadors for their sustainability programs.
Step 5. Monitor the success of the program
Many program fail because of an undue focus on activities rather than results. A successful EMS program will carefully monitor the performance, programmatic, and cultural change results or the programs as it progresses.
Regular monitoring of the program and process will help ensure that the program keeps on track and that targets are more likely to be met.
Step 6. Ensuring employees' environmental awareness and competence
Key to sustaining the EMS program will be the success of the ongoing process of increasing the employee awareness of environmental issues and the increasing development of their competence.
In Reese's Earth Calling SOS series, he attempts to not only educate people on critical environmental issues but to also encourage people to respond to the message and to protect our planet.
The more the message to respond and protect our planet becomes integrated into the daily operations or the business and the norms of the organizational culture, the more likely the program will become strengthened and succeed.
Step 7. Reviewing progress of the EMS and making improvements
After the EMS program has been in operation a for a year or so, a systematic review is in order. The major focus is to find ways to strengthen the successes and keep them going and to strategize new improvements for those areas that have not performed as well.
Some key questions to ask in the review include:
What procedural or process changes might be needed?
What technology could be used to facilitate environmental management?
What changes can increase efficiency?
What improvements will require substantial capital investment?
Will better training helps address some of these issues?
Once the review of the EMS is complete is important to communicate the results. Communicating the results will likely inspire continued success and/or encourage people to approach the challenges in new ways.
When the results are communicated to the key stakeholders, the entire seven step process is repeated again so it becomes an ongoing process of continued improvement.
We had the opportunity to visit the Tradewinds Resort and learn of how they are implementing their EMS
Below is a video that provides some examples of the EMS in action at the TradeWinds Resort in St. Pete Beach.
As more tourism businesses achieve certification that meets the GSTC standards, the industry will begin to become more sustainable. A good EMS will not only accelerate that process but will also be more likely to save the company money as well.
Dr David W. Randle - Director USF Patel College of Global Sustainability Sustainable Tourism, Managing Director International Ocean Institute Waves of Change Blue Community Initiative, and President & CEO WHALE Center.
Earth Dr Reese Halter is a broadcaster, biologist and author of The Insatiable Bark Beetle.
Follow Dr. Reese Halter on Twitter