The Tour de Turtles race is over this year, with Panama Jack and Calypso Blue III taking first and second. It's amazing that Panama Jack actually traveled 2,828 miles during the 90-day race. That is a lot of swimming.
Started in 2008, the Tour de Turtles is a fun, educational journey through the science, research and geography of sea turtle migration using satellite telemetry. Created by Sea Turtle Conservancy, with help from sponsors and partners, this event follows the marathon migration of sea turtles, representing different species, from their nesting beaches to their foraging grounds. 2014 is the seventh year of the Tour de Turtles and followed the migration of 11 sea turtles, representing four or five different species.
I have had the good fortune of participating in the Tour de Turtles the last two years.
This year we woke up to a beautiful sunrise we watched outside our room at Disney's Vero Beach as we drank our morning coffee.
We then walked down to the beach while people were gathering in excitement for the start of the race and took a look at the turtles who would soon be released. The turtles were captured during the night before the race and then have a tracking device mounted on their shell.

The turtles are then released to the cheers of the crowd and make their way to the ocean.


That evening we attended the Barrier Island Center, where a dinner auction takes place to further sea turtle conservation efforts. The event features fun, food, and music as well as the opportunity to meet locals and tourists who share a concern for protecting the endangered sea turtles. It is also the site where we attended the release of two more turtles the following morning.

The Tour de Turtles event is not only a fun way to spend a weekend. I have found it also provides a strong platform to educate the public on various turtle issues including:
Lexie Beach, Communications Coordinator for Tour de Turtles, provides a good overview of the Tour de Turtles program and suggestions on how the public can get involved in the video below:
While the Tour de Turtle race is over for this year, the issues of protecting endangered sea turtles is a year-round concern and one that individuals and the tourism industry can do much to assist with.
While at the Tour de Turtles event this year, I had the opportunity to talk with a number of the experts on actions that might be taken and/or supported by the tourism industry to help further protect endangered sea turtles.
One of the people I spoke with was Dan Fisher, CEO of the Tampa Bay Green Consortium. Dan spoke to me about the work the consortium is doing to clean up marine debris. Marine debris kills over 100 million marine animals each year, primarily due to plastic. Many sea turtles are killed each year by consuming debris including plastic, fishing line, and other trash. In addition, marine debris can pollute the habitat and thus increase the risks for sea turtles.
Listen to Dan Fisher address this issue:
Another person I spoke with was Holly Prievo, a graduate student at the USF Patel College of Global Sustainability who has been researching the possibility of sea turtle certification programs for hotels and resorts.
Many tourism resorts already are being certified by a variety of different certification programs. Most of these certification programs seem to neglect the critical criteria for sea turtles, such as the use of plastics, turtle-friendly lighting, and construction practices.
Some of the issues identified as possibilities to consider for sea turtle certification include:
Pre-construction assessments of environmental impact on turtle habitat. This would include an assessment of compliance with existing laws to protect sea turtles and eggs, and the impact that access roads, vegetation removal/burning, excavation, erosion, lights, activity from work crews, and time of construction might have.
Construction setbacks to preserve sandy beaches and surrounding vegetation and create a buffer zone
Commitment to reducing light pollution with turtle-friendly lighting.
Commitment to using blackout curtains or shade screens during nesting season in hotel rooms and hotel facilities.
Removal of furniture and recreational equipment from beach at night.
Keep beaches clean.
Seek alternatives to sea walls.
Prohibit all but authorized vehicles on the beach.
Plant native vegetation.
Prohibit actions that damage seagrass or corals.
Reduce harm from boats by enforcement of no-wake zones and offshore nesting areas, and educate guests on sea turtle protection practices when boating.
Regularly train/evaluate staff in environmental management systems and sea turtle protocols.
Develop fun was to educate guests on sea turtle issues and what they can do to help protect them.
Watch the video of my conversation with Holly Prievo to learn more:
Certification alternatives are a voluntary and friendly way to encourage sea turtle protection. In some cases laws and public policy might be needed to assist where stronger compliance may be needed.
In this area I had the opportunity to speak with Gary Appelson, Policy Coordinator for the Sea Turtle Conservancy in Florida.
Gary highlighted the need for laws for such issues as:
The requirements for setbacks of a beach for construction.
The requirements for turtle-friendly lighting.
The need to prohibit the building of sea walls.
The need to remove beach chairs, equipment, etc., at night.
The need to not allow pets to run free on the beach at night in sea turtle nesting season.
Watch the video of my discussion with Gary Appelson:
Finally, I had an opportunity to speak with David Godfrey, Executive Director for the Sea Turtle Conservancy. David explained that this year they tracked several different turtle species from places such as Panama, Costa Rica, Bermuda, Nevis, as well as Florida.
We discussed the roles that several sectors in the tourism industry can play, including tour operators, resorts, cruise lines, and destinations.
For Tour Operators: David suggested that they have the opportunity educate the public and create awareness of what we can all do to help.
For Resorts and Lodging: David suggested that they can have signage for education, but the most important thing is to have turtle-friendly lighting. He also noted that in the process of lodging and resorts switching over to turtle-friendly lighting, their energy bills dropped as much as 60 percent.
Some resorts have made the extra effort to be certified by the State of Florida to actually mark the nesting areas of turtles on the beaches near their properties. David noted that it is more common that NGOs take on the task of marking the nests with the help of volunteers, some of whom are employees of the lodges or resorts.
For Cruise Ships: David noted that the cruise line industry has made remarkable progress in changing their practices to help keep the environment clean. They also have the opportunity to educate the public to increase the awareness of sea turtle issues.
Cruise lines have the choice to choose the tour operators that they refer their guests to. He noted that many cruises go to beautiful locations where sea turtles may be present so there is an opportunity to teach good practices. David also gave the example of the Cayman Islands as a cruise destination that is not as helpful. They have a turtle farm where they are encouraging the eating of sea turtles as local cuisine and giving the false impression to tourists that eating an endangered species is OK. The Sea Turtle Conservancy is working with this group to improve their conservation practices.
For Destinations: David suggested that coastal municipalities can develop and more strongly enforce the turtle lighting ordinances. In the state of Florida, for example, the state law leaves it up to each local municipality to decide the codes and laws defined for turtle lighting and how they will be enforced.
David identified the Disney's Vero Beach Resort as one that provides many examples of best practices for sea turtles.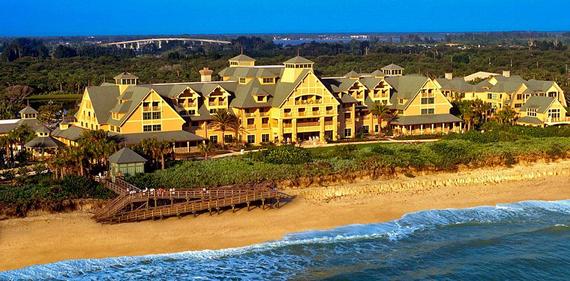 Some of these best practices of Disney's Vero Beach Resort include:
Installing turtle-friendly lighting throughout the resort.
Locking their gates to the beach at night during nesting season so guests do not disturb the turtles.
Raising funds for conservation purpose to protect sea turtles.
Educating their guests about how to protect sea turtles through information provide in the rooms, sea turtle outings and sea turtle troops for kids.
They have set back their resort far enough so as not to have to build sea walls.
Offering sea turtle monitoring and sea turtle rehabilitation programs that their cast members, veterinarians, and scientists take part in.
Educating people on sea turtle issues through their annual sponsorship of the Tour de Turtle program.
Turtle Talk with Crush at EPCOT Seas Pavilion to educate guest about turtle issues.
View my discussion with David Godfery:
Each year thousands of hatching turtles emerge from nests on the Atlantic shores of the Southeastern U.S. Only one in thousands will survive to adulthood. Turtles face a variety of both natural threats and human-caused threats that have resulted in all sea turtles being placed on the threatened or endangered lists.
You can help by becoming more aware of the threats to sea turtles and contributing time or money to groups like the Sea Turtle Conservancy.
Both tourists and the tourism industry can do much to help protect the sea turtles. Together, we can make a difference.