I spent my first day in Vietnam with the children of Ba Vi. WWO came to Vietnam in the early 2000s. Ba Vi was and still is a rehabilitation center for men and women where, in some cases, the women were involved in prostitution and illegal drug usage and living with HIV/AIDS. The babies born to these women were kept in the Ba Vi orphanage. It was incredibly sad to see these children separated from their mothers, with the prospect of being abandoned and left to die.
Since there was an insufficient understanding about HIV at the time, I was invited to come to Ba Vi to see if WWO could provide medical assistance for the babies who were HIV positive. There were 15 little ones who were sick and they desperately needed help. In 2003, WWO arrived at Ba Vi with the needed HIV/AIDS technical assistance and antiretroviral medications. Our current pediatrician Dr. Oanh and doctors/HIV mentors from Columbia University taught the nurses and doctors at Ba Vi about HIV. It was a moment of giant import...in-country capacity was being built.
The children were evaluated quarterly and though they were often sick and hospitalized at the National Pediatric Hospital in Hanoi, they eventually did well. Now there are 75 healthy children living with HIV in Ba Vi, who are the beneficiaries of intensely comprehensive/holistic psycho-social supports. With the support of a five-year USAID grant, we were able to provide them with medication and medical oversight, but now that grant has ended and it is hard to know what will happen in the long run.
Ba Vi campus and staff
The orphans served by WWO live in lovely constructed houses with trained home staff; the staff is loving and devoted to the children. After years of conflict with the community due to HIV stigma, the children have begun to go to school. A new school on Ba Vi's premises, built by a French foundation, will open for these children soon. We saw the classrooms today and I marveled at all the progress made in the last decade.
Ms. Phuong, the Director of Ba Vi Children's Center, who is a very loyal and fierce advocate for the orphaned children, has dealt with monumental political challenges. Compared to her efforts, WWO has had the easy job of training healthcare professionals and providing medication.
Today Ms. Phuong and I enjoyed the children together and we were in conversation with translation from Thuy, WWO's Country Director, off and on all day. We played with the children together and I heard her gentle northern Vietnamese as if it were a declaration of her love for the children. Even though the specifics of what she was saying were completely foreign to me, her passion and her friendship was nothing but tender and authentic. Ms. Phuong and I have traveled a cultural mine field all these years. We were today, as she stated, "sisters'. That blew me away. She has suffered and persevered through the stigma of HIV for her children and she never let go of her purpose. We shared that purpose today and we enjoyed the boys and girls who were happy and hopeful.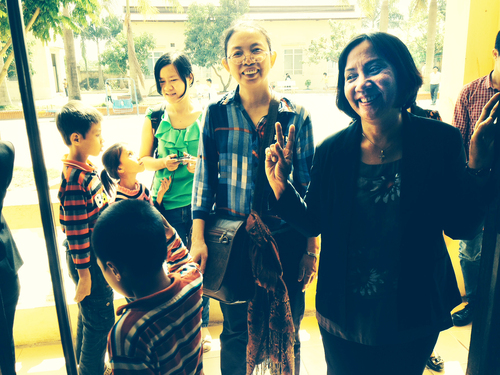 Dr. Oanh and Vietnam Country Director, Thuy Ngo
Dr. Jane Aronson
Founder and CEO, Worldwide Orphans