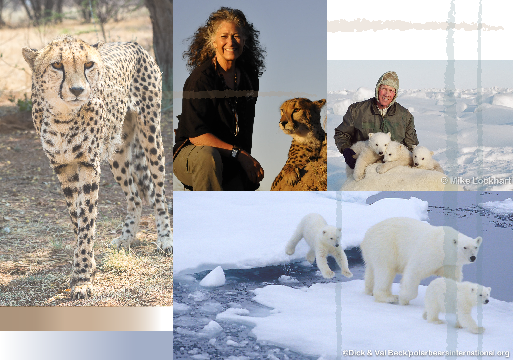 Forty-four years ago the very first Earth Day was celebrated on April 22, 1970, marking a commitment to environmental protection. During that decade, Congress passed the Endangered Species Act, and the Environmental Protection Agency was created.
I was in high school. The Billboard Top 10 Songs in 1970 included "Bridge Over Troubled Water" by Simon and Garfunkel, "Let It Be" by the Beatles, and "American Woman" by The Guess Who. I had not yet met my first cheetah, or realized that the population of wild cheetahs had shrunk from 100,000 wild cheetahs in 1900 to less than half that number in 1970, but the framework for my later conservation work was laid with that first Earth Day.
As humanity gathers in support of Earth Day 2014, I am proud to announce that Cheetah Conservation Fund has formed a partnership with Polar Bears International to lead a new dialogue on the global impact of climate change and unite humanity towards common action.
We've scheduled our first joint appearance via a Google+ Hang Out on April 22, the 44th annual Earth Day. Dr. Steven Amstrup, Chief Scientist for Polar Bears International and I will join a panel to address the Earth's rising temperature and how global warming is threatening all species on our planet at an unprecedented rate.
To join the Hangout, register and watch it on Google+. Or register via PBI here and watch it on their Polar Bear TV.
Cheetah Conservation Fund and Polar Bears International work in polar opposite regions both affected by climate change: the African Savannah and Arctic Sea Ice, where the issues are heating and melting. Our two organizations have developed innovative programs to bring together stakeholders working to protect these two iconic species. Climate change affects all species, including humans, as habitat and biodiversity loss lead to larger systemic problems.
The recent report by the Intergovernmental Panel on Climate Change, a UN group, is a wake up call regarding the need for immediate action. It clearly states that climate is already affecting our planet and will only get worse if we don't take action to reduce carbon pollution. We have no more time to debate this issue.
Please join Dr. Amstrup and me as we hold our first Google+ Hang Out on April 22 at 2 p.m. ET. Join us as we work to save the cheetah and polar bear, the savannah and sea ice, and everything in between.