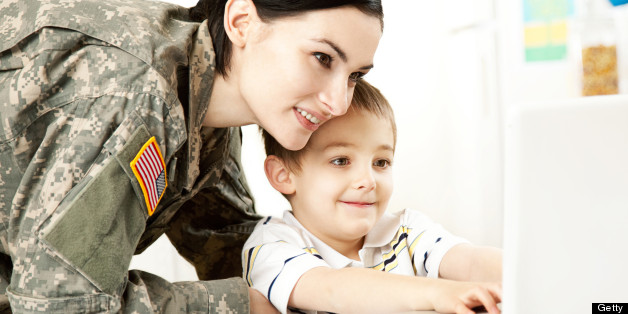 If Americans truly value the service of our veterans this July 4th, they should hire one.
Back in 2007, when there was no end in sight to the wars in Iraq and Afghanistan, I tried to hire a military veteran for our staff at America Works. Although we posted job listings with the Veterans Administration, the U.S. Department of Labor and a host of veterans' organizations, we realized there was no real infrastructure in place to hire the veterans who were coming home each and every week.
These brave men and women oftentimes had joined the military due to a lack of options. Some were troubled youths ordered to turn their lives around by a judge or a parent. Others were high school dropouts with no future in a 21st century America, where an education is required to succeed. So they enlisted in the armed forces, hoping to gain the direction and skills which would propel them to a better life.
When they came home from fighting for their country in a hot and dangerous foreign desert, the jobs were not there for them. They returned to an America in the midst of a recession (due -- in large part -- to the trillions of dollars the United States had spent on the very wars in which they had fought), with an unemployment rate approaching 10 percent. The jobs that remained were reserved for skilled laborers (engineers, medical professionals, financial experts, etc.). Military experience- - no matter how impressive -- simply did not translate well to civilian work.
There were some business owners who wanted to hire veterans -- in theory. But the veterans they were expecting to walk in the door for interviews were blonde-haired, blue-eyed Marines from the heartland with an unmatched work ethic. However, reality does not often live up to expectations. What these employers found were equally hard working young men and women from the Bronx, Southeast Washington D.C. or Chicago's inner city who had simply gotten into some trouble and had a criminal record for mistakes they made a long time ago.
There had to be a better way to get this increasingly large group of people back to work.
I made the decision to begin an extensive veterans' program wherever we could. In 2008, we began an employment program for veterans in New York City. The following year, we started a program for homeless veterans through the US Department of Labor. By 2011, we had replicated our successes in New York to run similar programs in Washington, D.C. and Chicago. Since our first placement of a veteran almost six years ago, we have found jobs for over 5,000 veterans. We are very proud of that statistic, but we are not stopping there.
We are launching "Veterans On Demand," a private enterprise free of government funding with the sole purpose of putting our veterans back to work as soon as possible. Additionally, we have launched a partnership in Tennessee with ExBellum, a group of military leaders and business executives who realize the value to businesses of military experience. The goal of ExBellum is to connect employers with a large network of former special operations soldiers.
There are over 21 million veterans in the United States today. Over 2.6 million men and women have served our country in uniform since 2001. There are hundreds of thousands of veterans who cannot find jobs, but deserve them. They can do the work. I've seen it firsthand.
While America Works was getting its veterans' programs off the ground back in 2009, I hired Captain Pete Wikul (U.S. Navy-Ret.), a Nobel laureate who left the Navy SEALS after 39 years, to lead our initiative. He testified before the U.S. Senate's Committee on Veterans Affairs about the obstacles veterans face in finding work.
During his testimony, one of the senators asked him, "Where are these veterans?" Captain Wikul pointed out the windows to the homeless men and women who were sitting on benches only a stone's throw away from the heart of our national government.
"That, senators, is where our veterans are," Captain Wikul said.
Not all of our vets are easy to spot.
Recently, a young man named Phillip, a U.S. Army veteran who served a tour of duty in Iraq, came to our D.C. office through our vocational rehabilitation program. Phillip was honorably discharged from the Army after seven years because of medical reasons. He has documented post-traumatic stress disorder (PTSD) and a back injury. At this time, his injuries do not allow him to pursue his dream of becoming a D.C. police officer.
Phillip is smart and willing to work hard. We secured him a good paying job as an armed security guard after spending only ten days in our program. Phillip is working to strengthen his back and address his PTSD so he can one day qualify to join the police department.
America Works plans to expand our services to veterans as more and more of them -- like Phillip -F- come home over the next few years. Everyone should remember the service and sacrifice they make each and every day of the year, not just on holidays like July 4th.
But it's a good day to start.