In the mid-1990s, when I started working with the World Health Organization (and at that time, the Children's Vaccine Initiative, a pre-cursor to the current GAVI Alliance) on trying to accelerate the uptake of the Hib meningitis vaccine, there were a lot of barriers and concerns. Often, we heard that the existing immunization system was a "house of cards" and that introducing a new vaccine would risk pulling down the whole system. On the other hand, proponents of moving faster (like me) wondered whether the introduction of a new vaccine might, rather than adding strain, actually energize the system and increase coverage.
As it turns out, both of the groups debating the impact of new vaccine introduction on health systems in the 1990s were wrong. In a paper released by a WHO working group last year, Jessica Shearer and colleagues conducted a rigorous statistical analysis of all available data, and concluded that the introduction of new vaccines did not result in a pronounced effect on routine immunization coverage.
Through interviews and reviews of other studies, the working group concluded that where there were beneficial impacts following vaccine introductions - such as improvements in surveillance, training, supply chain and logistics or injection safety - those benefits were most often the result of intentional, separate efforts that drew on available financing, technical assistance or both. The report also noted that while vaccine introductions may not have harmed the existing system, they have often missed opportunities to strengthen it - such as integrating messages about complementary interventions like treatments, hand washing or environmental improvements.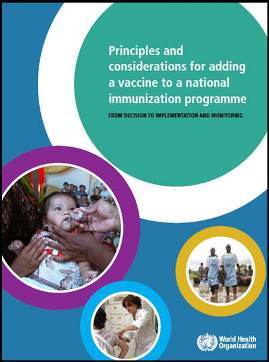 Thanks to new guidance issued by WHO this week, we now have solid, evidence-based advice on how to introduce new vaccines in a way that will help achieve maximum impact.
The WHO report is a valuable resource for anyone involved in the process of deciding, planning, implementing and/or monitoring vaccine introduction. It directs you to the latest guidance and tools related to decision-making, economic analyses, cold chain, integrated disease control, vaccine safety, communications, monitoring and evaluation, and highlights how vaccine introductions can be implemented strategically to strengthen immunization and health systems.
The full report can be accessed here.