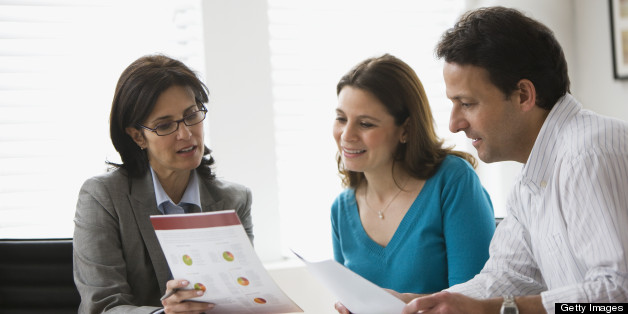 Who do you trust more: a used-car salesman, congressperson or your financial advisor? According to a recent survey, we trust our government about as much as we trust our financial institutions. (They didn't bother to rank used-car sales.) Today, even oil giant ExxonMobil ranks higher than banks in the reputation department. Thankfully, the hyperbolic caricature of unbridled greed does not fairly reflect the industry majority (though, if we experience more Bernie Madoff-style investment schemes, the financial sector ship won't just make waves, it'll sink). But have you noticed that the bad boys in financial news are men? The industry needs more women leading the charge.
A recent report asserts that women advisors are critical to the future of financial planning wealth management. The study comes at a time when women make up half the U.S. population -- nearly two-thirds of the American workforce -- yet, female advisors remain underrepresented in the financial industry (only 30 percent of advisors are women). The need for investment advice is growing, however, and it's expected that financial services businesses will recruit hundreds of thousands of new advisors over the next decade to meet demand. Moreover, many studies have shown that women outperform men in their investing prowess -- in some cases, such as hedge fund management, by a factor of three. Seize the opportunity, ladies.
There's a reason -- numerous, in fact -- why women are ideally suited for the business: relationships. Cheryl Patterson, co-founder of financial services firm Hart & Patterson, knows this well. The 10-person (all women!) western Massachusetts-based company was built on and continues to thrive on relationships -- with each other and their clients. "We spend a lot of time when we first meet with a prospective client explaining that all of us work together as a team and are not competitive with one another," she said. "We've always believed that one plus one is much greater than two when you're working toward a goal."
"We" includes Cheryl's partner -- in life and in business -- Lorraine Hart. After several years with big "wire house" financial firms (Merrill Lynch and IDS, respectively), they founded Hart & Patterson out of a mutual desire to work within a business model that went beyond transactions and an annual statement. "If someone is strictly looking for an investment that goes from $10 a share to $20, we're not the right fit for them." Instead, they focus on the big picture, and that requires really knowing and understanding their clients.
"When we meet with prospective clients, we're interviewing each other because we want it to be a very successful and fulfilling relationship both ways. We put out there what is important to us, what our values are; how we treat people, how we expect to be treated, how we expect our employees to be treated. When that clicks with people, it's a wonderful relationship. At the end of the day, we're there to solve problems and issues. We need to know who this family, this couple, this individual is in order to do the best possible job for them. The fact that, and this is a generalization, women are very good listeners is important. We ask probing questions and really listen to what people are afraid of. What is it that gets you up at three in the morning? Together, we can put together a comfortable portfolio and game plan to address those issues."
The "get close and personal" strategy works for Hart & Patterson, which marked its 20-year anniversary in 2012. The majority of its 300+ clients have come from referrals, many have lasted more than a decade and several extend two or three generations. Cheryl and Lorraine are also committed to helping the industry grow by sharing their success story and encouraging women to consider careers in financial planning. As Cheryl put it, "It's a tremendous industry where you can enjoy a lot of fulfillment based on very long and close relationships with people and clients. We know there are many women who could help so many individual investors and families."
No doubt. In fact, the female quotient will continue to prove pretty powerful for the future of the financial planning. According to the same study referenced previously, women investors are significantly more likely to engage women advisors than men (46 percent vs. 34 percent). And when you consider that women own more than half of all U.S. private wealth, and they're on track to inherit two-thirds of the wealth by 2020, the financial services industry better start working on its relationship skills. Otherwise, there's probably always a job for those bad boys selling used cars.
This article first appeared on Forbes.com.