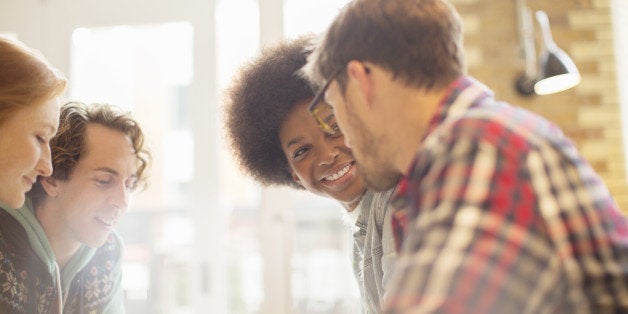 Millennials often get a bad rap for being anti-social internet addicts and gaming fanatics, more likely to Tweet about their latest Netflix binge than put on some pants and meet up with friends in person. Yet beneath the stereotypes the truth isn't that Millennials are eschewing social interaction, but instead changing what it can look like. They embrace meaningful interactions, sometimes with strangers outside their immediate circle of friends, coworkers, and acquaintances-- a kind of social risk-taking they may be more open to because of their familiarity with social media, not despite it.
As a Nielsen study published in January 2014 noted, "Millennials are the social generation. They're the founders of the social media movement--constantly connected to their social circles via online and mobile. They prefer to live in dense, diverse urban villages where social interaction is just outside their front doors." They also value authenticity and creativity, shopping local, and relying on their friends and neighbors for social support. For Millennials, social media is another tool to foster friendships and widen their networks, not a replacement.
Much as Google has carefully designed its offices to encourage inspiring chance encounters, Millennials are eager to curate new opportunities for authentic connection. The irony is, of course that social media often facilitates these gatherings, whether it's connecting people with similar interests a la meetup.com, making it easier to register for and share events from official conferences to private parties a la eventbrite.com, or creating collaborative educational gathering that are advertised online and even live streamed a la PechaKucha and TEDx. One new event that combines elements of all these is Tea With Strangers, a model developed by millennial entrepreneur Ankit Shah.
Tea With Strangers is an organization dedicated to creating meaningful connections between strangers. Its original program are the eponymous tea times that Ankit describes as "conversations fueled by the stories, questions, and listening of a few strangers and a host." The gathering groups are intentionally kept small-- no more than 6 people. They meet in public places such as cafes and parks, and sit together for at least two hours. The hosts bring the conversation together by asking questions, listening, and sharing some of their own stories.
"Hosting a Tea Time is like starting a dance party," Ankit explains. "When you're at a party and everyone's kind of standing awkwardly at the perimeter, there's usually a person or a group of folks that start moving to the dance floor. Suddenly, five minutes later the dance floor is packed!"
Tea With Strangers hosts are the brave souls who put on their dance shoes first and help others feel comfortable putting themselves out there in a fun and vulnerable way. "That nudge of permission come in the form of a good hug, a thoughtful question, an honest story, an actual dance party, or just letting someone hang at tea time for a little," said Ankit. The goal is ultimately to create a sense of connection and empathy.
Each tea time event "stands as an example of what the world might look like if we actually practiced generosity and empathy with one another," Ankit explained, and "that involves putting others first." He admitted that the concept may come across as contrived, but insists that the authenticity of the participants overcomes that aspect and ultimately brings out the best in people.
Ankit got the idea during his senior year at UPenn. He noticed that the closer graduation day got, the friendlier his classmates became. "All of us became more approachable because all of us felt less attached to the associations we held in the last 3.5 years and more attached to the fact that we were leaving this beautiful place we called home," he said. "What became Tea With Strangers started as a personal attempt to understand all that I didn't understand in the people that I'd been walking by every day for the 3.5 years prior. It's been growing to what it is now because it became very apparent that I wasn't the only one that wanted this understanding."
His anecdotal experience as a student mirrors the Nielsen study's more scientific findings, which show "the Millennial generation wants to be a part of a larger conversation. They want to make individual contributions and be connected and woven into a larger discussion." And that is exactly why organizations like Tea With Strangers speak directly to the Millennial heart, and are changing the way people interact.
The qualities Tea With Strangers has in common with other events like PechaKucha and TEDx aren't entirely new, however. They all share qualities with another, much older form of programing for young people-- the Chautauqua. In the late 19th and early 20th centuries, Chautauquas were held all over the United States, and were a popular way to combine entertainment, education, and socializing, with lectures, music, religious and political discussions, and more.
In that regard Millennials are simply bringing a very classic concept online in the digital era, and finding new ways to connect to good old fashioned relationships and communication. For all their smartphone usage and constant selfies, Millennials are eager to be a part of something and break down the barriers between us. Meaningful interactions like Tea With Strangers give Millennials an opportunity to practice the skills they need to connect and make a positive contribution to those around them.
"Tea Time is like CrossFit for the heart," Ankit said. "My listening muscles are weak; my compassion could be much stronger; my ability to empathize is horrendous; and my resilience could use some work. I remember that I have to keep 'working out' if I want to actually, well, be the person that I hope to be."
I can only imagine the possibilities if Millennials succeed in that mission for empathy, respect, and self-awareness. Armed with social media and a unique view of the world, I have no doubt that Millennial values, and their clear willingness to enact them in every aspect of their lives, will have a huge impact on how they work, play, and relate to one another. And to think that it could all start by having tea with a few strangers.