What does it mean to be brave? I've been thinking a lot about this question this week after my friend Jane emailed me to tell me her resolution for the new year. This year Jane intends to do 40 brave acts. Why 40? Her 40th birthday is in December. When it's all said and done, by the time Jane's big day rolls around at the end of the year, she will have done roughly one brave act a week. Jane defined the word, "brave" loosely, to include everything from cooking a complicated new recipe to suggesting and implementing a novel program at work with staff members who like the status quo.
Our mutual friend, Betsy, tweaked Jane's idea to include "40 brave acts of health." It's so true that taking care of yourself well often requires a distinct level of courage. Whether it is boldly marching into a new yoga class by yourself or calling the doctor to schedule a test you've been avoiding, you often have to muster up all your courage to step outside of your comfortable box and tread into uncharted territory. Anything new is almost guaranteed to make you a little anxious or uncomfortable at first, even if it undeniably promises good rewards in the end. Once you've past the first tenuous step, you need less courage and more persistence.
I have the honor and privilege in my office to see clients make many brave acts of wellness, particularly around changing their eating habits. These changes aren't easy and often require a fearless leap of faith. Whether it is assertively saying "no" to a food pusher in your life or putting up with teasing from friends for ordering something healthy, it takes courage to accept yourself as you are and to shut out unhealthy thoughts that tap on your shoulder and say, "You aren't good enough." Even facing the fact that something needs to change can require guts. Think for a moment about a time you needed a little bit of courage to stop or start eating in a healthier way.
Please considering joining my friends Jane and Betsy to do one brave act of health and wellness a week this year.
Do you need a place to start? If you are one of the many who made a resolution to shift out of the holiday eating mode and eat healthier, try taking the Mindful Eating Pledge. Why does it require courage? It's different than dieting. Instead of focusing only on changing what you eat, the pledge encourages you to also alter the way you eat. This notion is often very novel for people who hold the hard core believe that dieting is the only path to losing weight and eating healthier.
Brave Act #1: Start Eating More Mindfully: Take the Mindful Eating Pledge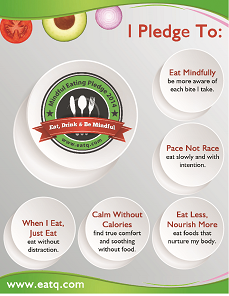 Share this pledge on Facebook.
Over the next 12 months, come back as I continue to share stories and tips on brave acts of health and wellness. I'll also be giving advice from top experts. Happy New Year and eat, drink and be mindful!
Dr. Susan Albers is a psychologist at the Cleveland Clinic and author of the new book, EatQ (HaperOne, 2013), Eating Mindfully, 50 Ways to Soothe Yourself Without Food. She is frequently quoted in Shape, Fitness, New York Times, Wall Street Journal, etc., and has been a guest on the Dr. Oz show. Visit her on Facebook or Eatq.com.