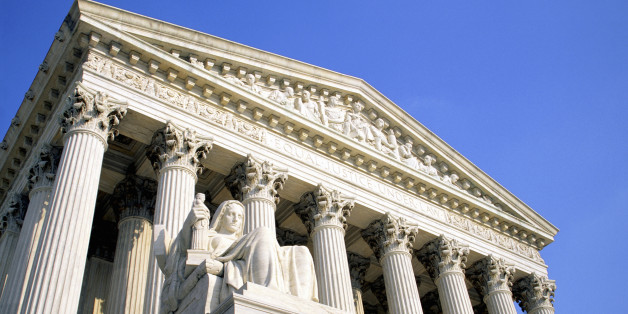 The Affordable Care Act's first open enrollment period has come to an end. The ACA is not out of the woods, but it is gaining some momentum, and the technological meltdown of October and November is behind it.
Yet there is a part of the law that is not at all working as originally envisioned, because the Supreme Court dramatically altered the structure of the ACA when it ruled that the expansion of Medicaid should be voluntary for states.
Since then, political and fiscal considerations have led almost half of governors and state legislatures to choose not to expand Medicaid. The result is an insurance system that makes very little sense: An estimated 4.8 million poor Americans in states not expanding Medicaid will fall in a coverage gap this year and get no help paying for insurance, while 10.1 million people in those states who earn more than they do can get tax credits to help pay for coverage.
Imagine two siblings living in Amarillo, Texas.
John is a single 30-year-old who works for an auto parts chain and earns $25,000 a year but does not get health benefits at work. Under the Affordable Care Act, he will be eligible for a tax credit of $679 to help him buy a private insurance policy on the federal health insurance marketplace.
His sister Louise is a single parent who works part-time for a small community organization and earns $13,000 a year. She earns too much to be eligible for Texas Medicaid, and too little to be eligible for a tax credit on the exchange. With half her brother's income, Louise no doubt feels that she needs help as much if not more than he does.
No one would look at this situation and think it's fair or rational.
The bill that passed Congress and was signed into law by the president created two mechanisms for helping people get affordable health coverage. Those with incomes up to 138 percent of poverty (about $32,500 for a family of four) would be eligible for Medicaid, and those with incomes above that level and up to 400 percent of the poverty level ($94,200 for a family) would be eligible for tax credits to help buy insurance in the new health insurance exchanges.
Then the Supreme Court threw its wrench into this plan. Since the Court's decision, 27 states have opted to expand Medicaid under the law, 19 states have said no to the expansion, and five states are still debating it. The governors and legislatures in the refusenik states don't like the ACA and Medicaid, and they don't trust the federal government to sustain its commitment to provide 90 percent of the funding for the expansion in future years (and 100 percent in the first three years). For the record, the Medicaid match rate has never been reduced in the history of the program.
In Texas there are 3.67 million adults with children who are receiving Medicaid coverage because they earn less than the eligibility level set for the state: 19 percent of the federal poverty level. That's just $4,501 a year for a family of four. Another 2 million people who earn between one and four times the poverty level will be eligible for tax credits under the ACA (regardless of whether they have kids or not) to help them buy insurance in the new marketplace that the federal government is operating in Texas, which chose not to run the program itself.
A million people in Texas are stuck in the middle, earning too much for Medicaid and not enough to qualify for credits on the exchange. Their incomes range from $4,501 to $23,550 for a family of four. They can buy insurance on their own if they want, but there's no way they could afford the thousands of dollars a year it would take, and as a result they would be exempt from the ACA's "individual mandate."
The same inequity repeats itself in every state that has chosen not to expand Medicaid. In Florida 763,890 people fall in the gap, while 1,587,000 higher earners get tax-credit help. In Louisiana 242,150 people are ineligible for any assistance, while 344,000 who earn more are eligible for tax credits.
Red-state governors and legislatures are not going to wake up one morning and decide that they want to expand Medicaid or embrace Obamacare just because their health insurance systems are now so unfair, nor will voters punish them for how they handle health coverage for poor people. But there is a deal to be made to bring most of these states into the fold in ways that will work for them.
Arkansas, Iowa and Michigan have reached so-called waiver agreements with the federal government on ways to expand coverage without expanding traditional Medicaid or appearing to embrace Obamacare. Several other states are thinking about it, and more will likely follow suit if momentum builds, as New Hampshire just announced it plans to do. These states have a clear interest in the hundreds of billions of dollars in federal money available to states over the first 10 years of the law if they expand. The Obama administration has a strong interest in getting more Republican-controlled states into the expansion column. Doing that will cover millions of the uninsured and build a bipartisan foundation for the ACA in the states, something that cannot be done in Congress.
The key for many of these states is to use federal Medicaid money to buy private coverage for low-income people instead of expanding the traditional program. The challenge in making a deal is to give these states the flexibility and political cover they want while still assuring that the private coverage that low-income people get is affordable and comprehensive, given their modest incomes and health-care needs. Then there are other requirements that red states sometimes add to the mix, which may not prove acceptable. Most controversial so far was Pennsylvania Gov. Tom Corbett's idea to impose work requirements on low-income people who get the new health coverage.
Having once finalized a welfare-reform waiver in the White House in the middle of the night when I was a state Human Services Commissioner from a Republican state, I know there is usually room for negotiation on these things. Gov. Corbett recently altered his plan, turning it into a voluntary pilot program. Whether his new plan offers sufficient protections will no doubt depend on the details.
It won't be easy. Staunchly opposed states like Texas will hold out the longest. The details will matter. Achieving an end run around the political polarization surrounding Obamacare, getting 4.8 million people covered, closing the equity gap and building a bipartisan foundation for the ACA will require proactive and pragmatic policy making that we haven't seen for quite some time, at least in Washington, but there are signs that the logjam may be beginning to break.