Standing up on the balcony for Swedish electro pop Miike Snow's gig at Music Hall of Williamsburg last night, one couldn't help but be struck by the paucity of bearded 22-year-olds in the packed crowd below. What's up with that, Williamsburg? But as soon as he took the stage, front man Andrew Wyatt brought the world back into balance. His full beard, skinny jeans, and lanky figure suggest either a rigorous running regime (doubtful) or the road diet of a budding pop star who had recently arrived from the rigors of SXSW (more likely). Wyatt comes across as Jim Morrison without all the moodiness and sexual suggestion, although he certainly has an intimate relationship with the microphone stand he alternately danced with or practically attempted to mount at various parts of the evening.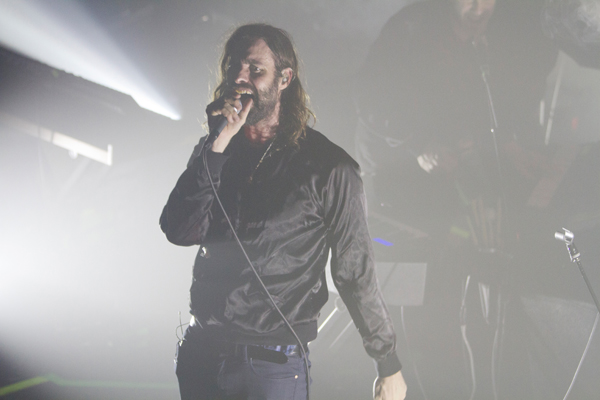 The crowd hadn't turned impatient even though the band took the stage an hour after the music was supposed to begin (their opening act, Jacques Lu Cont, was a no-show). Instead, it just seemed ready to participate in the rite of passage of every relatively young band -- they came for renditions of favorites from earlier records as well as the debut of something new.
It's pretty hard to describe a Miike Snow show in traditional music terms. The fine line between singing (by Wyatt and his band mates, as well as the crowd) and a Wall of Sound that might be the bastard child of Phil Spector and Erasure was a tough one to locate. Add to that the low-tech display of lights in vacuum tubes that wouldn't be out-of-place in 2001: A Space Odyssey, as well as fog machines that were churning out billows of white clouds well before the first counter-waft of lights-down marijuana smoke, and it got even harder. But it was clear that the band, which released Happy to You yesterday, was a different one than that of 2009's Animal, the lyrics of which have clearly already been committed to memory by the fans lucky (or determined) enough to snag tickets to this more intimate show in advance of a sold-out date at Terminal 5 next month.
I asked my date to describe the sound -- she was hearing Miike Snow for the first time, if you don't count checking Grooveshark to make sure I wasn't inviting her to an eardrum-crushing night on the town. "Maybe the kid cousin who looks up to the Flaming Lips?" she said. "And the shooting laser and lighting are definitely all about HAL." The band grows from its usual trio to a performance group of six, all of whom seem to be "programming" the music rather than playing it at different times. But we live in an electronic age; the method of making music doesn't strike one as unusual, save for the fact that it's not so much of a performance per se once you get beyond the fog and lasers. This is a bunch of dudes twisting knobs and sliding levers, albeit accompanied by piano and a drum set.
To the music itself, then. Whatever the content of the lyrics -- Wyatt's impressively wide range and spare singing makes his more instrument than mere voice -- the band conjured an immersive starry synth pop that was punctured only by a brief thank you to their New York fans and reminder (which obviously wasn't required) that the new album was now available for sale. The crowd sang along with tracks from Animal, like Silvia, Black and Blue and encores Son Soleil and Animal, but stayed right in the groove with pretty much every song from Happy to You, from Enter the Joker's Lair through Paddling Out.
A simple video backdrop with the standard images of close-up eyes and heartsick lovers running through open fields merely added texture rather than detracting from the show. If you had to summarize it, last night's was a deft performance of somewhat overproduced synth pop that left a warm afterglow despite the occasional spine-rattling entry of a marching band snare that John Philip Sousa would have applauded. Miike Snow wants to take its audience on a chaotic but still melodious ride. And that's what they did.