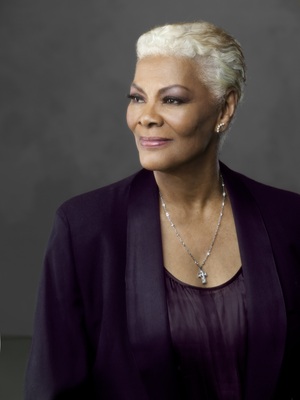 Dionne Warwick has been dazzling us as a musical ingénue for more than five decades. With songs like "Say a Little Prayer," "I'll Never Love This Way Again" and "That's What Friends Are For," her career is a chalkboard filled with dozens of hits, duets and album releases. Next month she turns 74 and shows no signs of slowing down. She says the best part of getting older is waking up every morning, putting one foot in front of the other and being able to say, "I made another one."
Her new album, Feels So Good, includes collaborations with pop sensations Ne-Yo, Cyndi Lauper, Ziggy Marley, and many others. I recently spoke with the living legend to discuss her family, her music and why she feels saddened by the industry she helped define.
You continue to record new albums. What keeps you going back into the studio?
It's something that I happen to enjoy and fortunately, it's something people expect.
The new album is called Feels So Good. What makes you feel so good?
I think you're listening to it. Good music, wonderful people to record with and keeping myself out there for people throughout the years.
Your youngest son, Damon Elliott, produced the album. What's it like working with him?
It's wonderful. First of all, he's qualified. There's really no difference expect instead of calling me Dionne, he calls me mommy.
Does he say to you, "Mom, I think we need to that again?" Or, "Can you do that better?"
Absolutely. He's very professional. If there's something that didn't smack the road the way it was supposed to, he'll let me know. Then we'll do it until we get it right.
It's obvious your two sons adore you. What kind of mother were you when they were growing up?
I guess you'd have to ask my babies. I wasn't strict in the word strict. Of course there were moments when things got a little out of hand, and they got their share of spankings like I did growing up. I think I'm a pretty good mom.
What would you say is the greatest piece of advice you gave them?

I don't give advice in words. It's always in an action. I find this to be very, very true -- my parents were a mirror. Whatever I saw or heard is a reflection of who I am. So, giving my children an image they feel comfortable with is something I feel very strongly about.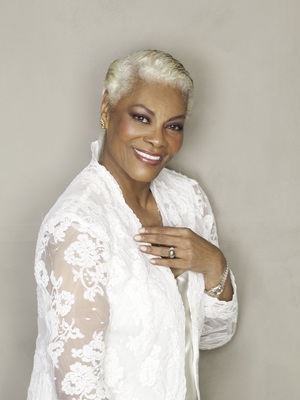 On the album you do a duet with Billy Ray Cyrus called "Hope Is Just Ahead," which you recorded in Jamie Foxx's studio. What was it like working with Billy Ray?
It was wonderful, as it was with every single person on the CD. He's a very easygoing and honest person. The song, itself, speaks to the kind of person he really is. The song has the kind of heart and soul that speaks to issues that are a concern to not only him, but all of us.
You said, "Lyrically it's everything that I would normally say in any event, for any reason, regarding the health and welfare of people, generally." What concerns you in today's world?
I don't think we have enough time! People have got to get to the point where we start being who we are -- human beings. We need to start caring about each other and giving to each other versus the I and my syndrome. We are here basically to be concerned about each other.
How was it working with Ne-Yo?
He said he wanted to sing "A House Is Not A Home." I said, "Do you really want to try to tackle that?" He said, "Yeah, it's one of my favorite songs and my mom used to play it all the time." And he listened to the remake of it by Luther Vandross. I must say I was pleasantly surprised that not only did he give an incredible performance, but musically he gave some wonderful backgrounds that he did himself. It was just a lovely experience. Each brought their A game and gave me the best they could give me.
Your granddaughter, Cheyenne Elliott, is featured on the album. She's performed in your concerts, too. How is her career coming?
It's coming very, very well. She just signed a recording contract.
I know you said you don't like to give advice, but I'm sure Cheyenne has come to you. What words of wisdom have you given?
Basically, it's not something you just jump into; it's something you earn. It doesn't matter who you know; it's what you know. She's taking music very seriously.
As you've gotten older, what's the wisdom you have learned?
Just be yourself.
What would you say now to the Dionne Warwick who was first starting in the business?
I don't think Dionne Warwick would want to be in the business right now. It's certainly not like the business I was in. It's changed so drastically. It's not what I would want to represent. It's a marketing tool now. It's all glitz. It's a completely different industry.
So many have cited you as an inspiration. What would you say is the magic of you as a performer?
I don't know so much about the performer, but the music. The music is powerful to the ear and acceptable to all. The music will be around a lot longer than any of us.
What makes you laugh?
Many things. Sometimes I think about things that happened 15 or 20 years ago and I start laughing. It's one of the things I love to do. Laugh.
For all of those who hear the new album, what would you like for them to take away?
Exactly the title. It's one of those CDs that will make you feel so good. Get the CD and feel good!
"Feels So Good" is available now. For more information, visit Dionne's website.

Earlier on Huff/Post50:
PHOTO GALLERY
Most Eligible Post 50s