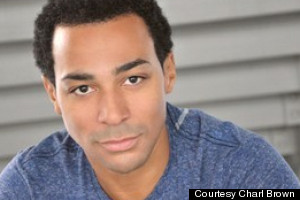 Charl Brown had to postpone his birthday trip to Hawaii in May 2012 by a few days because he had to audition once again for the role of Smokey Robinson in Motown The Musical. Following the audition, he was told he'd receive news within a few days, so the birthday festivities did run the risk of not being so happy. He needn't worry. Bright and early on the day after Memorial Day, Brown received the call that he had landed his first starring role on Broadway. He got a Mai Tai and the celebration began.
In April Motown The Musical officially opened at the Lunt-Fontanne Theatre. A month later Brown, along with co-star Valisia LeKae, who plays Diana Ross, earned a Tony nomination. Looking back on this past year, Brown said the one word that comes to mind is "Dream."
"I'm just a little kid from San Diego who went to a performing arts school. Now to be starring in a huge, hit show on Broadway -- I wouldn't say it's beyond my wildest dreams, but it is definitely my wildest dream," Brown said.
But Brown wasn't an overnight success story. He worked at his craft and paid his dues. After graduating from the University of Southern California, he embarked on a European tour of Hair with Adam Lambert. Once the tour wrapped, he decided to give New York a try. He quickly landed a part in The Wiz at the La Jolla Playhouse and everyone assumed it was destined for Broadway. When that didn't pan out, Brown took a role in the Vegas production of Jersey Boys. However, for as exciting as that was, he knew he needed to be in New York to fulfill his dreams and left the company. Brown called those days in New York the most difficult time in his life.
"There's nothing else I could do," Brown said as to why he never gave up. "I never gave myself a back-up plan because I didn't want to fall into it. I came to New York and waited tables. I was a cater-waiter for many years, and I just used that as a means to an end and tried to study everyone around me who was successful."
Finally, as the Smokey Robinson song goes, he "got a job" in the spring of 2011 in the original Broadway cast of Sister Act. The rest, like Motown, is history.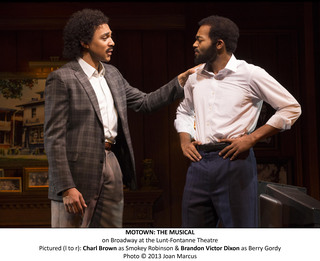 When you auditioned for Motown The Musical, what Smokey Robinson song did you sing?
"You Really Got a Hold on Me." That is still the song I sing when I'm out and about. It's one of my favorite songs. It's the first Smokey song I remember seeing him perform. He did it on Sesame Street. There was this big letter U, and he was trying to get a hold of it. It's my earliest memory of Smokey Robinson.
When preparing for the show, did Smokey give you any words of wisdom?

I met him at the press launch last September when he introduced Mr. [Berry] Gordy, but we didn't sit down and have a talk. Mr. Robinson was not part of my preparation. Mr. Gordy was really a good point of reference for us. We did have one-on-one meetings. I could just ask him anything. He still gives me notes. I got a note from him the other day!
What is the most challenging part of the show?

When you're playing someone who is not only living, but is also so iconic for their sound, the challenge is trying to bring authenticity to that sound, but also not mimic. They were very clear with us in the casting and workshop process that we're not trying to do imitations. It's not a Vegas lounge act. We are trying to evoke the essence of the people we are portraying. So, it was about finding the balance of Charl, the actor, and Smokey Robinson and his sound.
What do you think is Motown's legacy?
One of the legacies, I think, is our president. Motown allowed our country to see people of color in a different way. There's a reason why human beings connect to music. It speaks to our souls in a way that no other art form can. People had been glamorous before, but it was the first time on a large scale people got to see these young, black people from the inner city of Detroit being glamorous. Think of Miss Ross in those beautiful and expensive gowns. Unfortunately, we just lost Maxine Powell who ran Motown's charm school. Because of what she taught the girls and the guys, black people were on TV with a certain poise that allowed people, who may have not been interested in looking at them, to see them in a different way. I don't know if we would have the president we have today if it weren't for that movement.
You were nominated for a Tony in the Best Actor category. What was that experience like for you?

I always dreamed of going to the Tonys. I don't know how many kids around the country really watch the Tonys or know of the Tonys, but for me going to a performing arts school, it was something I paid close attention to all my life. You can earn an Oscar or Grammy nomination anywhere in the world, but you can only earn a Tony in New York. I just wanted to be a part of the community, so to be recognized by the community was irreplaceable.
I have to ask -- how did you feel when they opened the envelope and your name wasn't called?
Beforehand I thought I'd be disappointed, but when they read Gabriel Ebert's (Matilda) name, who is a great guy, I wasn't disappointed. All of a sudden it took the anxiety away that I had for five weeks since Sutton Foster said my name at the nominations. The funny thing is right after they said his name they came and pulled me from my seat to perform. I kept wondering if people were thinking that I was walking out. That was a weird moment.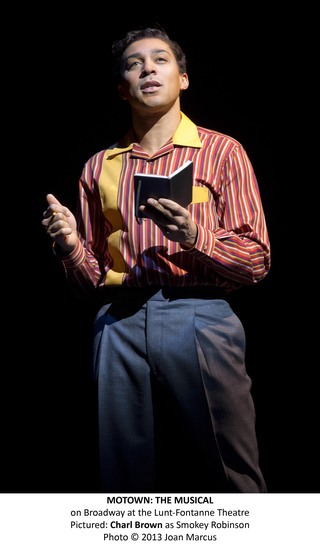 How would you describe yourself as a kid growing up in San Diego?
I was very outgoing. I was always the performer of the family. My father is high school football coach. My brothers both played football and my mother is a retired elementary school principal. I started singing in church. My mother put me in the choir at a very early age. Church is a big part of my family. Somewhere along the way they realized I had talent as I started getting solos in church. That's when they finally enrolled me in the performing arts school.
Did your parents play Motown music?
My father is a huge Motown fan. That's another reason why this show is so special to me. He is a huge Temptations fan. He still listens to the Motown station on Sirius Radio. There was also a lot of gospel music. I really didn't listen to a lot of secular and R&B music until I was a teenager -- not because my parents didn't allow me -- but because I really grew up listening to gospel and contemporary Christian music and theater soundtracks.
When you finally moved to New York, did you give yourself a time limit on how long you would pursue your dream of being on Broadway?
I did, and then I went over it. When I moved here I was 25 years old. I told myself that if I was not on Broadway by the time I was 30, I was going to quit. I didn't make my Broadway debut until I was 31!
What a difference a year makes. I want to throw a few rapid questions at you. What's your favorite Motown song?
"Papa was a Rolling Stone."
A CD you can't live without?

I can't live without my Beyoncé. All of them.
You love Beyoncé! Last year you dressed as her for Halloween! Can you hit those notes when singing her songs?

Oh, I find my way to hit them! Justin Timberlake, too. I've been a fan of his since the very beginning. He is actually how I warm up for the show if I'm not feeling so Smokey.
What song do you love to sing at Karaoke?
Funny enough, I hate Karaoke. Only because I don't get a sound check!
Your favorite musical?

This is going to be a little sacrilegious, I guess, but Dreamgirls. There is a weird history with Dreamgirls and Motown because it's someone's telling of what they think was the Motown story, and it's one of the reasons Mr. Gordy decided to tell his own story in his own words. I think they did a great job of creating new music that fit that era and also told a compelling story. Now, it's not the real story of Diana Ross and the Supremes, but it is a very interesting story and done very well artistically for the stage.
What's next for you?
I don't know. I'm an open book right now. I'm definitely going to be with the show for a while longer. Personally, I'd love to do TV. That's my next goal.
Follow Charl on Twitter @thecharlbrown. For more on Motown The Musical, visit www.motownthemusical.com