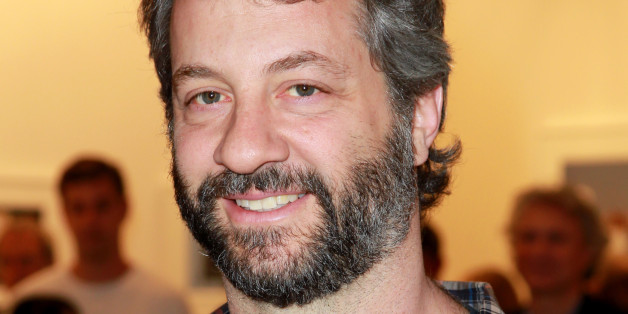 On this very special episode of The Laughspin Podcast, I sat down with the mighty Judd Apatow on the set of Trainwreck, the movie written by and starring Amy Schumer, which Apatow is currently directing and producing. We chatted inside Apatow's trailer on Staten Island, where Schumer and co-star Bill Hader were shooting a driving sequence. Apatow and I got into a great many things, including his return to stand-up comedy, working with Amy Schumer an upcoming episode of The Simpsons that Apatow wrote, and so much more.
For your pleasure, I've pulled out a few chunks from Apatow's answers to give you a taste. But to fully enjoy our conversation, you'll have to listen to the complete episode, which I've lovingly embedded below. You can also check it out on iTunes.
On working with Amy Schumer:
Amy is a fantastic writer. She really has a lot she wants to say, which is the best kind of person to collaborate with-- someone who has opinions and visions and a great, strong comic point of view. She wrote this script fast compared to a lot of other people and she's worked as hard as anyone I've ever collaborated with. She's just been a pleasure. She's really funny and really smart. She's been doing her sketch show so she's very skilled with production and acting and everything that goes into something like this. She hasn't made a film before, but I like that. You're so into it when it's your first movie. You get a level of passion that's ridiculously high.
On returning to stand-up comedy:
I had a blast doing it, but I don't know how good I was. I did it from the time I was 17 until I was about 25, 26. And then I just got busy working on The Ben Stiller Show and The Larry Sanders Show and there just didn't seem to be any time to focus on it. I felt like the universe was telling me I was probably a better writer than a stand-up comedian. But now that I'm older I have some stories and more things to say. It's fun to do when you don't have to worry about feeding yourself by doing stand-up. That puts a lot of pressure on you to be funny-- if you can't get the clubs to like you and book you, you won't be able to pay your rent. So I find it really freeing and fun. I like doing it because there's no purpose to it other than it's a way to express myself. I'm not attempting to appear anywhere - on TV or anything - it's just a moment between me and the audience. And it forces me to think about what I'm thinking about.
On listening to old interviews for his upcoming book, which will feature conversations he conducted with legendary comedians while he was in high school.
It's pretty painful because I'm so young and I have a very strong Long Island accent. It's pretty rough. I wasn't very smart. I wasn't a very smart kid. I had decent taste in comedians. You know how sometimes you hear about kids, 'He wrote a novel when he was 12,' I was not that kid. I was an idiot. And it shows in most of the interviews.
On the direction of his movies:
When we did This is 40, for some people it was hard to watch because we're talking about a lot of real life problems. And for other people, they said, 'Thank God, it made me feel so much less crazy knowing that other people are dealing with the same obstacles to happiness.' That's what I like to do with all the movies, like 'This is what's kind of complicated for me. Here's how I'm struggling through it, and maybe if I'm honest enough about it, someone else feels a little better about how it effects them and their lives.'
On feeling the need to sometimes mentally check out of adult responsibilities:
I think you think thoughts like that when you're married. Like, is there something I can do to myself where I get injured enough to be left alone for a period of time? Like, if I threw myself off a balcony and just broke my leg, everyone would have to take care of me for six months... Sometimes I'll see a celebrity go to rehab for 'exhaustion' and I'll think, 'What do I need to do to be allowed to do that?' Do I need to just pull a gun on the street corner somewhere? What would get me the Exhaustion Vacation?
On The Simpsons episode he wrote:
I went to watch them record it recently. And I have to say as a comedy nerd, it's one of my favorite things I've ever done. I went to the table read and a couple days later, just in a small studio, there are The Simpsons-- all of them right there... I don't know if people realize how funny those people are. To watch Dan Castellaneta just do it. And to see how much of that show is brilliant because of his brilliance and because of the brilliance of all the actors. The choices he's making and the timing is stunning. I was blown away. I felt like I was watching Jackie Gleason shoot The Honeymooners.