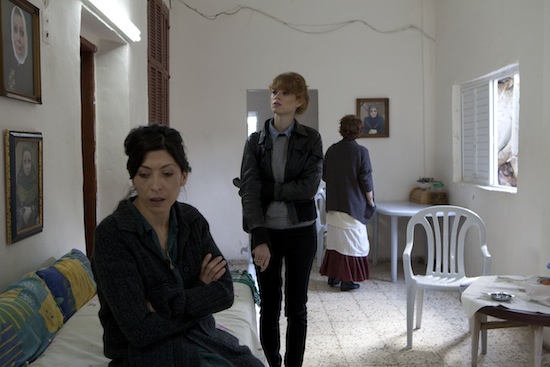 "We may have all come on different ships, but we're in the same boat now." -- Martin Luther King, Jr.
I am always weary of films with a gimmick. So when I heard of Amos Gitai's latest oeuvre Ana Arabia, I wasn't immediately impressed. The Israeli filmmaker's goal was, in his own words, "to make the entire film -- 81 minutes -- in one shot without any cuts" using an Arriflex Alexa camera. To me, films are about content and the magic they can create within us, their audience, not the talent of their auteur, which should be felt, never noticed.
But here's where the power of magic can be often underrated. I settled into my stiff seat in the Darsena room, the largest and least atmospheric of the press screenings theaters in Venice, and for the next 81 minutes, I was spellbound. In his latest masterpiece, Gitai manages to take his audience to a world where we can all coexist and do it with patience, understanding and a grand dose of love. When a film can do that, it's not only a cinematic success, but a miracle.
Ana Arabia, which means "Me, the Arab", can be best described as poetic narrative that feels a lot like a documentary, filled with moments when we are allowed to peek into the souls of its characters, but also see the other side of a country that may seem, at first glance, destined for hopelessness. Offering a slice of life, extended moment inside a small community of Jews and Arabs who live on a forgotten enclave between Jaffa and Bat Yam, near Tel Aviv, the film manages to restore all the lost hope. Because within that complex, surrounded by their orchard, it is all so different from the walled in Israel I've seen firsthand, the country which has mastered weapons of mass separation for all its citizens.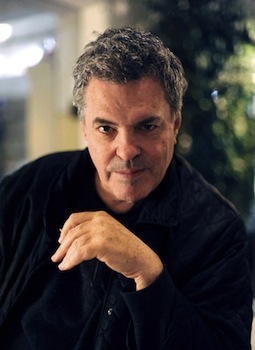 Gitai explains that the story of Ana Arabia "is based on several sources, one of them [...] a news item." That story is, as he continues "about a woman in Umm el Fahem, a village in the North of Israel. She went to see her doctor due to a loss of calcium. He told her that she might have been malnourished when she was a child. Her head was covered like all Muslim women, yet after much hesitation, she told him that she had actually been born in Auschwitz." In Ana Arabia, we never meet Siam Hassan, the matriarch of the family, who has passed away. But her courageous presence is impossible to miss, throughout the film and accompanying us on this journey.
We do however meet Yael (Yuval Scharf), the journalist who arrives looking for a story and leaves having found her heart instead, and Yussuf (Yussuf Abu Warda), Siam Hassan's Palestinian husband, as well as two of their children Miriam (Sarah Adler) and Walid (Shady Srur), Sarah (Assi Levy), their sister in law, and some of their neighbors. And as the camera follows Yael around, we also encounter another important character in Gitai's touching film -- the set. In true son-of-an-architect style, the filmmaker makes the enclave, this precious piece of land mysteriously left to be, in an area surrounded by metropolis and public housing, an example for the great utopia that Israel could be, away from the Zionist vision.
I wouldn't be surprised if Ana Arabia ends up winning the big award in this year's Venice 70 Official Competition. Because ultimately, I think we all believe that the power of cinema is to change the world and Gitai's film helps to do just that with one single, quiet shot, a few characters and their wisdom.
Film still and Amos Gitai photo courtesy of the Venice Film Festival, used with permission