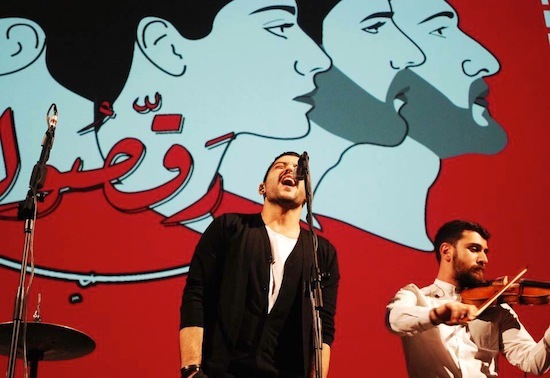 Mashrou' Leila performing on opening night of Middle East Now, photograph by Stella Grotti
Sometimes life can offer happy little accidents. When a favorite film festival was postponed this past April, I felt a heavy tinge of overwhelming sadness. But then the invitation arrived for Middle East Now in my birth city of Florence, and suddenly the gloom was transformed into that great feeling of anticipation I get when I'm on the verge of discovering a new treasure. And the Middle East Now festival is exactly that -- a jewel, a treasure trove of things to be, of arts beyond politics, and peace achieved through culture.
While Rome can be described as a destination city, Florence is the journey. Every day, every corner offers a new way of discovering one of the most beautifully magical cities in the world -- if I may say so myself! And the festival, run by Roberto Ruta, Lisa Chiari, their incredible team of devoted staff members and this year, guest-programmed by Bruni Burres added charm to magic, turning the city into a marvel of new finds, a wealth of cinematic riches framed by great art exhibits, exhilarating concerts and culinary voyages beyond what I could have ever expected. Following are a few highlights.
Mashrou' Leila rocks out Florence
I'll preface this by pointing out that my fellow Florentines are notoriously pragmatic. Nothing really excites them, but at the concert for Lebanese band Mashrou' Leila the crowd fell head-over-heels under their spell. It was as if the entire auditorium at FLOG, a large venue just off the center of town, was dancing as one. I envisioned the Rolling Stones, the Beatles and the kind of frenzy people got into watching them, in their early days.
Mashrou' Leila's music is entrancing and packs a punch. With messages hidden within their lyrics such as those in their latest hit "Lil Watan" (For the Motherland): "Every time you demand change, they make you despair until you sell out all your freedom. They tell you to stop preaching and come dance with them."
The band features the sultry, soulful vocals of co-founder Hamed Sinno, hypnotic violinist Haig Papazian, the sublime Firas Abu-Fakher on guitar, Ibrahim Badr keeping it rhythmical on bass and Carl Gerges, think fashion model-slash-drummer, on percussion. Mashrou' Leila's music stands on its own, infectious and mesmerizing, In fact, it made me yearn to speak Arabic, just so I could get it all.
Teatro del Sale does it deliciously gourmet, Tuscan style
Tucked away on a corner of a square that is known around Florence as Mercato delle Pulci but is really called Piazza Sant'Ambrogio, il Teatro del Sale is a gourmet experience like no other, the creation of Tuscan master chef Fabio Picchi, and sons. Ultra-sensory, full of old world charm paired with nouvelle cuisine boldness, the place is a members-only club where great food, along with wonderful entertainment are always on the menu. But don't ask for an actual menu, or even for a waiter at the Teatro del Sale, because you'll risk appearing dangerously out of touch. On the day we were there, treated for lunch by the festival, we had hummus along with roasted vegetables, a perfectly cooked, super simple yet unrepeatable pasta, soup with clams, chicken stew with a creamy coating, also never to be tasted again, and little gem brownies with self-serve espresso. Simple, delicious, utterly Tuscan.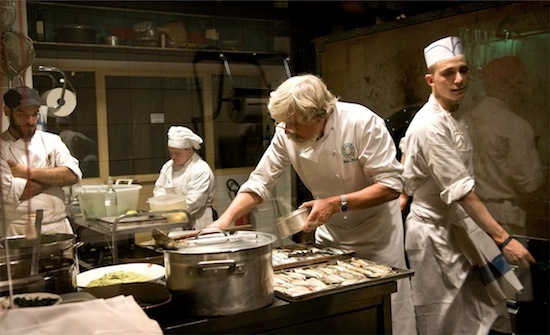 At night, the Teatro del Sale becomes a full-blown cabaret, and if you're lucky, you may even catch there Maria Cassi, a comedienne who's been celebrated the world over. Although her show is entirely in Italian, her wonderful humor and charming ways are simply without borders, universal. She's been called a mixture of "Charlie Chaplin, Tati, Roberto Benigni and Jerry Lewis" by Le Monde. Oh, and she sings too.
Youth by Tom Shoval, a groundbreaking first feature
There is no film festival without films and there can be no Middle East Now without the inclusion of Israeli cinema. Moroccan master filmmaker Ahmed El Maanouni (whose masterpiece rockumentary Trances screened at MENow) put it perfectly when he said "I like the word 'now' in the title of this festival, because it's about today, the Middle East now." While politician struggle to find even a way to begin the conversation, artists are already years ahead in their everyday contact with each other.
Tom Shoval's first feature film, about two brothers struggling with their family's fate and trying to change the outcome through brutal means, is a work worthy of a man wise beyond his years. Youth shocked me, but also reassured me, because while there are artists like Shoval out there, ready to take on the issues head on, without sugarcoating their message or manipulating the audience, the world could turn out to be OK after all.
Tanya Habjouqa's "Occupied Pleasures" -- Palestine through the looking-glass
These days, it seems that everyone with a cellphone is a photographer. But the true art of photography lies in capturing something different, finding the soul of the subject through the image. In this, Tanya Habjouqa could easily be crowned queen. Her images are haunting, fun, colorful, somber, intricate but also amazingly simple. She gets to the heart of the matter of Palestine, without politics, without polemics, just effortless looking shots of the people behind the country, beyond the headlines.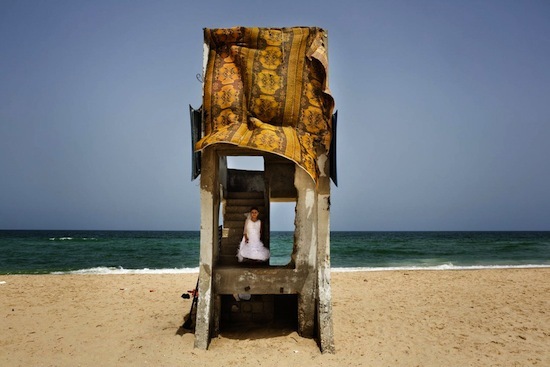 On a personal note, when I stepped in front of the image above, I began crying. It was during the opening of her exhibit at Florence's Aria Art Gallery, a happy social affair and here I was, could hardly control my tears. A kind man, Palestinian, offered relief by placing his hand on my head, and saying, meaning it: "I understand". It was a magical moment, worthy of Habjouqa's mystical work.
The Hotel Pierre offers charm, hospitality and comfort
Some say you can't go home again, and also my favorite quote by a filmmaker in the last few months stated that "childhood is not a geographical place." Yet the Hotel Pierre, their manager and the staff proved all that wrong. I could and did go home again, felt the Florence of my childhood in every pore, thanks to the welcoming arms of the hotel. To say that my stay was sublime, from the Prosecco with strawberries awaiting me in the room when I arrived, to the tour of the property by hotel manager Mr. Pacciani, to their incredible location right smack in the middle of town, Hotel Pierre has become the only place I'll ever think of staying when I return home. Because it truly is now my home away from home.
In Abu Rami, Sabah Haider unveils the strength of the Arab woman
Filmmaker Sabah Haider is a talent to watch. While Abu Rami is a short film, little over 15 minutes long, it packs a punch beyond the filmmaker's young age and way beyond its duration. Abu Rami explains the importance of children in the Arab world, the heft of being someone's father, but also the force of character of women throughout the Middle East. And how far that all is from the typical headlines and misguided articles we read daily in our western media.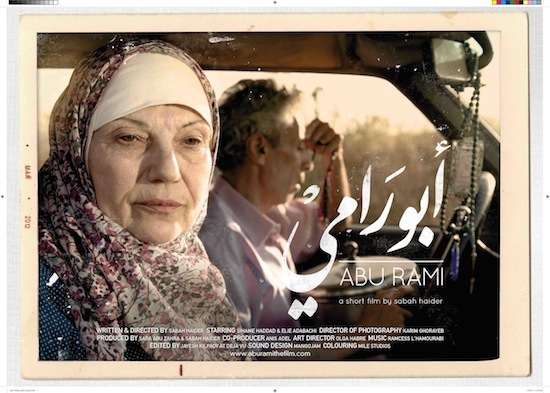 I've followed Haider's journey with the film from her crowdfunding campaign on Aflamnah, to her screening at the Abu Dhabi Film Festival, and can see Abu Rami conquering hearts for a long time ahead. Plus, it features Sihame Haddad, a favorite actress from a beloved film Caramel, both responsible for my falling in love with Lebanese cinema.
Whispers of the Cities wonders cinematically "what changes and what stays the same?"
I have to say that I did miss Kasim Abid's film Whispers of the City in Abu Dhabi, where the film played in the festival in 2013 after having been supported in post-production by SANAD, the funding arm of ADFF. I missed it because I couldn't see myself watching a film about what the last ten years have done to Ramallah in Palestine, Erbil in Kurdistan, but perhaps most tragically, Baghdad in Iraq. Thankfully, Middle East Now felt like such a dream, such a wonderful illusion of all that life could be if we could all get along, that I found myself yearning for documentaries that told it like it really is, these days.
What I found in Whispers of the Cities turned out to be completely different from what I'd imagined, and dreaded. Abid takes the audience on a slice of life journey that lasts ten years, yet seems to take only a few minutes. It's surreal, wonderful, enlightening, infuriating and then once again, wonderfully surreal. The segment on Ramallah made me yearn once again for the beauty and charm of Palestine, while I decided that personally, I could cross off Erbil from my travel bucket list... For all the wrong, yet very personal reasons. I don't like rain. But you'll have to watch Whispers of the Cities and decide the rest for yourself.
Finding my work's meaning within Laïla Marrakchi's Rock the Casbah
Last but not least, one filmmaker, on closing night, made me realize why I do what I do. I watched Marrakchi's entertaining, woman-centric Rock the Casbah at this year's Dubai International Film Festival and walked away delighted. Yet it wasn't until I sat with the filmmaker on closing night in Florence, after she had won special mention for best film at Middle East Now, that I realized this is one instance where art is the artist.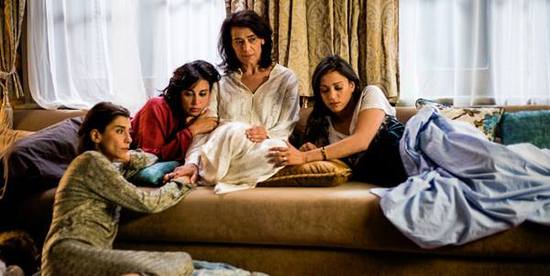 Marrakchi is beautiful, intelligent and possesses a dry sense of humor that simply shines the spotlight on the message of her films. And for me, the entire journey so far has been all about making my fellow audience members who aren't as lucky as me -- to know up-close and personal the wonderful personalities behind the filmmaking -- understand what those film makers know, think and love. It was a lightbulb moment for me, and I owe it all to a woman whose work finally walks away from the headlines, turns its head on the misconceptions and simply, unapologetically shows womanhood, in the Arab world, for the wonderful advantage it actually is.
All images courtesy of Middle East Now, used with permission