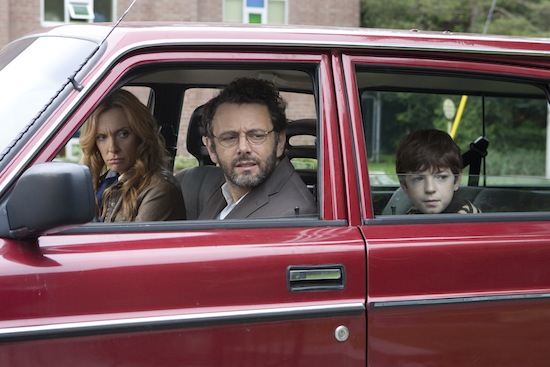 Toni Collette (left) stars as "Patricia Herman," Michael Sheen (center) stars as "Dr. Slavkin O'Hara" and Jason Spevack (right) stars as "Henry James Herman" in the upcoming release of Entertainment One's Jesus Henry Christ
If you are going to make an entrance at a film event, take some pointers from filmmaker Dennis Lee. On the red carpet for Jesus Henry Christ at last year's Tribeca Film Festival, Lee was accompanied by the executive producer of his film, Hollywood megastar Julia Roberts. The scene at the premiere was a cacophony of flashlights going off, journalists screaming Roberts' name and camera operators elbowing one another to get a prized shot of the numerous celebrities -- which included Mike Nichols and wife Diane Sawyer -- strolling into the Tribeca PAC theater.
But beyond the headlines from that night, and the star power conveyed by leading lady Toni Collette, who plays Henry's mother in the film, Jesus Henry Christ is that rare cinematic combination of great story, touching performances and beautifully shot cinematography. The latter, incidentally, the work of Roberts' husband Danny Moder.
Personally, I always find the power of a film lies in its history, which sometimes goes past the finished project, to the root of the personal stories behind it. Lee's screenplay won the screenwriting award at the Tribeca All Access program in 2005 and when I asked him, on that infamous red carpet last year, what it was like to premiere his film back where it all started, he admitted it was "a dream come true to come back to Tribeca!"
Jesus Henry Christ opens in L.A. on April 20th, NYC on May 4th and is available now through VOD, iTunes and other digital platforms. I caught up with Dennis Lee to ask him a few questions, about himself and his story of a petri dish-child who can remember everything he's ever witnessed since his birth, yet within his search for true identity, brings out the best in those around him.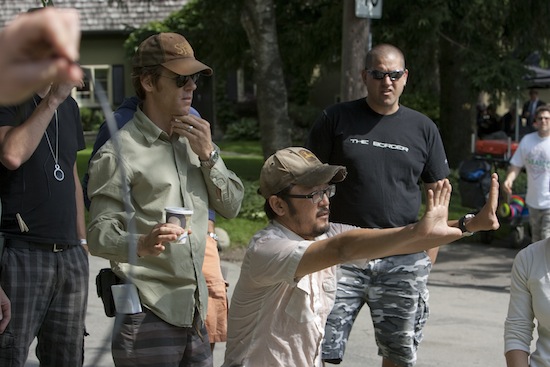 Director of Photography Danny Moder (left) and Director Dennis Lee (right) on the set
E. Nina Rothe: How much of you personally is in the story, how much of you is Henry?
Dennis Lee: I suppose there's a little of me in Henry, and in Audrey as well. I'm a Korean-American man who grew up in a very white, very middle-class community. So I've always been a bit of an outsider looking in. But both Henry and Audrey are so much more interesting than I ever was at that age. Light years.
ENR: What was your original Tribeca All Access project?
DL: What was in the Tribeca All Access project was the feature length screenplay, at that time called The Life and Times of H.J. Hermin.
ENR: What is your own first memory?
DL: My first memory is cotton candy. I was three at the time, and my parents brought me to Disneyland where I got to try cotton candy for the first time. I didn't know what to make of it. Until I tried it. It was amazing.
ENR: Do you think "normal" exists in today's world and what is your own definition of "normal"?
DL: There isn't one definition of normal. The definition shifts according to one's surroundings, and to describe one's surroundings, or environment, is entirely subjective. At least, that's how I look at things. My life, my normality, has changed so drastically in the past decade. I've been married for ten years. I have two children. I'm a husband and a father. A family man. My normality right now is pretty amazing.
ENR: Your film has a beautiful soundtrack. How important was the music while you were making this film?
DL: The music in this film was very important. I had the amazing opportunity to work with two gifted composers, David Torn and Simon Taufique, who collaborated on a wonderful, eclectic score. My music supervisor, Koo Abuali, was also amazing in introducing me to new songs, new bands, new music she thought would work great in the film. And she was right.
ENR: What on your iPod right now?
DL: I'm scrolling through it right now. Avi Buffalo, Iris DeMent, For Stars, Stuart Murdoch, and Bob Dylan.
ENR: Are you working on your next project? What will it be?
DL: My next project is set to start shooting in October/November. It's a gritty coming-of-age story set in the Hill Country outside of San Antonio. It's a great script written by a gifted writer, the first film I'll direct that I haven't written. So far, the process of collaborating with the writer has been wonderful. And I don't see that experience changing as we move forward. Apart from that, I can't say much more about it.
Images ©2012 Rafy/Red Om Films, used with permission