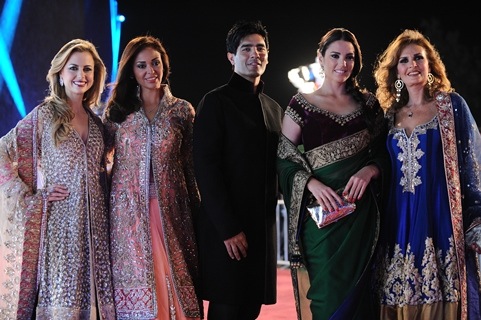 During the marathon of style that runs the gamut of all the Fall/Winter 2012 collections around the world -- starting with New York Fashion Week and ending with Mode à Paris -- there sits one grand spectacle of design like no other: the Lakmé Fashion Week Summer/Resort 2012 collections in Mumbai. Indian fashion is that remaining bastion of glamorous excess, where women look like women and clothes help them create their allure.
And no name says Indian fashion quite like Manish Malhotra. I first became intoxicated by his glamour when I escaped to London from NYC, right after 9/11. While I typically like a deep message with my entertainment, that was a time when only the soft pampered diversion of Bollywood would do, to heal my wounded soul. As I sat in a dark theater in Shepherds Bush, watching Karan Johar's Kabhi Khushi Kabhie Gham, I fell in love with Malhotra's enchanting creations, his use of color and fabric, his undeniable love for opulence.
Imagine my delight when I finally got to sit down with Malhotra, at this year's Doha Tribeca Film Festival, where he clothed some of the most beloved women of Arab cinema and was a guest of honor at their "Bollywood: The Greatest Story Ever Told" event. In person, his talent is only equaled by his charm and truly, although he's a legend thus betraying his long standing in the industry, he is agelessly fresh and utterly cute.
E. Nina Rothe: How do you find Qatar and what do you think of the style of the women here?
Manish Malhotra: This is my first visit to Qatar, and the Doha Tribeca Film Festival. My first impression is that it's very cultural, the people are very understated and stylish, the whole venue -- the way it's been all done -- is so spectacular but yet there is a certain understatedness which is so appealing. And the cultural element is absolutely fabulous and actually I look forward to coming and doing a lot more work here.
ENR: Through your costume design, you infuse this sense of style that most of us yearn to imitate. How do you then translate coming here and infusing your particular glamour into this world, the Arab world?
MM: See, mostly as a costume designer it is not about representing the newest, latest summer or the latest Autumn/Winter look, it's about actually costuming the film and supporting the actor in their representation of that character, who they are playing. If you do that well in sync with the character, sometimes, in my case a lot of times, it becomes a fashion statement or a style statement. Where my label is concerned, I've tried my hand at jellabas, at abayas, at western gowns and western dresses, but we've settled down to doing Indian wear which is contemporary but yet it's got its tradition of color, culture, texture, embroidery, all of that. And I think why it connects with someone in NYC or someone is Dubai or Doha, or Riyadh, where I have some clients today, it's because it's feminine. It's very flowy for women, there's color and texture, but there's a little modernity to it, so it's not organically Indian. Not just something that you see it and say "OK that's beautiful, but it's too arty and organic for me," while you may feel "this is something I could wear on the red carpet too" and it's not any less than a gown made by a fantastic international designer.
ENR: If you had not been a designer what would you have done?
MM: I'd be a film director. That's my thing, I want to direct a film, I have had a script for five years now, but India is changing, movies are changing and I'm happily burdened with a lot, a lot of work so each time every year I think, oh now is the time. You must understand that in India, till now, design is a very individual business, it's not supported by companies. In European fashion you'd have a John Galliano, who was with Dior, or a Marc Jacobs who gets a company like Louis Vuitton, but it's still not happening in India. We have international companies speaking to us, but it's still an individual's business. Just like individual filmmakers, alternative filmmaking, it's almost like that. But I think, I'm not educated, I haven't studied fashion, to draw, paint and sketch, so for me life has only been films. Or clothes, I don't know anything beyond that, so if I was not a designer, I would have been a film director for sure.
ENR: Who represents true elegance to you?
MM: I think any person, man or woman, internationally, or within India, who knows themselves. Someone who is truly honest to themselves. I think that is not only in the way they deal with things or the way they are but it's also in their carriage. The confidence.
ENR: One thing about you most people don't know?
MM: I look at life very one track, black and white. If something is grey I feel it's too layered for me to get into it so I say no, I'll deal with this later. And I'm restless and very impatient, it's quite difficult to hold my attention for too long. My mind goes somewhere else...
Top image of DFI Executive Director Amanda Palmer, Daila El Bahairy, Dorra Zarrouk and Yosra dressed with Manish Malhotra, courtesy of DFI. Used with permission.