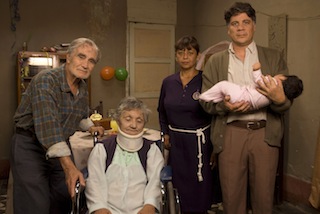 Octubre is the name of an upcoming release written and directed by Diego and Daniel Vega and undeniably the central theme of the film is miracles: small, everyday miracles, but the kind capable of changing lives. The film was awarded the Jury Prize at the Cannes Film Festival -- Un Certain Regard this past year and deservedly so. No other film has ever come close to Octubre for me in successfully depicting the potentially redemptive power of companionship for someone who has led the kind of life which alienates him from his fellow humans. As Don Fico, one of the supporting characters in Octubre, says, "Poor isn't someone who has little, but someone who wants a lot."
The month of October in Lima, Peru is known as "el mes morado" -- the Purple Month -- in honor of the "Lord of the Miracles," a mural housed in the Sanctuary of Las Nazarenas depicting the "Black Christ." The image was painted by a slave in the 17th century and believed to possess the power to bestow miracles on its believers, who typically wear purple clothing and a white cord tied around their waist (like that of the Franciscan monks) during the month of October.
In Octubre Clemente, known in town simply as "the pawnbroker's son" lives a life of hookers, solitude and money lending. He purposely avoids any emotional connection until a newborn baby, the product of one of his liaisons with a prostitute, is left inside his home. Obviously unable to take care of this little gift, he hires one of his clients Sofia to look after the baby while he goes in search of the mother. And in the process, this "very tough, very cold, very disgusting man," to quote filmmaker Diego Vega, experiences "a kind of small miracle." For a proper Huffington Post review, check out Marshall Fine's post.
The character of Clemente is very loosely based on the Vega brothers' "math teacher, when we were at school in Mexico," and is played exquisitely by Bruno Odar, who works "ninety percent onstage and is also a teacher, runs acting workshops. He's very well known in Lima," discloses Diego, while Gabriela Velasquez, also a respected theater actress, plays Sofia with a restrained sensuality that makes her appear beautiful in spite of her pious demeanor. Most of the supporting cast is made up of "mainly friends and relatives, my mother is there. She's a customer and my brother's mother-in-law, is also there. She's the woman who wants money for the casino."
The Vega brothers, both enthusiastic, handsome men with piercing eyes and hardly 11 months apart in age, did not initially plan to make their award-winning first feature about the Holy Month. But in a Skype interview we conducted between Barcelona and NYC, Diego Vega disclosed that they "were writing and were suddenly selected for a scholarship in Spain -- two months of script lab -- and a Peruvian documentary filmmaker read the script and said 'your script is just full of references to the Lord of Miracles!'" This influenced them to write a screenplay that took place during the Purple Month and still incorporated "the first thing we were interested in, fake money," a story loosely based on "a film by [Robert] Bresson called L'Argent."
The idea of a fake bill fascinated them because "in Lima we have this situation, very common, that everywhere everybody is just checking bills [for authenticity] and everybody makes everyone else feel like they are trying to cheat them." Yet their initial script was, by Vega's own admission, "a 200-page, terrible, terrible script!" Not for long though, since almost at the very beginning the brothers began to notice that "we had created family groups. Where this fake bill was traveling, it was either causing a problem or solving a problem." They realized that "unconsciously we wanted to talk about family or something like that... dysfunctional... Not terribly dysfunctional, but a normal dysfunction, like in all the families!"
While it's also a "common thing in Lima to see or to hear references to the Lord of Miracles; you go to a police station and the policeman has in his office an image of the Lord of Miracles, or you go to your uncle's or aunt's house and they have a small one, or you have a friend whose parents are devotees," the Vega brothers still "approached the Brotherhood of the Lord of Miracles -- because we are not religious, we are not believers, devotees -- so we could understand what we already knew somehow." It took them, Diego said "three years, of writing and rewriting... It was a very long search to write the story." The film itself took seven years. "Since the first day we said, 'Let's make a feature film,' almost as a joke, until we premiered in Cannes," Diego Vega admitted and continued, "We were not focused on the film all that time, or we would have gone crazy, but we were very much pushing the film during specific periods of these seven years: either we were selected in that screenwriting lab or we were selected in a market or we met a producer or we obtained a grant. We would work a lot and then stop, stood by and waited. Seven years is a long time."
Yet seven years is also not so long for such a fine piece of film-making and the film's deep message. From the beautiful sets and exquisitely filmed shots to the high-caliber performances and the human connections, nothing in Octubre is left to chance. The Vega brothers have an amazing relationship with one another which allows them to each take the reins at a time when the other requires it. "To direct with someone, it's very important to say to yourself, 'Step aside, he's right, he's sustaining the vision better than me,' and if I see my brother is down, I'm automatically up, and he's like that for me," Diego admitted, which creates "very organic, human references" between them.
Ahead for Daniel and Diego Vega, another cooperation titled The Mute, which was selected as a script for this year's Atelier in Cannes, which will help them in finding co-producers for the projects.
Success could not come to a kinder team. When I finished my interview with Diego, I wished him all the best for their busy month ahead, to which he replied "I hope everything goes well for everybody, for you also!" Doesn't get much lovelier than that.
Octubre opens in NYC on May 6th.