Being an insider at Cannes is much like seeing New York City by taxi, without using the subway: You will experience it very comfortably, but you'll never truly get the heart and soul of it all.
For my first time ever at this grandiose cinematic event, I was definitely an outsider. And that's why I think I connected so deeply to the films I managed to watch, found such wonderful inspiration within the interviews I secured and enjoyed Cannes for the human connections, not the professional ones.
There were of course great lunches, like the one organized by the Dubai International Film Festival, and exciting announcements, like two festivals a year instead of one, to take place in Doha. And a new film by beloved Emirati filmmaker Ali F. Mostafa titled From A to B, written by Mohamed Hefzy and produced by favorite interview, and really cool guy Mohammed Al Turki -- all backed by Abu Dhabi's own TwoFour54.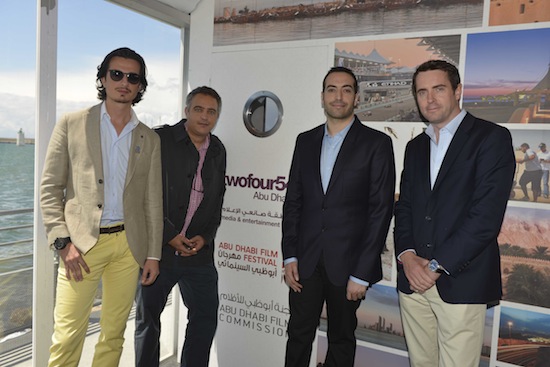 Ali F. Mostafa, Mohamed Hefzy, Mohammed Al Turki and Robin Colgan, managing director for Jaguar Land Rover Middle East & North Africa
But my forced aloofness from the frenzy of the parties, red carpets and late nights allowed me insight and wisdom, something one rarely associates with a film festival. There were lots of myths debunked, one of the most important being that MENA filmmakers are all about their art and cinematic organizations in the Middle East are only about the money.
When I wanted to find a more personal angle on how the Abu Dhabi Film Festival's funding arm SANAD helps filmmakers in the Middle East, I sat down with My Sweet Pepper Land filmmaker Hiner Saleem whose film was in the "Un Certain Regard" section this year. Saleem's film had just been announced on the list of projects that receives a part of the total US$ 500,000 in grants which SANAD has allotted to the fund in 2013. In Saleem's own words "they came in for development, in the beginning we presented that we have this project and they gave a small help for production and after, when the movie was in the editing phase, they gave some help for post-production to finish the movie."
When announcing the first 16 SANAD-supported projects this past week -- the word SANAD means "support" in Arabic" -- Ali Al Jabri, the director of ADFF, said "the international film community continues to embrace the Abu Dhabi Film Festival and the SANAD fund as respected platforms for high quality, original and imaginative films from the Middle East and North Africa (MENA) region. Meanwhile, our region's talented filmmakers continue to task the SANAD fund's selection committee with an ever-increasing number of quality projects to consider."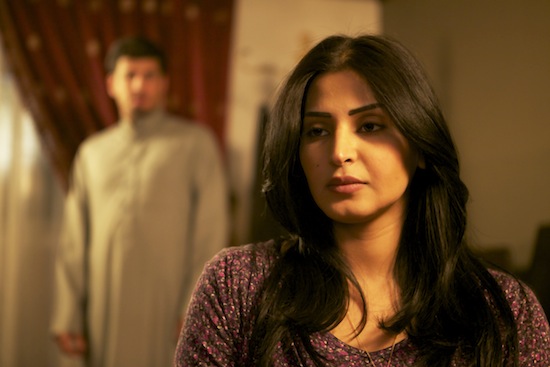 Wadjda, by Haifaa Al Mansour
And having been around the ADFF team, having felt their enthusiasm and support of films such as Annemarie Jacir's poetic masterpiece When I Saw You, which also benefited from SANAD funding (and from the Dubai Film Connection, part of DIFF), I know that Al Jabri's words are sincere. Just like DIFF Chairman Abdulhamid Juma means it when he calls Haifaa Al Mansour's film Wadjda "a dream." These are the great renaissance men of the modern world, those at the helm of organizations that support the arts and manage to show their respect of humanity through their love of cinema. It's not a coincidence that Wadjda, When I Saw You and My Sweet Pepper Land all feature strong, courageous women at the center of their narratives. They, and the three main Gulf cinematic organizations as a whole offer the perfect examples of what the Middle East is, when you take the time to get to know the region. Kudos to Jacir and Al Mansour for always celebrating them and never forgetting to encourage and promote their funding arms.
I must admit, I felt disappointed at how Saleem described the "small help" by ADFF, perhaps a language issue since the filmmaker speaks very little English and I, very very little French. But again I started to notice a trend when there were other failures to mention funds from the region while at Cannes this year. So, if a Gulf fund does not fit into the agenda of a film, then is it ok for the production to accept the money and forgo all mention of the help? Will these same filmmakers enjoy their much-anticipated MENA premieres later this year during ADFF and DIFF and thank the organizations profusely while on their turfs? But -- and I ask this as a lover of cinema from MENA, as well as a fan of those who promote it -- wouldn't it be most beneficial to all involved to celebrate these generous Gulf entities while away from the Arab world, say, for example, at a global event like Cannes?
Now that the Palme d'Or has gone to Tunisian filmmaker Abdellatif Kechiche for Blue Is the Warmest Color, and the Jury Prize in the "Un Certain Regard" sidebar to Hany Abu-Assad's Omar, cinema from MENA may be finally getting the attention it deserves -- for the great craft of its filmmakers and their ability to tell interesting stories, overflowing with human struggle and depth of heart. But it's imperative that these same filmmakers avoid the urge to become politicians rife with their own cryptic agendas of how a film should be viewed outside of the theaters.
When I asked Jacir by email her thoughts on organizations such as DIFF and ADFF, she was quick to assert "for me, the real deal is that SANAD and Enjaaz are supporting films without pushing censorship or any restrictions. It's a godsend for filmmakers who make work that often doesn't find mainstream funding because it's deemed too political or controversial." She continued, "look at all the Arab films in the past year which have been at the top festivals like Toronto, Berlin and Cannes -- all have received Gulf funding without exception and these films, most importantly, are the films which don't get funding in the west or even in their own countries because they are too political, too critical or too controversial."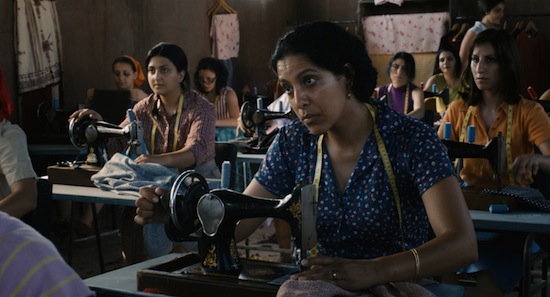 When I Saw You by Annemarie Jacir
As much as I admire filmmakers, they are modern-day heroes for managing the nearly impossible feat of creating the magic of cinema despite financial restraints and all kinds of obstacles, I must take this moment to remind those who don't give credit where credit is due that they are only making it harder for future artists to get their share. We must recognize and applaud, encourage these cultural organizations that aid and assist, because they are helping to create cinema which may one day help unite our world, once politics have failed.
In the words of Martin Luther King, Jr. "in the End, we will remember not the words of our enemies, but the silence of our friends."
All photos courtesy of ADFF and DIFF, used with permission