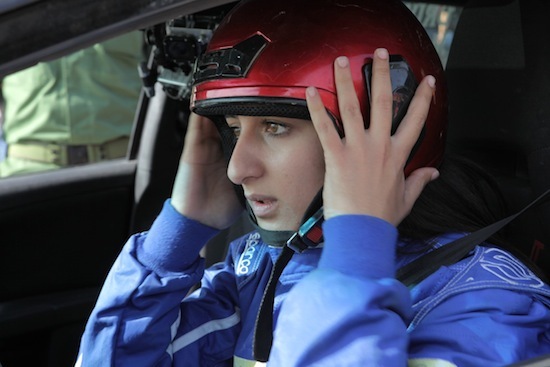 A still from Speed Sisters, directed by Amber Fares
I'll admit I have already been to a film festival in Doha, three years ago almost to the date. Yet this occasion could not be any more different. Those olden, maybe not so golden days are long gone.
They have been replaced instead by mornings, afternoons and evenings to be filled by a momentous event of substance, one that has been put together by the cinema lovers and professionals at the Doha Film Institute as much to help educate young audiences as entertain them. A festival, the Ajyal Youth Film Festival, that along with screening 90 great movies from 43 countries, also encourages building a self-sustainable cinema industry in the center of one of the most culturally aware places on earth.
As as result, gone too are the days of management that didn't fit the soul of the Doha Film Institute, replaced now by the gracious presence at its helm of Fatma Al Remaihi, whose long and deserving title reads "Acting CEO of the Doha Film Institute and Director of the Ajyal Youth Film Festival". I remember Al Remaihi's impressive presence from the very beginning days of the Doha Film Institute, and then I got to know her wit and wisdom up-close in Cannes, two years ago. She gave a thought-provoking interview that made it clear she is a woman who stands for culture, education and a great cinematic lineage to come. And repeated that experience for me once more at the Abu Dhabi Film Festival.
This year the Ajyal Youth Film Festival, in its second edition, is going to be phenomenal, mark my words. The six-day event will kick off with the world premiere of Amber Fares' Speed Sisters, a documentary featuring the stories of Marah, Mona, Betty, Noor and Maysoon -- the first all-woman rally-racing team in the Middle East. The film's synopsis on the Doha Film Institute website says it's "fueled by gasoline, girl power, the desire for freedom and a kickin' soundtrack," and that's all I need to know to look forward to Speed Sisters with eager anticipation.
Among my must-watch highlights are Inside Out: The People's Art Project which documents French photographer JR's desire to paint the world. Literally. From Palestine to Mexico, from Haiti to the streets of Paris, he's managed to turn the world into a canvas, and buildings, streets, billboards into a cry for help. Hailed as the largest participatory art project, JR's vision is at once unimaginable and provocatively simple. To him belong the opening words of my blog title.
#chicagoGirl: The Social Network Takes On a Dictator by Joe Piscatella follows another form of activism, this time the kind performed online by a 19-year old Syrian college student named Ala'a, at the start of the Syrian revolution. While she sat thousands of miles away from the frontlines, Ala'a's story highlights the power of the internet in bringing people together.
Difret, directed by Zeresenay Berhane Mehari, and executive produced by Angelina Jolie tells another young woman's story, one that is all too common in Ethiopia. Hirut first falls victim to the traditional practice of kidnapping women for marriage at fifteen, and then is incarcerated for accidentally shooting her would-be husband with his rifle. Based on a real story and unfolding as a courtroom drama, this film is Ethiopia's entry to the 2015 Foreign Language Oscar race, and won Audience Choice at both Sundance and Berlin.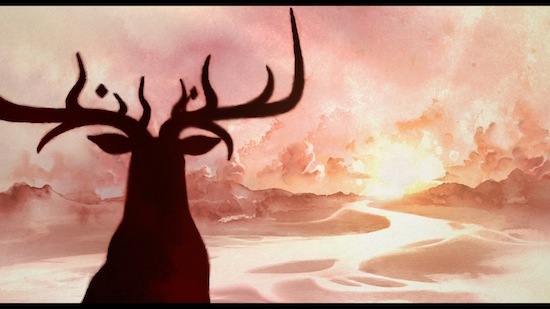 A still from Khalil Gibran's The Prophet
Khalil Gibran's The Prophet needs little introduction. We've all dreamt, loved, wished, laughed and cried to Gibran's magical words. Now comes the animated retelling of the nearly century old bestselling work that has inspired people around the world, under the direction of Roger Allers (of Disney's The Lion King fame). Individual segments are illustrated by the talents of Joan Gratz, Mohammed Saeed Harib, Paul Brizzi, Gaëtan Brizzi, Tomm Moore, Joann Sfar, Bill Plympton, Nina Paley and Michal Socha. Khalil Gibran's The Prophet is produced by Salma Hayek Pinault -- who also lends her voice to the film, along with Liam Neeson, Frank Langella, Alfred Molina and others -- and partially funded by the Doha Film Institute. If one is to go by the buzz it generated both in Cannes earlier this year, where audiences were given a sneak peak to the sounds of Lebanese showstoppers Mashrou' Leila, and at TIFF, where the film had its world premiere, this is one film not to be missed.
Of course, the soul of some of the most important work the Doha Film Institute is doing in encouraging young talents will be on display in the form of the various short film programs that will screen throughout the festival. Perfectly categorized in age-appropriate sections, these will include the latest from such personal favorites as Ali Ali, with New Day, and Khalid Al Mahmood, with Don't Leave Me.
Then there are events, like the photography exhibit and a series of workshops just announced, which will take place starting December 2nd. Or the Family Weekend on the Katara Esplanade -- a particularly breathtaking viewpoint in Doha -- filled with activities everyone, from the young to not-so-young, can enjoy. And a talk with Roger Allers conducted by fellow animator and Khalil Gibran's The Prophet contributor Mohammed Saeed Harib, who is also the beloved creator of Gulf television phenomenon Freej.
On December 2nd and 3rd, the First Doha Giffoni Youth Media Summit will take place, with an agenda based around the theme 'Film Festivals in the Age of New Media'. Presented by the Doha Film Institute, in partnership with Italy's Giffoni Experience, it will bring together a delegation of 30 film industry professionals from around the world, as well as from Qatar and the MENA region, to exchange views about the state of cinema for youth, with a focus on how new media and social networks are affecting it.
But I cannot leave you without sharing a short interview with Fatma Al Remaihi herself. Her words were to be a few quotes here and there, but proved too valuable to be chopped up and sprinkled throughout this piece.
For the complete program of this year's Ajyal Youth Film Festival, check out the Doha Film Institute website.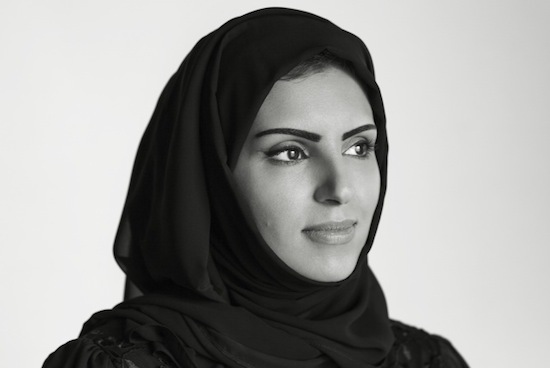 Fatma Al Remaihi, photo by Brigitte Lacombe, courtesy of the Doha Film Institute
How does what you've programmed for this year's Ajyal differ from last year, both in themes and intention?
Fatma Al Remaihi: Last year we had a special focus on anime which was very well received by the community and informed a large segment of the programming. 
This year, our intention remains the same which is to bring films for and about young people that will entertain and inspire people of all ages. 
In terms of themes, we have a number of films about inspiring women. This is not something we set out to do specifically, but we certainly saw this pattern emerge clearly when we came to put the program together. Opening the festival with the world premiere of Speed Sisters and continuing with other powerful films such as #chicagogirl and Sepideh carry this theme throughout the festival. 
We are also very proud to showcase the work of many first and second time filmmakers and 10 of the 21 features in the program are by emerging talents.  
Congratulations on your new title! What are your challenges ahead, as CEO?
Al Remaihi: I am focusing on delivering on our key objectives and steering the strategic direction of the organization. Our role as a film institute is to nurture upcoming talent and filmmakers, and to develop our local film culture here in Qatar. We do this through education, funding initiatives and our festival and screenings. Our challenge is to continue to find meaningful ways to enable filmmakers to tell their stories and to help grow the audiences that will connect with them.  
With a film like Khalil Gibran's The Prophet, what do you feel can be achieved in both helping to creating a new audience and bridging cultures?
Al Remaihi: Film has a unique ability to open hearts and minds. Anyone familiar with the book knows that Kahlil Gibran's The Prophet delivers a universal message of love and acceptance. I think the adaptation has been approached in such an innovative and dynamic way that it will delight fans of the book and also bring a new audience of young people in contact with these beautiful poems.  
Who is your ideal festival audience member, if you can imagine one?
Al Remaihi: The ideal audience member for this festival is our young men and women from the ages of 8 to 21, who are also our jurors. They have, through the festival, the unique opportunity to see films and stories not available in commercial cinemas. They are the future of our society here in the region and if they are exposed to stories about love, friendship, tolerance, acceptance and community -- they will grow up to be better people and will carry on the message of peace and harmony in our global village.
All images and videos courtesy of the Doha Film Institute, used with permission.