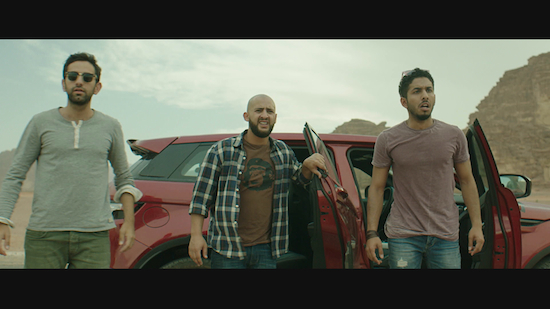 A still from From A to B, directed by Ali F. Mostafa
This year, the Abu Dhabi Film Festival feels extra special. It may be because of some very successful titles that their SANAD fund has supported, which screened to sold-out, standing ovation audiences in other festivals around the world (best example, the dream-project Theeb); the coming of age of a film festival which has accepted wholeheartedly their couture niche for showcasing groundbreaking Arab cinema; and my own dream come true, being on the Netpac jury, along with Vietnamese master filmmaker Đặng Nhật Minh and NYU Abu Dhabi New Media and Film professor Dale Hudson (pictured below). Whatever it is, probably a combination of all, it has created for me the perfect storm of film festival excitement, and there are not enough hours in the days to watch everything, meet everyone and attend all the fabulous parties.
Where to start? Well, From A To B -- ADFF's opening night film -- may be a good spot. Ali Mostafa's highly anticipated buddy road movie across the deserts of Saudi Arabia and Jordan held promise, but there had been so many changes in production since the film's announcement at Cannes 2013 that I was a bit skeptical. Would the final product hold up to the hype, what did the departure of favorite person and maverick producer Mohammed Al Turki mean and would the new casting, lacking name actors I was familiar with in the three lead roles, do the script by Mohamed Hefzy and his co-writers justice?
Opening night answered all those questions with a giant, loud, resounding YES. Plus, it singlehandedly created a brand new genre of Arab cinema that is guaranteed to appeal to western audiences. The cameos by beloved actors like Ali Suleiman and Khaled Abol Naga didn't hurt the film's impact either.
The opening night party was lavish and festive, in the balmy air of Abu Dhabi in the fall. The gardens of the Emirates Palace came alive with great music, fantastic company and some delicious food. The mini hamburgers and truffle-infused gnocchi were my favorites.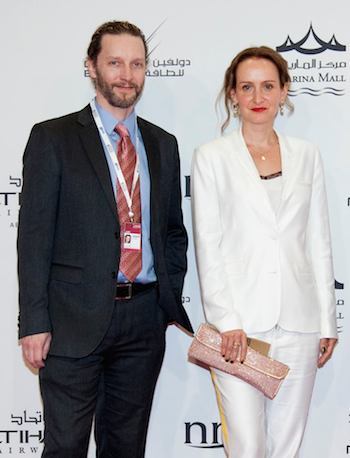 The next day, I jumped into my Jury duties, which actually kicked off the night before with an appearance on the red carpet (what's there not to love about dressing up, walking in the warmest spotlights and posing for photographers?!). I watched a few titles with our President Minh like the South Korean film Hill of Freedom which was light and refreshing, though probably more of a filmed theater piece than an actual film. Rakhshan Bani-Etemad's Tales is still a personal favorite since Venice and watching the controversial filmmaker be welcomed by a sold-out audience for a film that has taken so much of her life and energy to make was touching.
Saturday meant more movies, more meetings and more gourmet food. The breakfast at the St. Regis Hotel where we are staying is already a feast in itself, but then there are lunches at the Palace, and coffees at Marina Mall. In between, some serious movie watching which included Memories on Stone, a film by Kurdish Iraqi filmmaker Shawkat Amin Korki, supported in part by the Doha Film Institute. The film probably has the best ending scene of any I've viewed in a long, long while. I scribbled wildly in my notebook "For the love of cinema!!"
But Saturday also meant some wonderful interviews, including one with Egyptian filmmaker, producer and writer Mohamed Hefzy, who is always a voice of reason for insight and trends. His work as a screenwriter and co-oroducer of From A to B meant the difference, in my humble opinion, between just another road movie and a great, funny, but also seriously provocative film. Check put the short chat above, part of the "Selfies Interviews" series, for an introduction to the greatness that is Hefzy.
Red carpet shot courtesy of Pia Torelli, 'From A to B' courtesy of the Abu Dhabi Film Festival, used with permission.