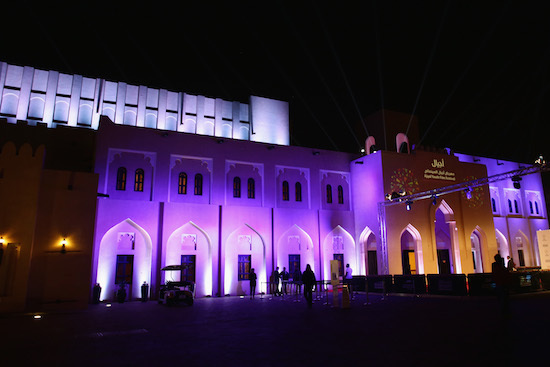 I fell in love with Arab cinema right here, in Doha.
I hold the Doha Film Institute absolutely responsible for me catching this fantastical bug five years ago. This beautiful city, with its azure seas is the epicenter of where I first realized that the stories being told in the region held the potential to unite us and ideally, help save the world. This is also where I knew I loved the way I felt when I watched these movies, because they made me laugh, cry, feel like no other film I ever watched.
This realization suddenly hit me a couple of evenings ago, during one of the dinners organized for us at this year's Ajyal Youth Film Festival. While sitting in the fragrant warmth of Mamig, the Armenian Lebanese restaurant in Katara Cultural Village, enjoying those little parcels of heaven -- their lamb cherry-burgers -- I suddenly found myself at a loss for words. Which, to those who know me, sounds unbelievable, I know. But Qatar is a special place, a world of self-discoveries and new finds, yet all nestled deeply in tradition.
Can we save the world? According to man named JR, we should instead try to change the world.
Among my new finds, a film about him and a photographic movement titled Inside Out: The People's Art Project. While I'm partial to the idea that cinema can interconnect us and build the bridges necessary to help us understand one another, a French photographer named JR is proof that art, photos -- "glue and paper" as he calls it -- can create a movement. And isn't it true what Godard said, "photography is truth. The cinema is truth twenty-four times per second"? Watching the documentary about JR's Inside Out Project, while they redecorate the walls we build around ourselves thus perhaps setting us free, was another discovery I will always attribute to Doha.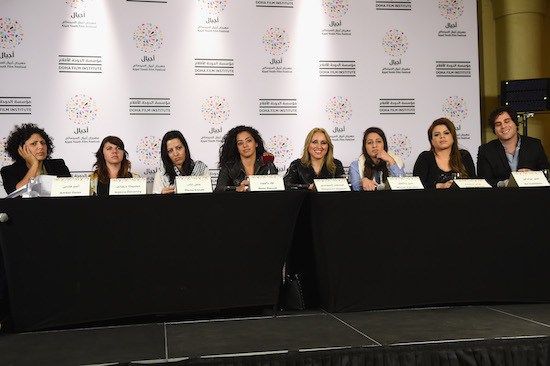 At the press conference for Amber Fares' Speed Sisters, the brilliant documentary about the first all-woman racing team in the Middle East, there were so many insightful quotes being spoken that I could not write fast enough. From Betty's "we want to live our normal life, not live the occupation," to Mona's "if we drive fast, we feel we have freedom," to Marah's "competition is healthy," I felt a sense of renewed hope for Palestine, as long as these women are around. Afterward, interviewing the team, Fares, and her wonderful producers Jessica Devaney and Avi Goldstein proved that indeed it does take a village. To make a fantastic film. And that crowdfunding is a great tool for helping to create an audience before a film is even premiered. The Speed Sisters world premiere on the red carpet of Ajyal was packed with one of the largest film delegations I've ever witnessed. All hail to the power of Indiegogo. And of course, the Doha Film Institute, which brought in "post, finishing funding" according to Devaney.
Personally, I've followed the journey of Naji Abu Nowar Theeb since Venice. I've enjoyed getting to know the filmmakers, but most of all, I've looked forward to the short catch-ups with the stars, the mysterious Bedouins of Wadi Ram in Jordan. They have conquered the world by (sand)storm and I'm proud to have seen the heart-warming potential of the film from the very beginning. Well, not really, I mean the very beginning was when organizations like the Doha Film Institute and the SANAD funding arm of the Abu Dhabi Film Festival decided to support the film and make this miracle happen.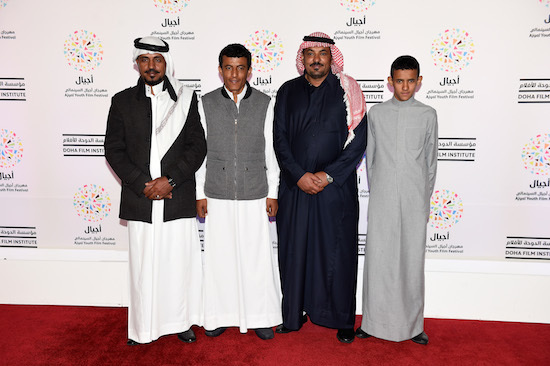 I went for a quick look around the Doha Giffoni Youth Media Summit, to hear the introduction remarks by Giffoni Experience Founder and Director Claudio Gubitosi. It was inspiring to see the who's who of film festivals around the room, including Mohammed Alhousani of the Dubai International Film Festival, a most favorite event of mine. Gubitosi kicked off the morning's session on funding and financing for film festivals by asking provocatively "why should they support us?" It's a question that applies to all events around the world, as it's proving difficult to find funding for longer events in our increasingly more immediate-gratification society. Also, a festival like Giffoni is conscious of their mission, which Gubitosi calls their "politics of a good life and healthy eating," a mantra they try to promote to the kids attending. This, at the cost of turning down major potential sponsors like world-renowned fast food restaurants.
On the other side of the coin, I was glad for DIFF's presence in the forum. I know most people think the UAE is awash in money and a film festival in the Gulf could never be struggling to balance a budget. Yet, just as Emirati filmmakers need financing to make their works of art (another misconception they encounter when asking for grants and funding in the West is that they are swimming in money), so does a film festival like Dubai have to rely on its generous sponsors to put on a grand event year after year. A challenge they all gladly accept at DIFF!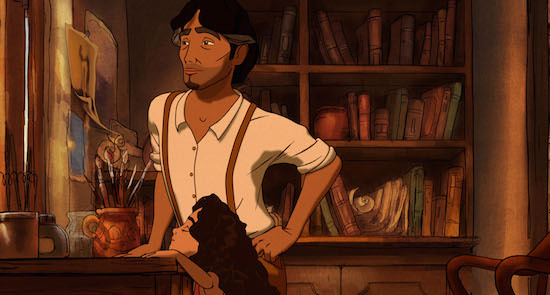 The screening of Kahlil Girbran's The Prophet, the animated version of a poetic classic I grew up reading, inspired a thought. What if we were all made to read Gibran's concise book of spirituality, as a requirement for graduating into adulthood? I may have just stumbled onto the answer to world peace.
I admire Salma Hayek-Pinault's enthusiasm and persistence in getting this masterpiece onto the big screen and hearing Gibran's magical words on love, freedom, life and the world in general spoken in the sultry voice of Liam Neeson was truly perfection for me. Of course, as a colleague film writer, albeit a more brilliant one pointed out, we have to view Kahlil Gibran's The Prophet with a dash of cinematic belief, and leave the typical critic's cynicism at home. The images of these dancing paintings on the big screen are at first so fantastical that my eyes and mind took a minute to find the perfect speed to match my soul.
The one segment that immediately took me into the heart of the matter was the one on "Freedom", accompanied by Gibran's famous words:
Ay, in the grove of the temple and in the shadow of the citadel I have seen the freest among you wear their freedom as a yoke and a handcuff.
And my heart bled within me; for you can only be free when even the desire of seeking freedom becomes a harness to you, and when you cease to speak of freedom as a goal and a fulfillment.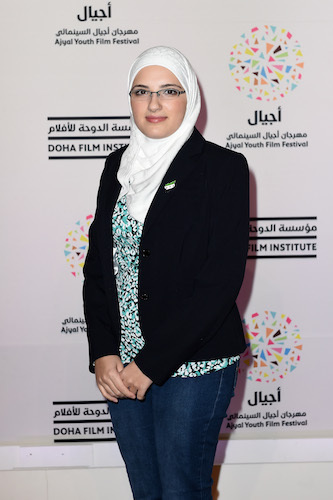 Which brings me to another encounter of the day, with Ala'a Basatneh the protagonist of Joe Piscatella's documentary #chicagoGirl: The Social Network Takes On a Dictator. It was impressive to sit across from a girl hardly out of her teenage years who has devoted her life to helping liberate Syria. She opens the film by stating, confidently, "from my laptop I'm running a revolution in Syria," which is not exactly what your average American girl says. Of course, Basatneh is not your average anything and her love of children has motivated her activism, which aims at toppling the regime of Bashar al-Assad, at any cost. Unfortunately, therein lies the conundrum, because the price Syrians have paid so far is the cost of life and peace, reminding me of that famous Janis Joplin line, "Freedom is just another word for nothing left to lose."
Gibran's words haunted me through the rest of the afternoon...
Then I walked to the outskirts of Katara just as the call to prayer began beaming from the loudspeakers, and the wafting scent of chai from the Chapati & Karak shop accompanied my weary steps. It's all going to turn out OK after all...
All images courtesy of the Doha Film Institute and Getty Images, used with permission.