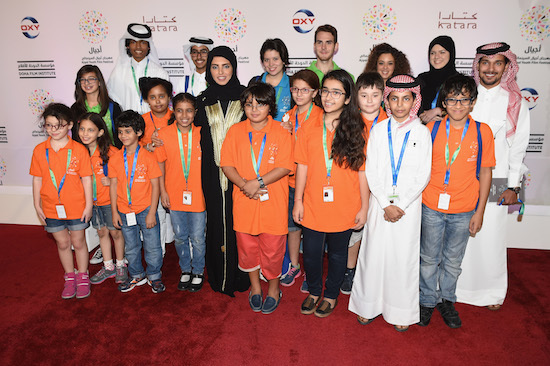 Fatma Al Remaihi with the Ajyal Youth Film Festival jurors, on the opening night's red carpet
Doha is a truly special place.
Maybe it's that atmospheric light that shines just right on the sparkling new buildings which line the Corniche, or the aquamarine blue sea which enters one's line of sight even before landing and never leaves it for more than a few minutes, or the way time passes yet never stresses here. Probably a combination of the three, combined with the undeniable hospitality, grace and elegance of the Qataris which make any visitor to Doha feel at ease.
On my first day, I ventured out to the mall closest to my hotel for lunch and was tickled to find the taxi system has turned into a "donate what you can" kind of business since my last time in Doha. I know, it's not supposed to be that way, but meters seem more of a clunky accessory to the drivers here and honestly, the equivalent of barely three US dollars each way is perfectly fine by me. I may even up it to five, if I'm in a particularly generous mood.
The atmosphere at City Center, the oldest mall in Doha, feels festive during lunch hour. Women and their kids grabbing a bite, multi-cultural co-workers sitting together sharing a meal, and teenagers enjoying food, their faces illuminated by the glow of their phones, playing games, quietly. It appeared like an idyllic world where race, religion and socio-economic background play little part in the fun to be had.
Perhaps my only complaint about attending this year's Ajyal Youth Film Festival, the second edition of this event organized by the Doha Film Institute, is the amount of food to be had. Lots and lots of it, delicious and then some, which makes it challenging to fit into any of the clothing I've brought along for the journey. From the typically extensive hotel breakfast buffet to Trader Vic's at the Hilton, with its eclectic, East Asian inspired fare, to the opening night's party menu (which included hummus-filled profiteroles) it's all too good to pass up.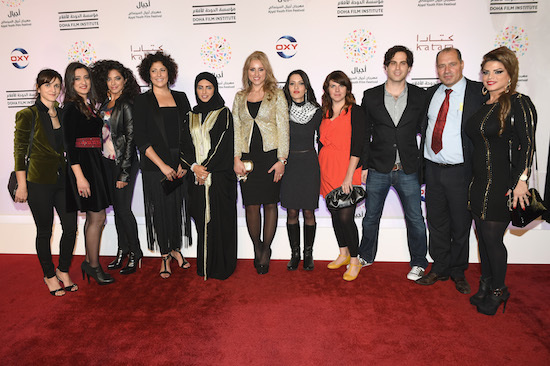 Cast and crew of Speed Sisters on the Ajyal Youth Film Festival red carpet
But past the food, fashion and fun, a film festival is nothing without great films. And Ajyal has wowed me so far. With a phenomenal world premiere of a documentary that reminded me why I love watching movies and writing about them. And why it's possible to change the world, one film and one audience member at a time.
Amber Fares' Speed Sisters is cool, fast-paced, insightful and fun to watch. Everything a documentary about the first all-women race car driving team in the Middle East should be, and more. With an infectious soundtrack which includes songs by my new obsession Hanouneh -- a Swedish/Palestinian musical sensation who successfully fuses Dancehall beats with Arab sounds and English lyrics -- it's the perfect film to kick off a festival in style.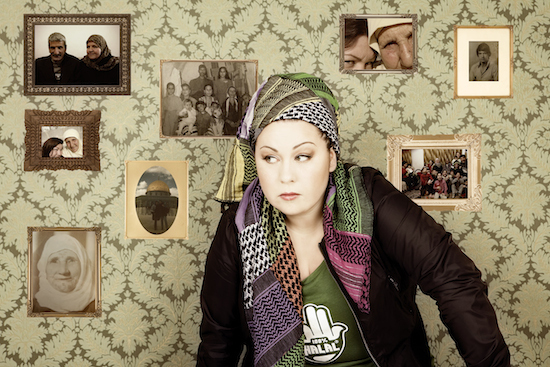 Hanouneh, photographed by Jenny Backlin
Throughout the press screening of Speed Sisters earlier in the day, I repeated a mantra in my mind, one organically imposed by the film -- "What a magical place Palestine truly is." Fares shows a West Bank that while surrounded by the conflicts and occupations is a fully functioning, passionate world, filled with exceptional human beings. A Palestine of loving fathers, stubborn daughters, girlfriend cat-fights and homey apartments. A Palestine that is livable, not just survivable, away from the headlines and wars. So the little hairs on my arms stood on end when the filmmaker declared, in her speech at the opening ceremony that, "despite the occupation, there is a great deal of magic in Palestine."
To keep the magic going, Ajyal did things in style. The ladies from the Palestinian Speed Sisters driving team and the filmmakers all arrived in vintage cars to their red carpet at Katara Cultural Village. It was a sight to behold, these fabulous examples of woman-power stepping out of vintage Mercedes and Pontiacs. And then the opening ceremony included an oud and vocal acoustic performance of the Qatari national anthem, which nearly made me cry. After having seen the affection and enthusiasm displayed by young jury members for Fatma Al Remaihi, acting CEO of the Doha Film Institute and Director of the Ajyal Youth Film Festival, earlier on the red carpet, I'll admit I was feeling particularly emotional.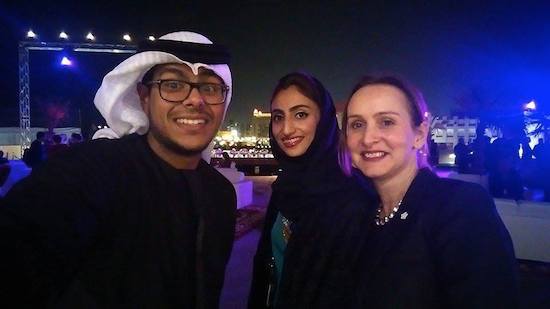 With Adel Saeed Al Jabri and Shorooq Shaheen, photo by Al Jabri, used with permission
Favorite sightings of the evening? Well, Emirati filmmaker Ali F. Mostafa, whose latest film From A to B (world premiered at the Abu Dhabi Film Festival back in October) has stayed with me all this time and I feel will turn out to be the first true international blockbuster from the Arab world; Theeb filmmaker Naji Abu Nowar who continues to win hearts all over the world, even as far as Japan. And -- thanks to a kind introduction by ADFF programmer Adel Saeed Al Jabri -- meeting Shorooq Shaheen, Community Outreach Manager for the Doha Film Institute, who was featured in a cool video during the opening ceremony. When asked what her favorite film was, Shaheen answered without missing a beat, "as an independent film, Bekas." A Kurdish/Swedish film about two young brothers searching for Superman, and a personal favorite. Now that's what I call great cinematic taste!
Ajyal Youth Film Festival photos courtesy of the Doha Film Institute, used with permission.