Recently, I received my dream assignment. To write a comprehensive piece on the cinema culture and industry in the Gulf region for Shawati' Abu Dhabi. To call the magazine an elegant hub for arts, culture and lifestyle would be the understatement of the century. Looking through its pages feels like being a part of something luxurious yet down to earth, exclusive but deeply caring.
The piece was a dream come true for me because of my love for film from the region. Arab cinema has a humanity that connects deeply to its audiences, and year by year, is conquering fans all over the world. Perhaps it's because Arab films deal with women who look real, men who act real and stories that really get to the heart of the matter. As easily understood in Beirut, as in Berlin, Baltimore and Bombay.
While the entire piece, a 60-page stunning supplement in Shawati''s current volume 7, issue 25 titled "In the Beginning, There Was Film," is my pride and joy, the individual interviews and voices present throughout are really what make the story. The story of a region in transition, growing daily, so much so that even a sentence written yesterday about it can seem obsolete today. And the voices of those who know it best, who create a cinematic culture by their sheer presence, are an indispensable guide to the industry's undeniable success.
I wanted to share some of the exclusive interviews from Shawati' here, since the magazine is not available online, starting with Saudi Hollywood producer Mohammed Al Turki.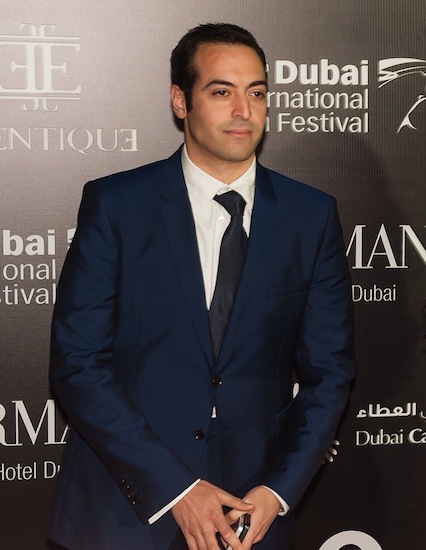 Though the man, the producer and the fashionable celebrity that all roll together into the fantastic Mohammed Al Turki need no introduction, I am also one of those lucky enough to be able to personally turn to Al Turki as a friend and a voice of reason. These days he's busy with two major productions, 99 Homes, his second collaboration with filmmaker Ramin Bahrani and A To B, directed by Ali F. Mostafa and written by Mohamed Hefzy, a co-production with Abu Dhabi based media company twofour54. This latest marks Al Turki's first production venture in the Gulf, after his successes in Hollywood. He's also in post-production with Desert Dancer, starring Freida Pinto, which promises to both entertain and enlighten. But I found out, to his great merit, he's never too busy to help a writer make her piece that much more fascinating, by adding his own expert voice.
When we talked last year you said you wanted to make more of a name in Hollywood, before attempting to produce a film in the Gulf. Then A to B was announced this past May in Cannes and that's definitely a UAE film, with twofour54 as co-producers and Ali Mostafa as director. What changed your mind?
Mohammed Al Turki: It's not what changed my mind but it was just the right project at the right time. Ali Mostafa is a friend, and he was trying to close this film -- one of his financiers had pulled out -- and he called me to ask if I knew anyone who would be interested. He sent me the script to forward to whoever I could recommend but I ended up reading it and I loved Mohamed Hefzy's writing, plus found a lot of relatable elements of the three guys who go on the road trip that any guy could relate to. I thought the story should be heard and, at the same time, with the success of a film like Wadjda and all the international recognition it is getting, I felt it was the right moment to be involved in this film.
What do you think are the biggest challenges for Gulf filmmakers?
MAT: The industry is quite new and all of these new filmmakers like Khalid [Al Mahmood, who has made Sabeel], myself, Nawaf [Al Janahi], we are considered pioneers so the biggest challenge is to make an impact within the region and to get as many viewers and as much support from the younger generation. Because with everything happening, social media, globalization, things are changing. Of course people are more aware of film, of filmmakers in the younger age range, but the older generation, that of my parents, my grandparents, we still struggle to make them understand what we do. They don't understand the industry.
And that's one of the challenges too, to make the industry "respectable" for the older generation, right?
MAT: Exactly! The thing is they don't understand how difficult and how challenging making a film is. We get a lot of questions that are quite funny. Say I am working on a film and I see someone from the region in that older age group, and he'll say something like "I went to the movies but I didn't see your film there, how come?" They don't get yet that it's a whole ongoing process of pre-production, filming, opening a production office, getting all the permits and taking it through the festival circuit trying to sell it... They don't know that it can take anywhere from a year to two to get it released.
What was your biggest challenge in adjusting to a project like A to B as compared with Arbitrage?
MAT: It wasn't adjusting but actually it was great to have worked in Hollywood and at the same time have a lot of support from the region. The most positive aspect of this project is working with someone like Ali and Mohamed who are all from a similar age group and we are all from this region, it's working with a completely Arabic group of people. The challenge that I think we're going to face, as we still haven't started to film, is filming in this part of the world, I don't know what we'll have to face. It's all new to me, so I don't know what it will be like compared to an American movie set.
What was the last film you watched that moved you?
MAT: I watched Woody Allen's film Blue Jasmine with Cate Blanchett and I think she will get an Oscar nomination for her performance. That film moved me in so many ways. You start laughing along with Woody Allen's great script, but halfway through the film you are just overwhelmed with all these thoughts. It's a very simple story but it makes you think about life. Any human being can relate to it, at a moment of anger. Every person was angry once and did something they later regretted. Something, big or small, that can change the outcome of your life.
Who is your greatest inspiration?
MAT: My greatest inspiration are my parents. And that gets extended to my family in general. My father and my mother are both very hard-working, have been very supportive of me in this industry that was non-existent in the region and I'm very lucky to have them. My father is very big on his philanthropic work and it's such an important part of his life, being a charitable person. He doesn't want anything in return and only does it because he enjoys it, and that inspires me. And my mom is my favorite date at premieres.
What is your personal philosophy, what guides you through your daily life?
MAT: Patience is key. There is no such thing as "no", there is always a way. And the last thing, which helps me deal with so much and I think makes me who I am, is stay positive, no matter what. Because whatever happens it is written, it will happen.
Image courtesy of Mohammed Al Turki, used with permission